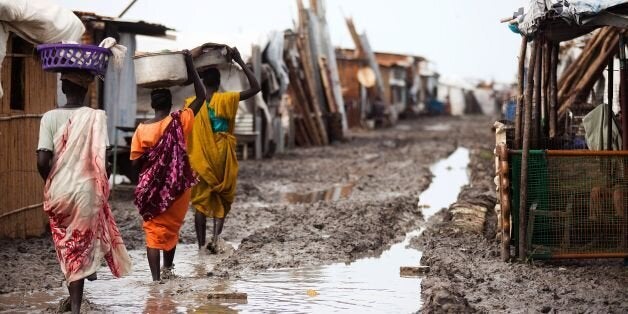 The Grand Bargain, seeking to address the problems of humanitarian response in the past twenty years, aims for a participation revolution. To achieve this lofty goal, should we aim to fix past problems or look to the future?
The discussions about the participation revolution spectacularly fail to both learn from the past and to consider what will happen in the future. By aiming for a "participation revolution," the Grand Bargain signees neglect the idea that people act independently of aid organizations; they neglect the entire concept of agency. It's as if participation alone will ensure that people get assistance and protection. People's lack of agency is at the heart of the failure of the system. At the same time, the Grand Bargain, for all the effort and political capital put into it, doesn't look at current trends of how people get information and make decisions.
Picture this: People are on the move; they haven't eaten for days, and some are dying. They need burial cloths. Burial cloths are more important to them than food, as it helps ensure a peaceful afterlife. In a poor village, the next life means hope if the dead are prepared. Hope is all they have.
They switch on their phones, see that LWF has burial cloths, and click a button. Maybe they also ask them to send a bit of maize. LWF has geolocated the people based on their login. They use their 3-D field printer to make a few burial cloths (or buy them in the market), load the cloths and some maize on to their drones. Maybe they include a voice recording of a website explaining where the nearest food can be found. The people have their burial cloths and maize in 3-4 hours.
This isn't some sort of utopia - everything we need to make this happen is already available. A bit of solar power, a few more phone towers, voice activated phones - it's all there.
Except for one thing: useful information. Information is the key to agency; without it people are disempowered.
The information on what aid agencies can provide is fairly easy to get; they just need to post it. But this information isn't useful if people can't understand it. This is the biggest challenge... both in the sense of convoluted aid organization language and in the sense of which language. In the cholera epidemic in Yemen, aid agencies are telling people to go to the hospital "if they have cholera." No one is going because they don't understand their symptoms as "cholera"; they think they have watery diarrhea.
Language companies can help simplify and clarify content. There's even technology to help with this. There are thousands of language companies that can provide translations too, using all sorts of technology - all language companies use computer-assisted language tools, mostly in the languages that drive business.
Getting information in the languages of those who need it most... and ensuring that people with low literacy can access it... well, that's the real challenge in this puzzle. We do have the tech tools to do it, we don't have the translators and translations (i.e., the data) to build the repository of terminology.
Translators without Borders plans to work with the big tech companies and the big humanitarian agencies to train translators, translate and build the repositories of open data needed to develop machine translation in key languages. "Key" meaning languages like Hausa, Krio, Pashto. And then to keep improving these translation engines to get better and better at translation, including adding voice capabilities.
It will take time to make them good enough. Even the machine translation for Russian or Portuguese is currently just ok - it's not how I'd want to get information on how to treat my sick child - but they are continually being improved. We need to start developing the tools for key humanitarian languages.
When people can get the information they need and want, in a way they understand, when they need it and, critically, in their own language, then that will help them have agency. And only then will meaningful participation really take place.
Related