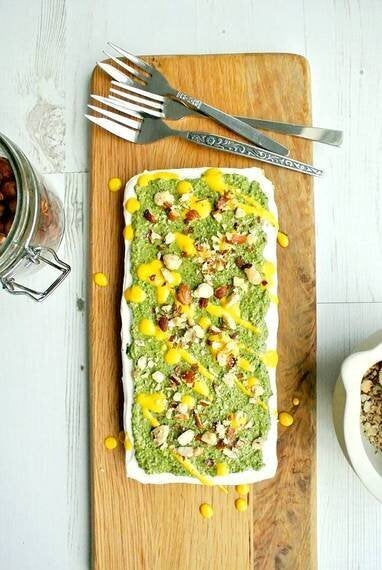 Raw food is a growing passion of mine and as the months become warmer I try to include more dishes like this in my diet. It's not so much a cleanse but I can't deny eating this way makes me feel kinda amazing (and maybe even a wee bit smug)... although I know 100% raw is out of the question for me - I just love my stove/oven too much. In saying that, when summer hits I'll be back to eating my two raw meals a day and one cooked (usually in the evening - I'm a sucker for a summer bbq), which I've discovered is a good balance for me.
This triple layered tart (pie, slice, whatever you want to call it) is a great combination of tangy, herby and subtly sweet - that'll be the carrots for ya - and makes for an impressive little starter or lunch option. The trick here (and with all raw food really) is selecting/using the correct equipment. That is, knowing when to utilise the blender, food processor or, as is often the case with me, my trusty Delia mini chopper. That thing never fails me.
For crusts, I almost always use a processor or mini chopper (depending on the quantities) and for creams I rely on my blender. Now, this doesn't have to be a fancy high-speed blender although my insanely powerful Froothie does help in getting those creams and cheesecakes 'next level' smooth. However, a standard blender will do a decent job too.
For the pesto part, it can go either way but my preference here is to go down the mini chopper route because you'll want to retain a little coarseness to aid the overall texture - crucial with raw food, in my humble opinion. You might need to scrape down the sides a few times with a spatula but that's no great hardship in the grand scheme of things.
You could achieve a firmer consistency overall by popping each layer into the freezer in between but seeing as I currently don't possess one I made do with the fridge and it still turned out pretty great. To ensure the layers don't bleed into one another, do make sure each one is fairly well set (it will never be solid) before adding the next - the coconut oil addition definitely helps here.
I love serving tarts like these on a rustic wooden board in the centre of the table and let everyone help themselves. The vibrant colours go a long way to dispelling those long-held myths that raw food is all 'rabbit food and deprivation' and gives it more of an inclusive, accessible feel - not some holier than thou cuisine that serves to alienate half your guests. Not my style. I'm all about winning people over through delicious, wholesome, attractive food... and, thankfully, I've not had any complaints yet.
So, what are you waiting for? Your raw food future is just a slice away - you might be surprised how good it actually tastes.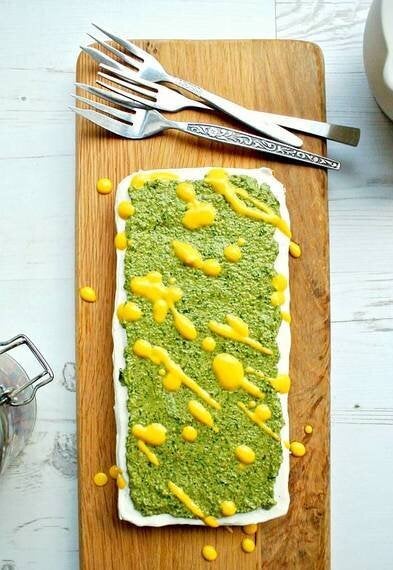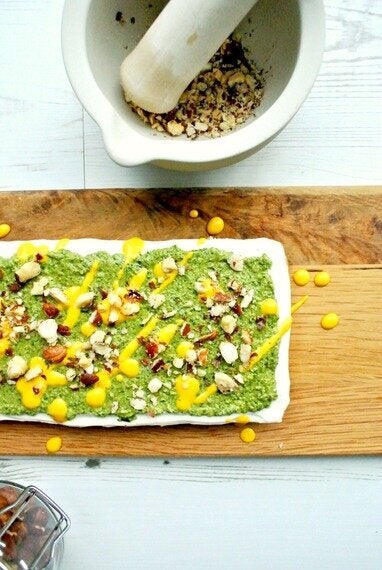 Finely grate the carrots and squeeze out any excess juice into a bowl - reserve this juice for the sauce.
Place everything into a processor or mini chopper and blitz until it forms a fine rubble. Taste for seasoning and add a little more salt & pepper if necessary.
Line a small tray or loaf tin with baking parchment and press the crust evenly into the bottom.
Freeze or refrigerate for half an hour.
Place everything into a blender and blitz until completely smooth, scraping down the sides as you go.
Check for seasoning and then pour over the carrot crust, reserving one heaped tablespoon for the carrot sauce. Smooth out with a spatula.
Freeze or refrigerate for around an hour.
2 tbsp mixed nuts (walnuts and pecans work best)
3 tbsp extra virgin olive oil
Place the pesto ingredients into a small food processor or chopper and blend until coarse but spreadable. Taste for seasoning and add a touch more salt and pepper if necessary.
Refrigerate for 20 minutes.
for the carrot serving sauce
Place the reserved carrot juice into a blender, add the cashew cream and date and blitz until completely smooth.
Carefully lift the tart out of the tin and ease it onto a serving board. Spoon over the pesto and carefully spread out using a spatula.
Drizzle over the carrot sauce and adorn with crushed hazelnuts
Et voila, your raw vegan tart is served!