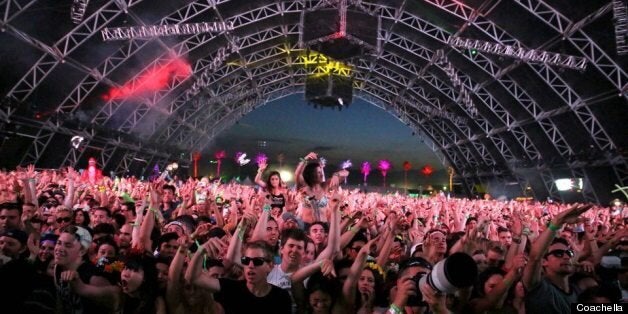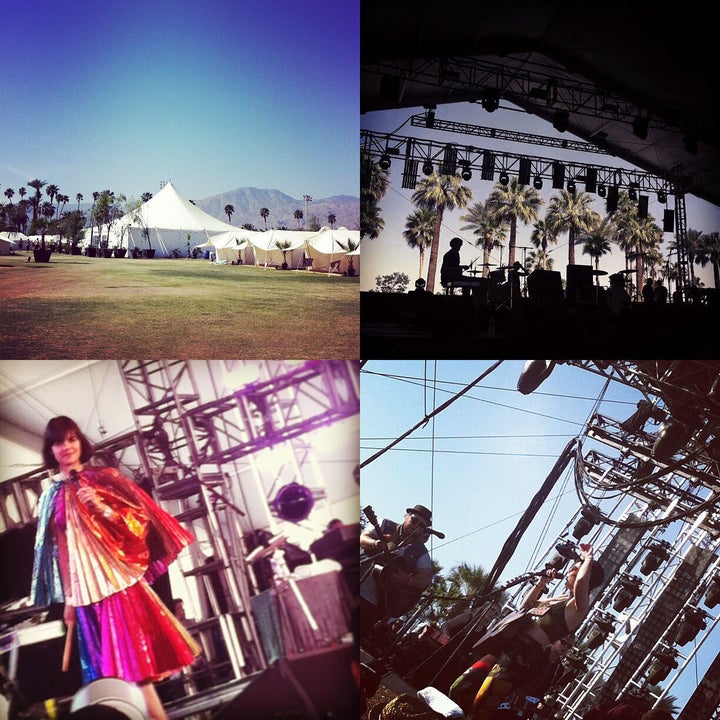 "No way! Really?" Just one of the many bewildered responses to my confession, that Coachella 2013 would be my very first music festival. It's not that I haven't wanted to enjoy the seemingly unavoidable and requisite festival experience most music lovers enthusiastically seize as students, but rather the opportunity has never before presented itself in an easily accessible form. Though, even if it had, I daresay I would have prudently waved the opportunity away; for rain, mud, cold showers, filthy unisex loos and dewy sleeping bags (to me) are not conducive to a weekend of enjoyment. And no, I shall not be persuaded otherwise. So an invite to California's Coachella Valley Music and Arts Festival presents itself as surprisingly favourable, with its offer of luxury camping, hot showers and its winning feature, dry, hot and sunshiny days. I'm all in.
Lead by a parade of commanding smoky mountains, enduring date palms and proudly powering wind farms on a seemingly infinite carpet of brick red desert sand, we traverse upon the lusciously green Indio Polo Club, official venue for the Coachella Festival. Chauffeured by golf buggy, my over-enthusiastically packed suitcase and I are transported to our Safari tent, a far cry from the flimsy nylon triangular prisms I've envisaged when pondering (on the rarest of occasions) festival accommodation. In camp Safari, the tents are strong, spacious and homely; twin queen iron frame beds (which I'd quite like to take home) dressed formidably in luxury Egyptian cotton bedclothes and an assortment of pillows and cushions, a chest of drawers that mocks the idea of living out of a suitcase, a welcoming care package of fruit, mineral water and Palm Springs date cookies and a rug adorning the real wood flooring begs only for an in-tent fireplace (maybe next year?).
Though Coachella is often compared to Glastonbury, it is (though you may not care for such frivolities) eons ahead in terms of perceived cool, hip and trendy, with parties coveted by celebs and fashion loving folk, kicking off the festival. On our first night in Palm Springs, we venture to the popular Ace Hotel and glimpse a taste of what is to come in the following days; a festival bejeweled with swimsuit ready bodies, dressed in casual yet super stylish outfits - some clearly present to see and be seen only. In fact, I meet a group of fashion bloggers who have traveled from as far as Australia to attend Coachella, and unashamedly confess they'll not be seeing any musical performances and will instead be scouting the most exclusive Coachella parties over the three day festival. Think fashion week peacocking epidemic.
Day 1 of Coachella begins with an English breakfast of eggs royale (really really good salmon), a lazy participation of Pilates (i.e watching from sidelines), sunbathing beside the Safari camp pool and a 20 minute deep tissue massage. Yes, I am at a music festival.
The festival arena accentuates its artistic claim with a gigantic mobile snail trailing the grounds, endless chains of colourful balloons decorating the wide blue sky, the Coachella 'Power Station', a glass installation attended by guys in lab coats and hippo masks and when the sun goes down, a digital mirage depicting a '60s Palm Springs house, complete with swimming pool and partying guests.
My first two performances are due to overlap, but the festival grounds are surprisingly intimate and walking (or being ferried by Safari golf buggy) from stage to stage is a doddle. Friday highlights are Alt-J, Of Monsters and Men, Foals and Yeah Yeah Yeahs. Saturday brings fabulous sets from Bat for Lashes (Natasha's costume is especially memorable) and Hot Chip and a highlight performance by The Postal Service.
Along with the music and art comes the obligatory celeb spotting (or at least the effort to do so) and though some of my comrades have encountered the likes of Lindsey Lohan, Paris Hilton and the reunited lovebirds Robert Pattinson and Kristen Stewart, my only notable sighting is the handsomely imposing True Blood actor, Alexander Skarsgard queuing for the loos at the Artists' compound.
Sunday offers the chance to relax under the Coachella sun before the desert sweeps in and states its claim. The dust storm shrouds the once prominent and vibrant festival landscape and an icy wind mocks the summer clad music lovers. But even a harsh intermittent smattering of dust doesn't hinder the convivial audience at a theatrical performance by Wu Tang Clan and later the Red Hot Chilli Peppers.
Before coming to Coachella, I'd overheard a conversation about how Coachella could not be a real festival, not with its rigid security, its lack of mud and its controversial decree on alcohol consumption, but I'm certain now, that they are clearly just jealous of the gorgeous (though sometimes unpredictable) Californian weather that accompanies Coachella. And yes, for British festival goers, the idea of specially assigned drinking areas, might well be off-putting, but the growing popularity of Coachella is a testament to the sometimes incomprehensible idea that you do not have to be drinking to enjoy yourself.
Tips on planning your Coachella 2014 itinerary.
•In your suitcase - The phrase 'it's all about the layering' had me rolling my eyes by the time we arrived in Indio, but I shall mock no more - layering is simply sensible; the desert is hot during the day and can get very, very cold at night (note: on the first night, I slept in my coat). A sturdy pair of Sun-San salt water sandals will prove indispensible. For cooler nights and a salvation for your feet, investing in a pair of Doc Martens was a feet saver! For festival-wear, pretty much anything (or more often, nothing) goes, from tanks and shorts, hot pants and bikinis to boho maxi dresses and fringed kimonos. I wore Free People, the epitome of festival clothing and absolutely gorgeous to boot!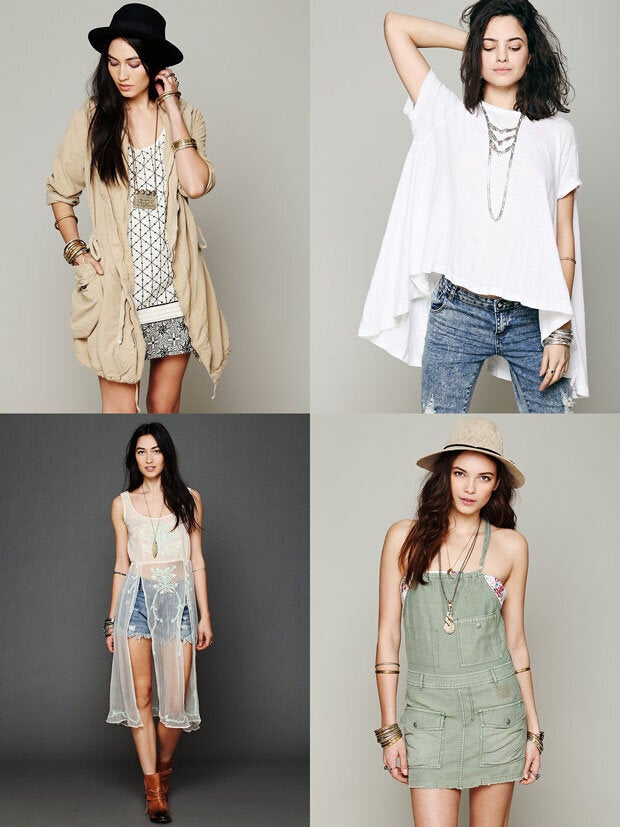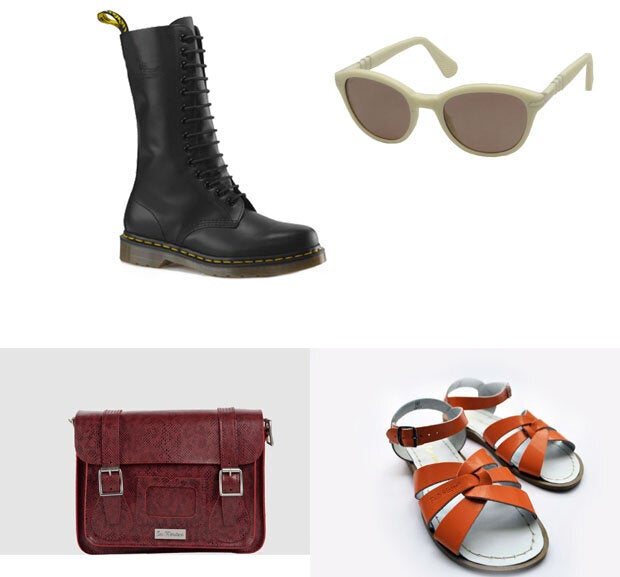 •Getting to California - You're doing Coachella in style, so why not travel in style? I flew direct to LA with Air New Zealand and was pleasantly surprised to find that their PR isn't just hype. Though I flew Economy, I had the pleasure of experiencing Skycouch and for the first time on a long haul flight, not only did I sleep, but also I didn't exit the plane with a burning pain in my osteoporosis riddled spine. Plus, they do good in-flight coffee and I'd all but given up on consuming even half-decent coffee in the air.
•Getting Festival Ready - Spend the night at Andaz West Hollywood on L.A's Sunset Strip for a taste of warm SoCal hospitality. To get you into the festival spirit, enjoy live music across the street at House of Blues or survey the L.A skyline and mingle with the beautiful at celeb coveted Skybar, at the Mondrian. Stock up on snacks, visit The Grove for any last minute purchases and enjoy a scenic road trip to Palm Springs.
•Accommodation - If like me, your tolerance for dirt and unsophisticated sharing of strangers' perfunctory bodily fluids is next to non-existent, take my advice and pitch for the luxury Safari experience at Coachella. Spacious, air-conditioned tents, with proper beds and furniture, a tranquil lounge area, serving breakfast and a late light supper, spa treatments and sunbathing by the pool and a friendly staff determined to make your stay comfortable, trouble free and unforgettably fun.
•Coachella blues antidote - Three days of partying will leave you exhausted and if you happen to experience a dust storm, every pore and crevice on your body will be clogged with the desert sand. Before getting on that plane, take the perfect post Coachella antidote: let Santa Monica heal you. Check in at Loews Santa Monica, for uber friendly hospitality, easy access to the beach and a magnificent pool. If you're more of a boutique hotel fiend and have an eye for architecture and a yearning for old glamour, stay at the gorgeous Shutters on the Beach. Before exploring the semolina sands and lively boardwalk, treat yourself to a well earned (and probably much needed) tropical body scrub and manicure (perhaps a facial too?) at the Alchemie Spa. Your mind and body will thank you.
Related