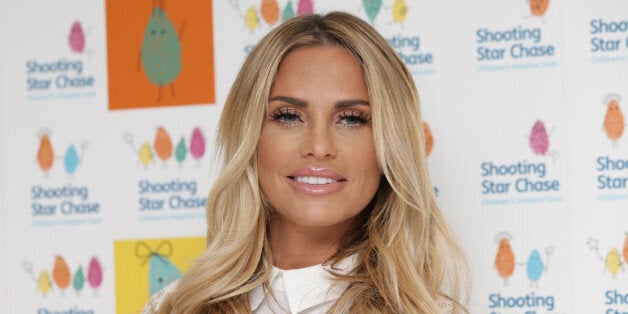 We tend to think of philosophies as produced by professional philosophers. Traditionally, this has meant people who have written dissertations on obscure subjects, or who spend most of their day in libraries. But every human is, in an important sense, a carrier of an implicit philosophy - evident in their choices, pronouncements and commitments. Katie Price is no exception. She too is - in a distinctive way - a philosopher.
Partially Katie Price's philosophy is one of extraordinary confidence. She is remarkable not for her looks or antics but because of her tremendous self-assurance and her unwillingness to be intimidated by criticism or failure. She's always beginning a new endeavour, whether it's publishing a novel or auditioning for the Eurovision song contest. Her daring has ultimately paid off again and again. She has built a 45 million pound business empire and worldwide brand.
After her first autobiography was repeatedly rejected by publishers (she demanded a million pounds in advance), she persevered and ultimately sold over a million copies. Now she's just released her fifth autobiography, and has published a vast range of other books including a line of especially popular children's books about ponies. And then there's her lines of clothing, cosmetics, household products, even equestrian gear. Some of her endeavours go awry from time to time, but she doesn't get discouraged. It would be easy to dismiss her confidence as a superficial posture, but she has put it into practice with each new enterprise.
Katie has maintained this unshakable optimism through scandals, disappointments, divorces, suffocating media attention and unkind words about everything from her supermodel appearance to her beloved children.
Her confidence has not only made her successful - it has become a commodity itself. Katie has realised what many CEOs often overlook: that people spend money on a brand not to obtain a material good but to possess - if only for a short while - the psychological benefit it represents. When people purchase a Katie Price product, they are not in need of a new outfit; rather, they want to possess the traits that make up her public persona: self-possession, playfulness and a disregard for the opinions of others.
It is for this reason that we have invited Katie to come and speak at our school - to better understand her perspective and to glean what we can from her experience in life. Most of us would benefit from even a touch of her confidence, resilience, and entrepreneurial forte.
Some may think this sort of event can't be serious. But we believe that is because they have misunderstood the nature of seriousness. It does not always reside in a university, parliament or boardroom. It may not come from a peer-reviewed journal or a group of middle-aged men wearing ties. At The School of Life, we take seriously anything that has to do with human fulfilment - and take note wherever insight on this subject can be found.
Over the past few years, The School of Life has been host to some of the most legendary names in philosophy and thought, including Steven Pinker, Jared Diamond and Roger Scruton. But we felt it was time for an experiment. We live in an age of mass media and thought it was time to invite a different sort of thinker to The School of Life to discuss some of the great existential issues. We very much look forward to welcoming Katie Price to our stage.