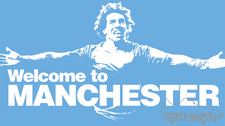 The ground in North London shook over the weekend. No, not due to a fresh outbreak of consumption riots that spluttered forth in the area a few weeks ago. This time the shock came on the soccer field, courtesy of two hungry giants from Manchester - United and City. They ate up the North London clubs, Arsenal and Tottenham Hotspur, in match-ups in the English Premier League on Saturday - United shelled Arsenal 8-2; City booted Spurs 5-1. Famous Mancunian, and rock and roll giant, Noel Gallagher, put it simply while pointing to his heart, "The thing about Manchester is...it all comes from here"
Manchester's beat arose from the grind of the Industrial Revolution. Karl Marx's chum, Engles, noted that the living conditions of the city's poor "must surely have reached the lowest stage of humanity." But from this squalor came a fighting spirit brewed from a stew of incoming regional flavors - Irish, Scots, Welsh, and northern English. A rich seam of talent mined forth, hard-nosed, and forever ready to punch the southern snobbery of London. After the factories closed, soccer and music continued to lead the way.
Sir Alex Ferguson built his Reds partly on collectivist principles he learned as a youth, working in the shipyards of Glasgow. United is the perfect definition of a team that embraces change by flying at it with new hungry labors. A new cast of fearsome youth has been welded seamlessly on to the club's phenomenal brand. United's eight strikes on the Londoners was frightening. United seized the Arsenal cannon and obliterated them with explosive power. The casualty rate of conceded goals could have reached double figures had it not been for the woodwork and the clock running down.
While the massacre of Arsenal was being executed, Manchester City had been in London killing Spurs. The light blues play under the pragmatic hand of Italian coach Roberto Mancini, and under the gold of a Middle Eastern sheik's oil wealth. Money can buy success. Proof that a team need not be born from the colors of comrades; it can be glued together by the lure of Sterling silver. And Manchester City looks likely to be polishing some of that metal at the season's end. Lifting trophies is now part of the drill at City. Nothing will hold back the Sheik's will to place his team at the top table of world soccer.
The two colossus will collide on October 23 when they meet in the Manchester Derby. The soccer world will be glued to the screen. The London teams will feel the ground shake and be very afraid.
Read more: http://www.sfgate.com/cgi-bin/blogs/soccer/post_preview#ixzz1WOqdmDQg