The Government's War on Welfare reaps destruction in its path but one heinous feature of this iniquitous 'reform' appears to have been completely ignored by most media outlets: The Government's vicious and repugnant assault on sick and disabled people in the UK. While they tell us stories of 'benefit cheats' and media reports misrepresent sickness benefits, they conveniently ignore the fact that many who are disabled have paid their dues via NI and income tax while all have financially contributed to the treasury via other taxation.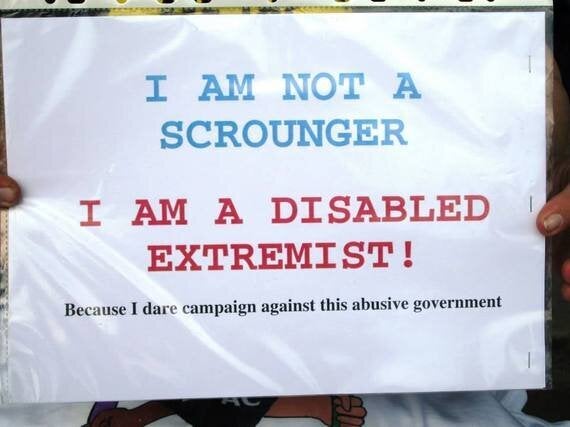 It only takes a quick search on Goggle to find thousands of victims of ATOS. Disabled and ill people who have had their support network removed by a French IT firm that won the contract to 'assess' the sick and disabled by the previous Labour Government.
If the Government is not tormenting disabled people with ATOS, they are 'reforming' Disability Living Allowance into PIP. Again, this 'reform' is merely a cost cutting exercise with the objective being removing disability benefits from as many people as possible. DLA is a lifeline for most disabled people and removing this lifeline is nothing than a repugnant act by a cowardly and heartless Government.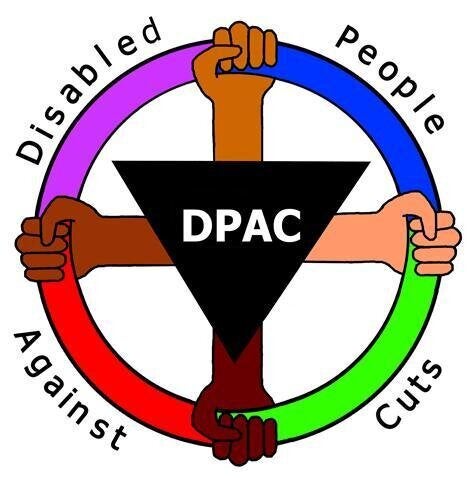 There is an argument that the Government specifically aimed their 'reforms' onto the disabled community in the belief that they wouldn't fight back, that they would meekly surrender to the Government sickening attacks. But they were wrong. Very wrong.
A passionate, knowledgeable and organised mobilisation of disability activists has risen out of the embers of vicious cuts to disability benefits. Proud people, who do not need anyone to stand up for them, have said "No!" to the vicious attacks on their community.
One of the forerunners in the fight against Welfare Reforms has been DPAC (Disabled People Against Cuts), which was formed in 2010 in response to the Chancellor's budget that spring. Linda Burnip, one of the original members of DPAC, explains,
"The catalyst for starting DPAC which was then Disabled People Protest was the June 2010 budget which obviously had horrendous implications for disabled people's human rights. I'd just spent the weekend in a plush hotel doing a course on the UNCRPD(Convention on the Rights of Persons with Disabilities) and then everything Osborne announced was designed to remove those rights from us all so I felt that rather than sitting in a hotel discussing rights we should be out on the street protesting against them being taken away at the Tory party conference in Birmingham. So I put a call out for people to support a march at that by disabled people and DPAC grew out of that. Of course we were told we were scaremongering but sadly we weren't. We marched under the slogan CUTS KILL""
When asked what the fears of the disabled community, Linda answers:
"The greatest fears that disabled people have are various and many. People are afraid that when the ILF closes they'll be forced back into residential care homes or left sitting in incontinence pads in their own p*ss and sh*t. That they'll no longer be able to work, or take part in any activities of any sort as they won't get enough care and support funding from Local Authorities.

People are afraid of losing their incomes, mobility cars, wheelchairs funded through DLA and being completely isolated. They're afraid of not having enough food and not being able to heat their homes.

People are afraid of being made homeless due to Housing Benefit and Council tax changes. Changes to mandatory re-assessment of ESA and DLA with no time limit for this and no income while the reconsideration is happening will leave people with NO income whatsoever.
Linda believes that DPAC's greatest achievements (so far) are "getting more and more disabled people involved and confident enough to campaign" and the "Direct Actions", which are a "continual thorn in the side of DWP". DPAC's organic structure has worked well, allowing them to work with many other campaigns including False Economy and UKUNCUT.
DPAC is insistent that any future Government must fully implement UNCRPD while ensuring that 'the atrocities against disabled people' are highlighted in the press. I truly believe that they, and other grassroots campaigns such as Black Triangle and Glasgow Against ATOS, will win the battle against the draconian welfare reforms. I believe that they are an unstoppable force as they are on the side of fairness, dignity and respect.