I stepped up on the edge. I was nervous. I tried not to be. I wanted to appear cool, calm and collected. I needed to. But inwardly, my heart was racing. It quickened further. My breaths were shallow and fast.
I knew precisely what to do. I'd been in these situations many times before. I smiled - try it, it works. My confidence returned, my heart beat started to slow and I regained my composure. But then I looked down.
My toes were over the edge. It was exactly a 217 feet (66m) drop straight down. A small crowd had formed. They were looking up and pointing. A helicopter was hovering nearby with a TV crew on board and someone was flying a camera-equipped drone. They were all there to watch me jump.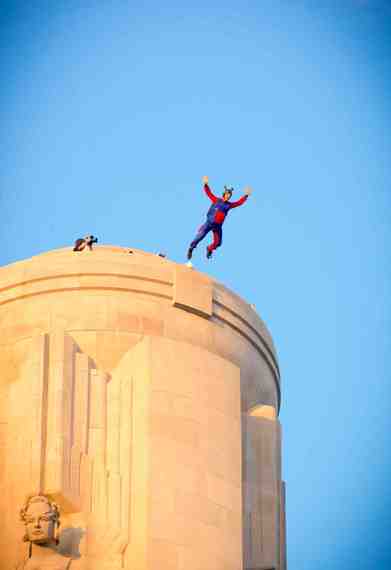 The Leap
This all happened one year ago. I was there to mark the anniversary of 99 years since the start of the First World War and I was leaping from the Liberty Memorial World War 1 Museum. It is the official US National World War 1 Museum in Kansas City, Missouri.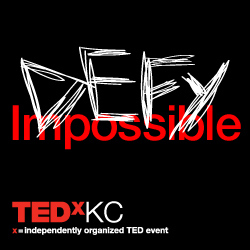 I was also there to promote TEDxKC. The conference theme was Defy Impossible. I would be speaking at the event with my talk entitled 'Impossible Leaps' and I was just seconds away from defining that as I defied many people's impossible and became the first person to BASE jump from the magnificent Liberty Memorial tower.
Poppies And Stars And Stripes
When I jumped my canopy was emblazoned with a Poppy logo. The poppy is synonymous to the remembrance of those that died in war and is the official symbol of The Royal British Legion. The Legion is a charity that I, along with my Jump4Heroes team mates, have spent many years working alongside. We help to raise awareness for the incredible work that they do in support of past and present servicemen and their families.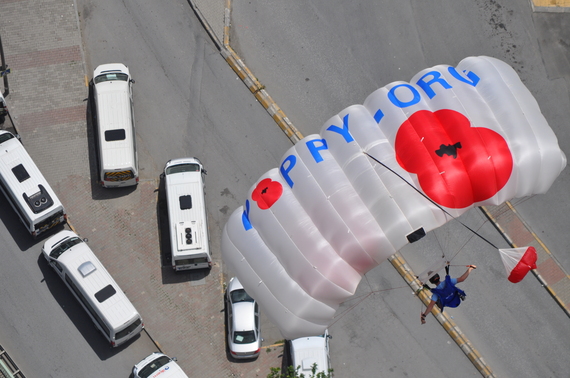 The media coverage went a little bit crazy, rapidly streaming across to both coasts (see a clip here) as well as internationally. I was jumping with the US Flag, the Stars and Stripes. On landing I presented the flag to a Vietnam Veteran to raise up the flag pole while we paused for a commemorative silence and remembered those that gave their lives for our today.
Remembering
We remembered too not just those from the First World War, but all wars past and present including those serving right now in Afghanistan and other Operations around the world. And, of course, it's not just the soldiers themselves but the families that give their all in support of those brave men and women. Often, the toughest job is being the one left behind, worrying, praying, hoping, supporting, crying and loving so very much.
TEDxKC
With nearly 2,300 participants, TEDxKC was the largest TEDx event in the World in 2013. They certainly defied impossible. This year it's going to be even more amazing. It sold out in record time but is free to view on the lifestream here on 9 August 2014. Their theme: Changing The Narrative.
Why is TEDxKC so relevant as we embark on the centenary commemorations of the Great War and pause to remember the sacrifices of so many? Wars are fought for many reasons. Often, it is the very basic concept of freedom that is at stake. Freedom requires innovation, contrasting viewpoints, debate, complete conformity coupled with radical non-conformity, differential mind sets, pushing our own boundaries, pushing others' boundaries, challenge. TEDx events, and TEDxKC in particular, assist in the enablement of our evolution, allowing us to fully utilise this freedom that so many gave so much for. Failure to do so is preventing us from truly living within the conceptual freedom that was intended by the 37 million people, of which 1,117,077 were from the British Commonwealth, that died in the Great War.
As we bow our heads in remembrance, 100 years since Britain entered the First World War, remember the freedom that these great men fought so hard for. Please honour their memories by using it.
-----
Photos by TEDxKC/Thomas Lin/VML/Dimitrios Kontizas