What Does Freedom Mean To You?
Leaping from mountains, flying my Jedei winguit through valleys, soaring past the circling birds and glancing across at my team mates just inches away is an almost indescribable experience. An experience that I live for. For me, it provides the ability to escape. Suddenly, I'm free from the stresses that life piles high upon my shoulders. It's my personal form of meditation. The ultimate state of mindfulness that I have found. While flying my wingsuit, the truest form of human flight currently possible, I am completely in my element. I have found my calling; the reason I was born. I am completely and absolutely present - something that I struggle with in the remainder of my life.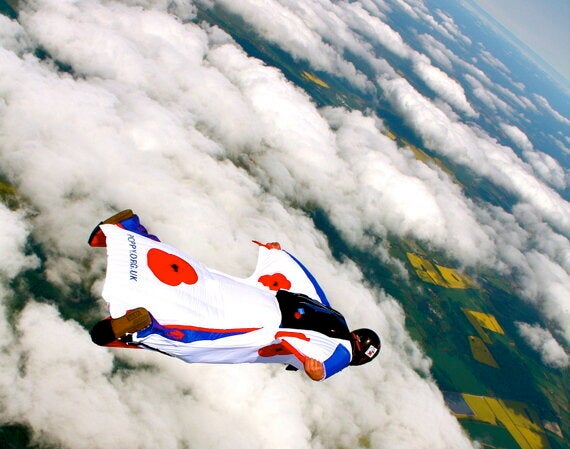 Fears
Last year, at TEDx Houses of Parliament, I was privileged to share my thoughts on freedom. I've learned to manage my fear when leaping off cliffs and buildings but standing on the stage was certainly a nerve-racking experience. I was alongside dignitaries such as Baroness Scotland, Lord Puttnam, Baroness O'Neill and the incredibly inspiring Jack Andraka.
I shared my fears and failures along my journey towards achieving human flight. I shared what my journey to achieving human flight meant for my freedom. I shared how I and my team, Jump4Heroes, were able to use our skills to help others.
Awareness
The wingsuits that I and my team fly are emblazoned with Poppy logos. As we, personally, embark on each incredible flight we are also raising awareness for the fantastic work of the UK's leading military charity, The Royal British Legion. As we approach the Centenary of the First World War, I couldn't be prouder.
Memorial Day
But, on Monday, in particular, I couldn't have been prouder. I was in California. In America it was Memorial Day; a US Federal holiday to remember the men and women who died while serving in the US Armed Forces. While in the UK, we have become more supportive, more understanding of our military, in the US, military personnel are revered.
Freedom
The freedom that each and every one of us enjoys every day is attributable to the men and women of our Armed Forces. It doesn't matter whether we agree or disagree with the politics behind international military interventions. It doesn't matter whether the service men and women themselves believe in the cause. These men and women have been prepared to make the ultimate sacrifice in service of their nation. Too many of these brave individuals gave their lives so that we can live as we do today.
Without this servitude I wouldn't have found my freedom or been able to experience my calling. This Memorial Day I bowed my head in remembrance. Tears ran down my cheeks. I didn't hide my tears for fear of embarrassment. I was proud of my emotions as I remembered those that have paid the ultimate sacrifice.
Written In History
Written on one of the many Memorials on the San Diego coast, next to the 296m USS Midway aircraft carrier, is a tribute from Vice Admiral William F Halsey, Commander South Pacific on 17 November 1942.
"You have written your names in the golden pages of history and won the undying gratitude of your countrymen."
Next time we're sheltering from the rain during another British Bank Holiday, perhaps we too should take a couple of minutes to remember those that gave their lives to enable us to have the freedom we currently enjoy.
Photo credit: Spike Harper showing Alastair Macartney flying his Poppy wingsuit above the Wiltshire countryside.
Related