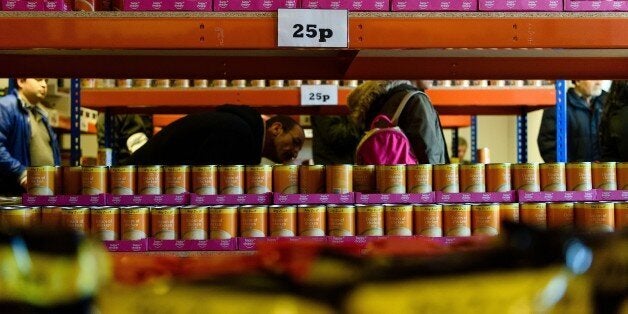 It's a cold and grey February afternoon as I arrive at the Easy Foodstore in North West London. The neon orange signs jump out from the side of the warehouse building on the side of a busy dual carriageway and thronging underneath is a huge queue of people desperate to get inside to bag some bargains.
Bouncers have been employed to monitor the crowds and ensure that there are no fights over discount products. The store has had to introduce a one in one out system and people on the narrow pavement outside say they have been standing waiting for hours.
Despite only being a little before 4pm, the bouncers are already turning people away, saying they're too late and have to come back tomorrow. Would-be shoppers pay little heed to the warnings and make attempts to join the back of the queue anyway.
There is an altercation, shouting and cries of injustice. The new arrival says he has been travelling on busses from a different part of London for hours. His pleas to be allowed to join the queue are ignored and he has to turn and head back to the bus stop, without any food, and waste more fare. Other people turn back to face the doors, standing against the wind.
How is it that people in Britain are now so desperate that they argue over food, and stores that promise super-reductions have captured the imaginations of thousands? Poverty and deprivation have a lot to answer for, as videos have emerged of shoppers at big name supermarkets wrestling and fighting over discounted foods.
Food poverty is increasing in the UK. Oxfam has calculated that in 2013/2014 20,247,042 meals were delivered to people in food poverty, marking an increase of 54 percent on the previous year. The Trussell Trust, the largest food bank organization in the UK, with over 400 distribution points, said that during the 2014-2015 tax year, 1,084,604 people were referred to their foodbanks for emergency food aid, with 29.7% of referrals due to benefit delays and 22.3% resulting from low income.
The levels of thriftiness are no doubt exhausting. People are tired from carefully managing a home and family on tight rations of food, as Kerry Smith tells me, as she waits outside the Easy Foodstore in London's suburbs for her turn at the shelves.
"I'm a young mum with two children, and it is hard to eat sometimes," says the 26-year-old retail worker from Hayes.
Despite her income, stretching her budget is problematic and she says supermarket policies are to blame for the increased food deprivation in the country: "They're throwing away too much food every year and there are people suffering. There are homeless people on the streets and kids going hungry and things like that which are getting thrown away can go to them instead. It's just a waste."
Food waste in the UK has become a chronic problem. Compared with our European neighbours, who together waste 89m tonnes of food each year, the UK is the largest food waster. A report from The New Climate Economy in 2015 estimated that UK households threw away 7m tonnes of food in 2012, contributing to almost 20m tonnes of CO2 emissions. Big supermarkets chains are responsible for an additional 200,000 tonnes of waste each year; food which could be redistributed or redelivered to help those in food poverty. The New Climate Economy also estimated that 800m people go to bed hungry in every day in the EU alone.
Earlier this month, the French set an example for other European nations to follow, becoming the first country in the world to prohibit supermarkets from throwing away or destroying their unsold food, ensuring that giants like Carrefour are now forced to donate their waste food to foodbanks or charities.
Previously, the French adopted similar policies to some supermarkets in the UK, spoiling their food so it couldn't even be rescued from bins by the hungry. The move was welcomed by Jacques Bailet, head of Banques Alimentaires, a network of French food banks, who described it as giving "dignity" back to French citizens in desperate circumstances.
Such an unprecedented move has left UK supermarkets trying to catch up. Asda supermarkets have advertised their "wonky veg" box as an alternative to the fresh fruit and vegetables offered in stores - cheaper as they are not "perfectly formed". The half hearted attempt leaves a sour taste. Such products should be readily available in stores anyway; restricting the flow of produce onto supermarket shelves only serves to artificially inflate the cost of consumer's baskets.
Even more absurd is the supermarket giant's decision this week to ban food bank donation points from its stores, despite record numbers of people in need of food bank support.
Out of this desperation, images of the easyJet founder, Sir Stelios Haji-Iannou, grinning at the easyFoodstore opening this month stand as a dystopian savior against hard supermarket lines. It raises the question to what point Haji-Iannou is profiteering from people's desperation with his 25p offerings.
"No expensive brands. Just food honestly priced." proclaim placards on the shop front. But this is unsustainable economics. How are we to believe that the food here, in their plain labelled tins, offer any kind of nutritional values? The rows of fizzy drinks and cheap sweets feature no fresh fruit or meat for sale. The health implications are huge - are we suggesting that those in food poverty also deserve aggravated health problems? The purported savings are not cheap at all once the associated health bills are added up.
Not everyone waiting for their bumper bargains are impressed by the bright orange discounts. "I will never come back here", says Andrea Rodriguez, a 22-year-old retail worker from Notting Hill. She has just emerged from the store with a box of rice, pasta and staple essentials. But the ordeal has left her less than impressed: "I would rather spend a little extra at a store close to my house than face the difficulty of shopping here again. For me, it's a no."
She goes on to address the hidden costs of the Easy FoodStore brand: "They offer you rice or pasta at 25p, but you could go to Tesco and Asda and it's not that much more. There's not a great difference in price. There is a better choice and more choice in those supermarkets and even in Aldi or Lidl."
Indeed, once the introductory offers expire at the end of the month, will the Easy Foodstore offer any enticement? Of course, marketing and propaganda promoting its cheap alternatives will play heavy with those who struggle to make ends meet, but savvy shoppers who alternate their habits around the reduction schedules at Tesco and Asda might prove to have the last laugh, or at least have "honest" food, that comes from known sources.
Rising food poverty, however, would leave people on a diet of cheap baked beans and rola-cola. UK supermarkets need to act quickly to bring themselves in line with their French counterparts, and significantly reduce the expense of food waste for consumers, whether environmentally, financially or in terms of health benefits. A new bill proposing a reduction in food waste is making its way through the House of Commons as of last year, but until any real action is taken, it will be Haji-Iannou handing out just desserts.
Popular in the Community