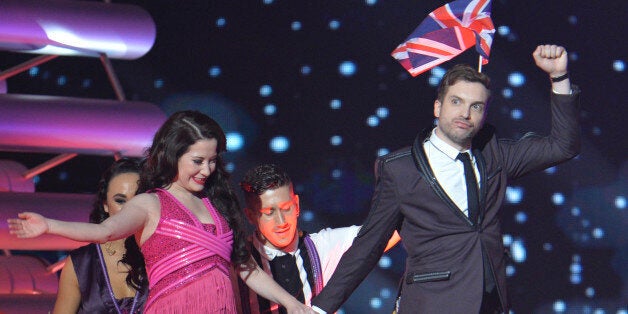 To you, that figure might sound a whole lot like a greatest sex you've ever had, but for someone watching the Eurovision Song Contest, that figure represents the amount of time each competing country has to impress Europe and attempt to win the coveted prize.
If you're a casual viewer, like me, that three minutes will be the first (and potentially last!) time you will ever see those acts perform, but as an aforementioned casual viewer of said competition, I happen to know that an awful lot of blood, sweat, tears, and even haemorrhoids, go into preparing for it. How am I party to such information?
My name is Alex Larke and last year I represented the United Kingdom at the 60th Eurovision Song Contest in Vienna, as part of duo Electro Velvet.
My mum is Greek, so as a youngster, Eurovision would be an annual fixture on the TV and would provide a healthy sense of competition within the household. Would the UK beat Greece? Would it be the other way around? I can't remember much of the results, but I do remember Mum telling us to watch at how Greece would give 12 points to Cyprus and Cyprus would return the favour. Three decades on, little did I know that would become the subject of one of the questions I am asked the most about - political voting. Thankfully, my tiny brain shan't be attempting to clarify that in this article.
I still find it pretty odd that someone with my musical upbringing ended up on a path that ultimately led to me performing in the competition. By the middle of my teens I was a fan of NWA and later on, and to date, became obsessed with bands like The Who, The Rolling Stones, Oasis and The Stone Roses.
My journey into Eurovision was purely chance. In October 2014, I received a Facebook message from a guy I had worked with over a number of years to say that the male singer of a song he had recorded some bass on had left the project and he wanted to recommend me to the songwriter as a suitable replacement. Without hearing the song, I agreed. At the grand old age of 35, I was already an old-timer as far as the music industry was concerned, so at this point in my career I was saying yes to pretty much all projects to see what stuck. He sent me the track, a Thirties inspired electro swing number, which was called Still in Love With You. I listened to it and loved it. "They're entering it into Eurovision." he added.
"Oh, right." I replied, not actually thinking it would get in.
After recording an audition video in that December, which involved me dancing around a freezing Brocket Park Estate, wearing a smoking jacket and monocle, my new singing partner-in-crime, Bianca Nicholas, and I were called to a meeting at the BBC, with its producers, to find out we were in the final two acts potentially going to represent their country in Vienna.
Unfortunately, we'd have to wait another three weeks to find out if we'd made the cut. Cheers for that.
The waiting had my nerves shot to bits. I hadn't ever thought about entering Eurovision, but now it was within grasp I wanted it so badly. More than anything, it was the thought of raising the Union Flag aloft and doing the nation proud that was the thing I couldn't stop thinking about. Up to that point I'd been performing around 150 shows per year and I was so eager to get on stage and shake my thang! The BBC eventually called. We were in. The catch? You can't tell another living soul for the next six weeks. Suddenly everything's gone all King Midas...
Exactly one week before the song was announced to the world via the BBC's 'Red Button' service, a 120 strong gang of people descended onto London's Café de Paris to shoot a prohibition era themed music video, to accompany the launch. We had Take That's creative director at the helm, plus a choreographer with Rihanna/Madonna/X Factor credentials to his name, plus dancers who'd worked with everybody who was anybody. The club oozed talent. In the preceding weeks, we'd pretty much spent every day going over our own choreography for the video, which considering we don't seem to do much moving in the video probably seems far-fetched. What I learned is that shooting a music video is an exact science, whereby everything, including where you stand, look, point, your stance and demeanour has to be just so and nothing less. That is incredibly hard when you've been aping the moves of Mick Jagger for years and now you've got to become Sinatra.
The launch itself was a pretty tough affair. There you are proudly showing off your music video and telling them you're representing your country at Eurovision, and at the same time your phone is beeping whilst someone is wishing you dead on Twitter. I'd be lying if I said the mixed reaction didn't hurt. I genuinely thought people would love it. It became our Marmite song and through that love it/hate it quality, the YouTube views shot through the roof. This could be big.
Between the launch night on 7 March and the Grand Final on 23 May, I think we only had a few days off. The promotional schedule was relentless, but at the same time a blast! Tabloid interviews, radio interviews, TV appearances. Concerts in London, Amsterdam, Riga and Moscow - drumming up the support across Europe. In addition, six hour rehearsals four or five times per week. Repeated fittings of our technology-laden costumes. Every waking hour consumed by Eurovision and driven by the desire to win it.
Soon enough, the day we were to fly out to the host city Vienna arrived. We were to land 10 days before the competition to give us enough time to get in the zone, rehearse and get onto the local campaign trail. If the work ethic was tough before, it felt doubly so over there, as in addition to all the media, PR work and rehearsals, we were now meeting legions of Eurovision superfans! Without being over the top, every single one of them we met were truly lovely. All absolutely bonkers about Eurovision, but lovely. The only thing was there were literally thousands of them and I wanted to make time for all of them. I found myself thinking of how it would be if I met Mick Jagger or Ian Brown, and how disappointed I would be if I were snubbed.
During the time in Vienna, I immersed myself within a bubble without distractions. In the back of mind was the realisation of the momentous challenge in front of us. Social media had to go. I didn't want to have anyone's opinion of whether we were going to win, lose or get the dread 'nil points' affect the night of the show. We rehearsed relentlessly. We spoke for hours with the media until our voices were hoarse. We had to drum up support for the song and we went further in our promotional activities then any act before us.
The day of the Grand Final arrived. We were at the arena for 9am ready to run a full dress rehearsal of the entire show, complete with a flying Conchita Wurst. After more interviews and a quick bite to eat, the real show was upon us.
I'm often asked if we were nervous on the night. You don't have a chance to be. There are no free moments to stop and think, 'Oh, there's 200million people tuning in to see you'. Once we'd fought our way past the hundreds of wires within our LED laden costumes, gone down to get our in-ear monitor packs fitted and make sure we could hear ourselves, we were in the corridor waiting our turn. To get our adrenaline pumping, the whole gang were singing Everything's Gonna Be Alright by Bob Marley. I think the other countries thought we were mad, and we are. We're British.
Before I knew it, I was attempting to climb our staircase prop before the song started. The rule is that each song cannot be longer than three minutes long and there's only one minute in between acts. The strip of LEDs running down my legs had very limited bend in them. Go too far and you'd break the connection and the lights would stop working, so I had to climb the staircase with thighs together and shins splayed out. As you can imagine, this is not something you can do quickly.
Once I got to the top, I heard three beeps in my ear and we were off! The rest, of course, is history. All three minutes of it.
Alex Larke's debut album is released in June. You can pre-order it at: www.alexlarke.com and 10% of proceeds will go to the Cystic Fibrosis Trust.