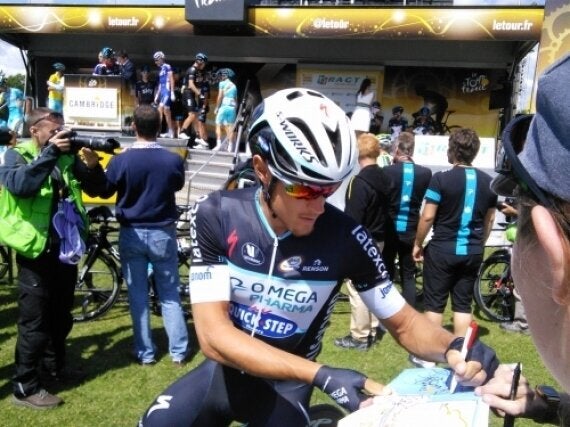 Tour de France 2014 Cambridge
I am a less than amateur cyclist, but we are a cycling family and like thousands of others these days in Britain, we have a long-lasting love affair with the bike and the sport. We know the teams, follow the riders, watch the races, and we travel to France to shout support from the roadside during the Tour de France, waiting all day for the moment when the "fastest men on the planet" finally whoosh into view in their bright array of colours and lycra and are just as quickly, gone. It's a thrill.
And we were first up at the barriers, present and accounted for in Cambridge last year on the third day of Le Tour's Grand Depart from Britain, meeting the champions, whispering words of support and encouragement as they took time to give us those valued signatures. But that year, everything hit the fan for British hopes in the Tour: first, the news that Sir Bradley Wiggins would not be participating; then the crash at Harrogate, taking out Mark Cavendish from our dream Tour, and later, Team Sky's hopes dashed when Chris Froome had to abandon at the cobbles stage with a broken wrist. So many other favourites joined the crashed and wounded: Andrew Talansky, Alberto Contador, Andy Schleck, and more. Welsh super-cyclist Geraint Thomas rode almost the entirety of the Tour with a broken pelvis, a symbol perhaps of our broken dreams?
If you love cycling, or know young people who cycle, you urgently feel the imperative of supporting clean sport. After all these years of doping revelations in various sports (not just cycling) there is now emerging a strong voice, a growing critical mass of fans and viewers, who want to believe in what they are seeing. We say the needed change is for the next generation. (Well, everything is for the next generation, isn't it?) Cleaning up the mess the world has made. And therefore it seems logical that all sportsmen who love their sport would "come out" for Clean Sport. Nelson Mandela said: "Sport has the power to change the world, the power to inspire, to unite people in a way that little else can; it speaks to youth in a language they understand..." On Stage 14 this year, the first African-based team ever to participate in the Tour de France, MTN-Qhubeka, won their first ever Tour stage; and it happened on Mandela Day. The British rider, Steve Cummings, who won for the team, was overcome with emotion at the finish line.We shared the feeling.
But coming out for clean sport is easier said than done. Sir David Brailsford, of British Cycling fame, is manager of the first British-based professional team, founded on the principle of clean cycling, "the aggregation of marginal gains", and a holistic approach to training. In Britain, many will affirm that Brailsford and Team Sky have done everything they can, and are willing to do more, to be transparent and to prove that their scientific, sans-performance-enhancing-drugs approach to training and riding, is genuine. And yet. This week Chris Froome and Team Sky have had abuse hurled at them on the French roads as allegations swirl in the French media and elsewhere, regarding Froome's "surreal" performance. Accusations of "doper", a cup of urine tossed in his face, Richie Porte taking a punch in the ribs and Luke Rowe spat upon. The dope questioning persists at every press conference amidst insinuations made in the French media, some by commentators who in fact themselves have a doping past. People are afraid to believe in "exceptional performances" given the grand deceptions of the Armstrong years. Meanwhile, it has been conspicuous that no one is putting the same cynical questions in the same way to other teams and questioning other exceptional performances.
Even to the casual observer, this appears strangely unjust, repeatedly pointing an arrow at the wrong target, and begs the question, to what end? Why was the media arrow (with the exception of prominent journalists like David Walsh) not pointed at the right target in those seven-plus years of Armstrong? Why is the arrow still being pointed at what would seem to be the wrong target? Regardless of how much people may dislike Team Sky, and many do, why are we continually failing to talk about where the real dopers may lie? Instead, so many commentators must tip-toe over eggshells, not wanting to be the Fool again in this Shakespearian drama, getting caught out saying an exceptional clean rider may indeed be Clean. But, "I publish, therefore I question"?
I also had a smidgen of egg on my face after convincing classrooms of teenage sceptics that Lance Armstrong was a super hero, as I used his cancer story for motivation and inspiration. It was not long after that The Truth Came Out. Those kids trusted me; I misled them: Lance misled us. But perhaps, as in other places in this troubled world, there really is a new wave, a new day on the horizon, an inkling of hope. Perhaps there is someone and some thing we can believe in? More importantly, perhaps we can let the facts speak for themselves. We now know that "never tested positive" is not a reliable defence. But, could open intentions and explanations (not known in the days of U.S. Postal) complete transparency and now power data factoids be the way forward? Is it wrong to believe? If Chris Froome and Team Sky are lying, it could be terminal for the sport. Froome himself said, "It would be a greater lie than Armstrong's. For it to happen once in the last 15 years was bad enough; for it to happen a second time would be criminal". What sane, clean rider would want to risk reliving Armstrong's nightmare?
A final word for Lance Armstrong: I don't hate you; I admired you for years and supported you on the roads of France. I feel sorry for you and that's not meant to be patronizing. I say in the kindest way, I would not want to be in your shoes, having to compensate for the hurt you have done. I think of your children and your partner and how they must be hurting, no matter how much you say they are all 'fine'. If I were you Lance, this is what I would do: forget the fact that you are the sacrificial lamb or, rather, scapegoat for the sport. There have been many such throughout history and through your own doing, this is your turn, unfortunately. What does the public want from you? Truth, honesty, repentance and most of all, humility. That is mainly it. We have all made mistakes; yours was a huge one performed on the world stage on a big scale. You were a villain amongst villains without doubt. But now you can come out for clean cycling and the new generation and not waste time bewailing the hypocrisy of your lifetime ban. I just know it never works in an argument to say: "He did it too". It's sounding like that. Viewers and fans are also shocked that ex-dopers are still in the field, in the cars, on the bikes and in the commentator box, and drawing a salary besides. But still, it never works for a hypocrite to point at hypocrisy. "First remove the mote from your own eye..." and all that.
There are many people out there with egg on their faces who love the beautiful sport of cycling and want to see something good come of this. Maybe you can help too.