Even back in his Colchester days, Paul Lambert was renowned for his dour temperament. A man of few words, the iron-cast Glaswegian has long had nothing but contempt for the superficialities of modern day football iPads at the training ground, Kyle Walker haircuts, the endless media frenzy - nothing but contempt. But when these frustrations boiled over as they did mere days ago - when Paul Lambert refused to answer any questions from Mat Kendrick of the Birmingham Mail - you know things are getting to the iceman.
And why shouldn't they? At 3-1 up against a top-five side, the pendulum seemed to have swung for Aston Villa's season. Lambert was on the verge of a watershed moment. But then the pendulum swung again: a lightning quick Fellaini brace and Everton were level. All hope vanished.
Don't get me wrong, there are plenty of positives to take from Saturday's performance; positives that could lift squad morale significantly. Unfortunately though, with players already jaded by the catastrophic narrative that has been Aston Villa's season, this becomes the sort of the result that cripples a team.
Particularly when their contemporaries are beginning to stage season-defining fightbacks. Newcastle, Southampton, Reading and QPR have all made concrete steps towards improvement, whilst Villa have taken just three points from the last 24.
Villa have found routine in mediocrity.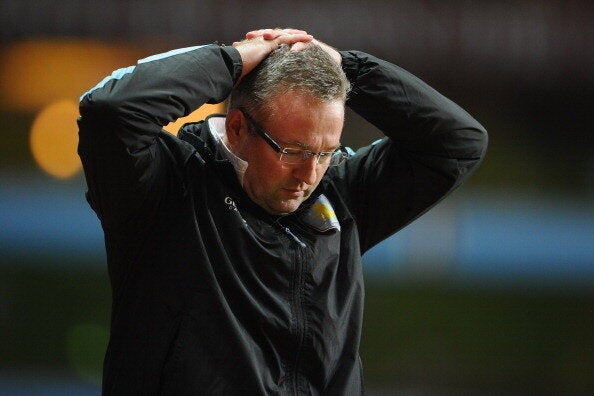 Cast your mind back a year and it all seemed so easy for Lambert. Last February, Lambert's Norwich City had 32 points and sat in the top half of the table. Under his stewardship, Norwich overcame the odds in sensational style, boasting a fearless brand of attacking football undergirded by an indefatigable energy.
Lambert was revered for his ability to get the most out of his players, harnessing the enthusiasm of youth and tapping into the lower leagues to unearth young, hungry talent. Youngsters like Anthony Pilkington, Elliott Bennett, Bradley Johnson and Jonny Howson were all fixtures in the starting 11 and routinely repaid their mentor's faith with performances that delivered points.
By the time Villa travelled to Liverpool in mid-December, much had been made of Lambert's faith in the Aston Villa youth. Matt Lowton (23), Joe Bennett (22) and Ashley Westwood (22) all arrived in the summer, whilst the likes of Nathan Baker (21), Chris Herd (23) and Ciaran Clark (23) all earned promotions to the first team. Lambert was ushering in a new generation at Villa, unphased by scrutiny that came with such a bold move.
But after Aston Villa stunned Merseyside in a 3-1 victory at Anfield, young guns blazing with a mean age of just 23, Lambert's faith in youth was roundly celebrated. "Vindication for Lambert's steadfast faith in his young team", said the Guardian - the master-plan was finally delivering.
The next game, against Chelsea, Lambert fielded only two players over the age of 23, determined to replicate the triumph at Anfield. But what followed was a disaster. The 8-0 atrocity plunged Villa's youngsters into the clutches of a relegation battle; their belief chewed up in the maelstrom, their confidence in tatters. Since then, Villa have failed to win a single game, crashing out of both cups and thrust into a deep pit of ignominy.
Villa's bright young stars now play with a morbid sense of disenchantment, haplessly stumbling into wave upon wave of inevitable disappointment. With the exception of Christian Benteke and Andreas Weimann, they now seem engulfed by their own self-doubt, thrown into the deep end where they now remain, drowning in a now familiar sense of despair.
The resulting absence of belief is reflected in the statistics. This season, Lambert's Villa have won the fewest points (2) from losing positions and have lost the third most points from winning positions (18). Any resolve the team once had has all but evaporated.
Norwich suffered familiar defeats during Lambert's reign, including a 6-1 home thrashing at the hands of Manchester City. But what followed was not wholesale capitulation.
The reason for this lies in the fact that amongst the youthful Norwich ranks were players who well-versed in the hardships of football. In John Ruddy, Grant Holt and Russell Martin, Norwich had generals capable of galvanising and inspiring a team.
But at Villa, Lambert's shock therapy has alienated these characters. Bent and Given remain perennially in the dugout, whilst Stephen Warnock and Alan Hutton have moved onto pastures new. As a result, an unbelievable amount of weight has fallen on the shoulders of Stephen Ireland, Gabby Agbonlahor, Ron Vlaar and El-Ahmadi, the latter two of which have only been at the club since the summer.
"They are in big trouble", former Villa boss Ron Atkinson remarked recently. "They don't have any leaders on the field."
And therein lies the problem. There's no gel to hold the team together, there's no Grant Holt ploughing the furrow; no John Ruddy barking orders.
It's not a matter of the players being too young, it's their sudden integration into the first team that has reaped the damage. It's simply a matter of trying to usher in a new era prematurely, long before the players could build their confidence. Lambert has tried to run before he could walk.
He had a chance to rectify this in January, but instead of acquiring the services of an experienced head capable of rallying the squad - like QPR's did in signing Chris Samba - he brought in Yacouba Sylla, a 22-year-old from the French second-tier.
Lambert simply has too much courage in his convictions. Whilst his project is admirable, his strident pursuit of it is tearing Villa's prospects apart.