Fantasy football managers take many forms. There are those that go top heavy, goal-hungry obsessives - the Kevin Keegans. Then there are the managers that take the careful approach when building their fantasy football team. Beginning at the back with a well thought-out and solid defence - the Tony Pulis' of fantasy football management.
Lastly we have the Pep Guardiola's. Those that want to entertain their mates with a fantasy football side that boasts the silky, skilful players. A team jam-packed with the game's architects.
This season Agüero and Sanchez are scoring the goals. Manchester City and Arsenal are keeping the clean sheets. It's all pretty predictable. But which players are providing the creative spark? Who should you be looking at to include in your fantasy football team to add that extra Guardiola glow?
Fantasy football game www.oulala.com have dissected the stats and revealed Europe's most creative players so far this season. If you're looking to add creativity to your fantasy football team then it's best you head straight to the Premier League and Ligue 1 this season.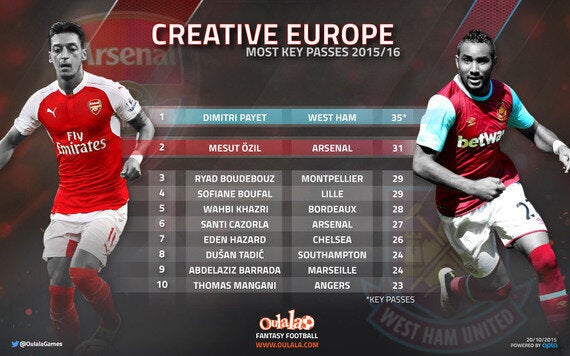 West Ham's Dimitri Payet leads the whole of Europe for creativity. He has provided a total of 35 key passes in the Premier League this season. An average of 3.9 key passes per game, the Frenchman has set up a team-mate with an effort on goal every 23 minutes. Payet must be in your fantasy football team every week, no question.
Mesut Özil of Arsenal is Europe's second most creative player. The German has tallied a total of 31 key passes in the Premier League this season. Playing 663 league minutes for Arsenal has seen Özil provide a key pass, on average, every 21 minutes. Oulala's stats show that the assist king we once saw at Real Madrid has finally come out of his shell this season. Is it finally time that he returned to your fantasy football side?
Players from the French league follow the Premier League duo in the form of Montpellier's Ryad Boudebouz and Sofiane Boufal of Lille both providing their team-mates with 29 key passes this season. However, the stats do not fair well for their colleagues. Neither Boudebouz or Boufal has registered a single assist this season. Their creativity wasted by their team-mates.
Wahbi Khazri of Bordeaux takes fifth spot in Oulala's list. The 24-year-old has made 27 key passes in Ligue 1. His team-mates have taken full advantage, scoring 5 goals and helping Khazri to joint third place for Europe's most assists this season.
Arsenal have a second player in Europe's top ten most creative players. Santi Cazorla equals Khazri with 27 key passes this season at an average of 3 per game. Cazorla also boasts the most successful passes in the Premier League with an average of 74 per game, leading both Chelsea's Cesc Fabregas (63) and David Silva (61).
Surprisingly, Chelsea's heavily criticised Eden Hazard makes seventh spot in Oulala's most creative players list. The Belgian has made 26 key passes in the Premier League this season. At an average of 2.9 per game, the 24-year-old is in-fact more productive this season than he was last season. Hazard averaged 2.4 key passes per game during his player of the year campaign.
The last Premier League player to feature in Europe's top ten is Dušan Tadic of Southampton. The Serbian has made 24 key passes in the Premier League this season, resulting in 2 assists.
Marseille's Abdelaziz Barrada has also made 24 key passes this season according to Oulala's data. The Moroccan international has played 600 minutes in Ligue 1, averaging a key pass every 25 minutes. With 4 assists, his Marseille team-mates have made the most of his creativity.
Thomas Mangani of newly promoted Ligue 1 side Angers takes tenth spot. The 28-year-old has made 23 key passes this season, resulting in 2 assists.
There you have it. Europe's ten most creative players for you to choose from for your fantasy football team, courtesy of Oulala.
It's time to drop the out-of-sorts Cesc Fabregas. He's so last season. Who will you choose to replace him with?
Stats and Infographic supplied by fantasy football game www.oulala.com
Popular in the Community