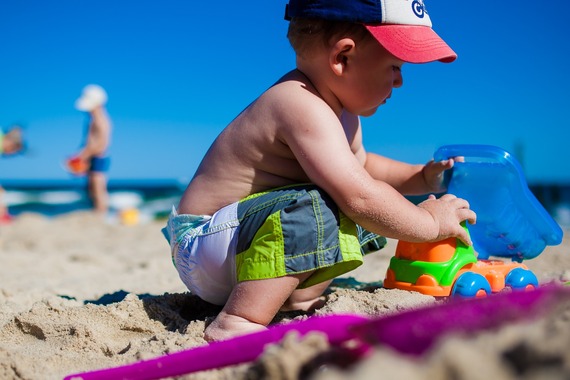 Photo Credit: Pixabay
The Husband and I are spectacularly average surfers. In fact we pride ourselves on our ability to spend the entire day fighting through the white water, only to get pounded by gigantic waves once we reach 'out back'.
But it doesn't stop us from searching (horrific surfer speak for when you're sat astride your board staring into the big blue horizon, waiting for the perfect wave to sweep past, at the ideal moment, allowing you to catch the ride of your life).
We bonded through this shared love of the sea, a welcome distraction from our monotonous lives spent in Groundhog Day limbo, in the arid surroundings of a landlocked country (we were serving in Afghanistan at the time).
He came home first and I followed a few months later, very excited that he'd organised (read for military style planned) our first holiday together - a two week surfing trip, complete with daily instruction, to Costa Rica. It was perfect. The type of holiday you can't help but fall in love on.
That was five years ago and since then every holiday has been near a beach or in a location that is suitable for surfing
But that's all about to change.
I'm six months pregnant and very aware that holidays, as we know them, are about to come to an abrupt end. Wild activities in exotic locations are soon to be replaced with child-friendly activities, that can be undertaken in child-friendly locations, that aren't too far away from home. (Various friends have already pre-warned me that journeying with a small being is not the most relaxing of experiences...)
No longer will I be that carefree beach babe with only a dachshund in tow, I will now be that donkey, laden down with more baby paraphenalia than is strictly necessary.
Beach requirements for us from here on in will require it being baby proofed and child friendly. I'm not stupid enough to think I'll actually get a break per se, but if I plan it right, a change can be as good as a holiday, can't it?
So looking ahead to next summer, and typing 'holidaying with a small child' into Google, did not present me with the list of answers I was hoping for. It did however throw up a 15 minute distraction (hilarious BTW) that had me chortling with laughter, the prospect of such horrors still ours for the discovering.
I'm thinking a simple beach holiday. Nothing exotic, nothing taxing, just an easy week away in the sun. I'm sure I'll live to regret my decision, but at least it will give me a point in the future when I can aim for some respite. I know, how naive am I?
But then if I think I'm woefully ill-prepared, The Husband is in for a rude awakening. He is steadfastly maintaining that we can still do our annual ski trip next year, complete with three month old in tow. Apparently we can 'take it in turns' to do child care each day, whilst the other goes off powder bashing. Ha.