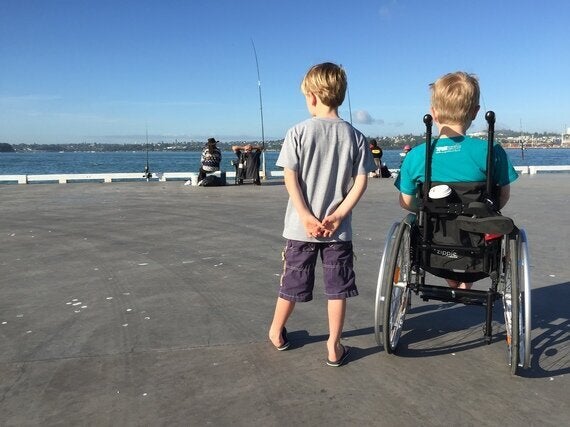 It's that time of year again, when despite my best intentions to blog regularly I have not been anywhere near prolific, in fact quite the opposite. Life and work has yet again got in the way. Maybe this year will be different but I somehow doubt it.
It feels like yesterday that I was in Tooting hospital having my world changed for ever with Harrison's Duchenne diagnosis... my little boy in the corner playing whilst a Doctor gave him a death sentence. A seemingly long, slow, heart breaking decline and a life shortened terribly by this horrific condition.
Every January 25th since that day I've sat down to try to reflect on the year that has passed, where I've been, life experiences gathered, both for me and for Harrison, am I being a good father, has my work helped Harrison, have we found a treatment, are we getting closer?
In many respects this has been a year of firsts, a year of pushing boundaries, taking risks and without doubt hectic... I have not stopped.
I've travelled... skiing with the family for the first time, Harrison for the most part between my legs, me taking the weight his weakened legs can't manage, William disappearing over the horizon in front of us, fearless. We visited New Zealand, the boys seeing some of their heritage, meeting All Black legends and family, the Greatest Ironman happened in Denmark, the most amazing day of my life, Singapore and Dubai to show them some of the world and see friends... Harrison and William are certainly starting to collect some stamps in their passports!
I've won awards both for our Harrison's Fund advertising campaigns and personally for our Fundraising for the Ironman together... raising over £50,000 on Just Giving and winning the 'Outstanding Commitment to Fundraising 2015' their top award. We also won the BBC Surrey/Sussex Fundraiser of the Year award for the same event.
Harrison's Fund has gone from strength to strength... raising half a million pounds with our amazing supporters and fundraisers. We've grown every single year for 4 years which for a bloke who still doesn't think he knows what he is doing, I find unbelievable. None of which would happen without the team that support me so wonderfully.
We've had a documentary feature film, 'The Challenge' made about us to be seen on TV screens and cinemas this year around the world and appeared on some of the most highly viewed TV and radio shows in the UK including the One Show....an incredible experience.
We started a clinical trial with Harrison at Great Ormond Street and we've moved house locally to a bungalow to purely help Harrison enjoy life to the fullest without any steps in the house.
I think most people who look at all that would say wow... what a year! You must be so proud to have achieved so much? How do you fit it all in? You're doing so well!
For me, I look at it all and yes I'm proud of what I've achieved, I'm humbled and grateful beyond belief by the unconditional support and to all of you who have helped or are even thinking about helping, thank you.
What have I actually achieved? Harrison and all those children, young adults and sprinkling of men out their still have no approved treatments, they're still losing muscle strength, their hearts are still getting weaker, they're still dieing way before their time, families are losing loved ones, friends are losing their best mates, brothers and sisters are losing their anchors. In reality, in my reality where my only goal is to save my sons life and in so doing or vice versa save a generation of children, in hard and fast terms I have achieved nothing.
I can't and won't truly celebrate until I do.
Harrison has really struggled this year... and Duchenne is beginning to ravage his tiny body... Overnight this year he lost the ability to get up from the floor unaided... I saw him do it one afternoon and then the next day, he couldn't.... it's gone, unlikely ever to come back... just getting out of a chair or off the sofa is a monumental effort. His foot deformity an uncommon consequence of the effect Duchenne is having is further making walking difficult and the falls he has are harder and worryingly frequent.... If I'm honest with myself he could well lose the ability to walk in the next 18 months which I find absolutely terrifying.
The wheelchair is a constant reminder, more and more often it is in the car and not gathering dust in the garage, any trip that involves a now short walk requires the wheelchair to come with us.
Emotionally he is starting to lucidly realise he is not getting better and has often said,
'I hate Duchenne, I don't want to be like this anymore, I want to be normal, I want to be born again and come back normal... I didn't ask for this...'
I felt like my heart had been torn from my chest and jumped up and down on in that moment.
So, yes... I'm still heartbroken... in fact no, I'm not just heart broken.. I'm just broken.
Broken things can always be fixed, everything is impossible until it's made possible... life is for grabbing by the short and curlies and enjoyed to its fullest... so despite being broken... I'm also a guy determined, more determined than ever to fix myself and win the battle of my lifetime, to 'fix' Duchenne and save Harrison.
Duchenne won't beat me and it won't beat Harrison.
What's Duchenne in the face of Ironman.... 'Billionaire, genius, playboy, philanthropist' as Tony Stark would say? On reflection.. none of those are me unfortunately but at least Tony likes to win and so do i!