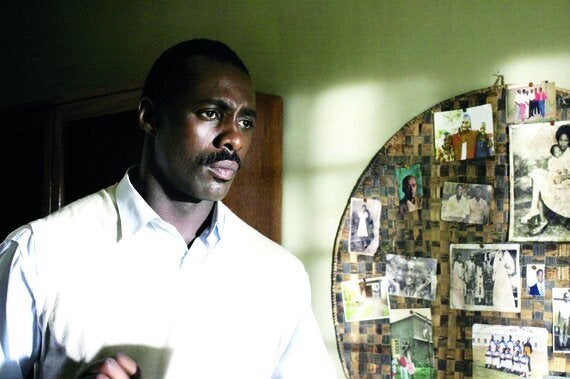 The Rwanda-set film Sometimes in April took the award for Best Foreign Film in the 2002 Independent Spirit Awards bringing its Haitian-born director Raoul Peck to the attention of international audiences. Now the British Film Institute is featuring a season of his work as part of its long-running programme, African Odysseys.
Too often mainstream films about Africa are refracted through the prism of white experience. Just think of films such as Blood Diamonds and The Constant Gardner and you can see how this plays out. "Stolen Images" is Peck's title and is his response to the lack of an African perspective in political cinema. A writer-director, he has attempted to redress this imbalance. Released in 2000, Lumumba was a penetrating historical drama set directly against a momentous epoch, while films such as The Man by the Shore, in which he explored the horrors of Papa Doc's regime through the eyes of a child, made the personal political.
"I have long wanted to feature Raoul Peck's work in a BFI season," says David Somerset, education programmer at the BFI. "Having run the ground-breaking monthly strand, African Odysseys - a programme of films and discussions by and about the African Diaspora and programmed as well as promoted in conjunction with cultural representatives from the African and Caribbean communities in the UK for nine years - the work of Raoul Peck is of great relevance and a perfect fit for this long running, innovative and popular strand.
"His film, Lumumba is an extraordinary achievement in itself but also stands as unique in that it captures African history from an African perspective. It remains one of the most popular film to have screened in the non-theatrical circuit in recent years.
Raoul Peck's own history spans the Congo, Haiti, the US and Europe and his career includes roles as diverse as Minister of Culture in Haiti and his current position as President of FEMIS, the prestigious National Film School of France, experiences that contribute to a unique directorial vision.
"Peck is a unique film maker in so far as his films are about Africa and its peoples including the diaspora Africans and place their stories in the wider aspect of world history and politics," Somerset added. "The fact that he has made and continues to make determinedly political films is no mean feat in an industry that largely shies away from such content. At the same time his films are visual, often poetic and dramatically compelling, exploring aspects of life from all varied social backgrounds and cultures. They are certainly not dry polemics. The fact that he has made TV drama in France about national news stories, educational system and his most recently feature, still in production, about the life of Karl Marx in Europe in the mid-19th century, is testament to the universality of his vision."
"The season also gives the BFI Southbank an opportunity to screen his most recent drama MURDER IN PACOT as well as a chance to hear him discuss and screen his wider oeuvre."
Raoul Peck - a Pan African film maker
A shared passion for Pan-African cinema between programmer June Givanni and film director Raoul Peck formed the basis for a friendship and a close working relationship over many years. This illustrated presentation from June Givanni will consider his personal, cultural and professional background and include clips drawn from the June Givanni Pan African Cinema Archive.
People, Politics, and Power in the films of Raoul Peck
Join special guest season director, Raoul Peck in conversation with host, Colin Prescod, film maker, former director of African and Caribbean Unit, BBC Birmingham and currently chair of the Institute of Race Relations for a richly illustrated discussion about the politics within the broad spectrum of his films, from documentaries and film essays to art house films and epic drama.
Haiti, France, Norway, 2014, 130mins, HD. French-Haitian Creole with EST
Set in the immediate devastation of the 2010 Haitian earthquake, a middle class couple struggle to rebuild their lives and rent part of their mansion to a foreign aid worker and his youthful and seductive partner. This beautifully acted, darkly engrossing drama takes Pier Paolo Pasolini's "Theorem" as inspiration with a script co-written with Haitian novelist Lyonel Trouillot and veteran writer Pascal Bonitzer (who also worked on his feature drama, Lumumba).
Fatal Assistance (Documentary )
France, Haiti, USA, Belgium
2013. Dir Raoul Peck, 100mins
An investigation into the 'disaster aid' industry which follows a two year journey inside the challenging, contradictory and colossal rebuilding efforts in post-earthquake Haiti. Famous faces in the resulting 'circus' include film star Brad Pitt and Angelina Jolie along with President Obama's special appointment, Bill Clinton. This radical and revelatory documentary leads to the only plausible outcome: an immediate stop to current aid policies and practice.
France , Haiti, 2009. Dir Raoul Peck. 107mins. French, English, Creole with EST
A highly controversial reconstruction of the final days of an imagined state leader, in free fall, before his removal by forces inside and outside the country. This sensational and darkly satirical drama takes place in the private rooms and government chambers of the Haitian presidential castle. Politically inflammatory, it's a film that demands answers to questions often missed by the political headlines.
France, Belgium, Germany, Haiti. 2000. Dir Raoul Peck. 115mins. French, Lingala, English with EST
A ground-breaking film drama about the Congo's emerging struggle for independence after eighty years of Belgium occupation and possibly the director's best loved film. It follows the tragically tumultuous yet brief reign of Congo's elected leader, Patrice Lumumba as he attempts to challenge the bitter legacy of colonial rule, a story typical of similar struggles for independence across the globe.
West Germany, France, USA, Haiti. 1988. Dir Raoul Peck. 98mins. English, Haitian with EST
Raoul Peck's astonishing feature debut tells the troubled story of an émigré Haitian living in Brooklyn, New York who is determined to confront his torturer during eight years of imprisonment who is also seeking refuge in the city. Moody and passionate, the poet survivor struggles to find love and break free from the trauma of his past suffering before it catches up with him once more.
France, Canada, Haiti, Germany. 1993. Dir Raoul Peck. 106mins. Haitian with EST
Period drama set in 1960's Haiti which takes the perspective of Sarah, an eight year old, on Papa Doc's brutal rule enforced by his gangster militia, the Tontons Macoute. Beautifully performed and realised, it expresses her innocence but also captures the trauma of life under tyranny, as she and her sisters are hidden by a fearless grandmother after her parents flee the country. The first Haitian film to be screened in the US, it brought deserved international recognition.
France, USA, Rwanda. 2005. Dir Raoul Peck. 140mins. With Idris Elba and Deborah Winger. English, Kinyarwanda, EST
Considered to be the definitive film drama about the genocide in Rwanda , Idris Elba is the Hutu caught between both sides as he tries to protect his wife, a Tutsi, and their children. It's a thrilling, sensitively observed drama and one that also succeeds also as a highly articulate commentary on the wider historical context of Rwanda and the terrible failure of the international community to prevent genocide.
Related