The Gospel of Loki - Joanne Harris (Preview)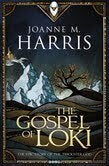 Joanne Harris is perhaps best-known for her Whitbread-shortlisted novel Chocolat (which was made into an Oscar-nominated film starring Juliette Binoche and Johnny Depp in 2000). While any author would envy the book's success, the title has overshadowed her other work - namely her forays into the fantasy genre. In 2008, she published Runemarks, about a young woman whose distinctive birthmark is a symbol of her magic powers, and then four years later its successor, Runelights.
Now she has returned to a much-loved subject area - Norse legend. The Gospel of Loki is written in the style of a first-person account from the trickster god, right from the moment he is 'discovered' by Odin, like a demon-born David Beckham, and follows his many adventures as he wreaks havoc among the gods in Asgard. It's an unusual take on the genre - and timed perfectly to coincide with the success of the Thor movies. It's sure to appeal to fantasy fans as well as fans of her previous work. Here she talks about her work.
The Gospel of Loki marks quite a radical departure for you. Why the move to adult fantasy at this point in your career?
I don't see it as a departure at all, but as something that flows naturally from my two Rune books. I've always written novels with aspects of fantasy, myth and fairy tale, and this seems a very natural progression. Norse myth includes a number of themes I've used extensively before - the concept of the outsider, the idea of the small community under pressure, various kinds of magic - it's a very interesting, surprisingly contemporary area.
Is this a genre you plan to explore further?
How long did the book take to write?
About 12 months, although it's the result of many years' research and exploration.
Whose work do you admire? Name the authors whose work has influenced you.
Ray Bradbury, Victor Hugo, Vladimir Nabokov, Angela Carter, Stephen King, Guy de Maupassant, P.G. Wodehouse, Mervyn Peake, Emily Brontë, Oscar Wilde, Shirley Jackson, Edgar Rice Burroughs.
What do you read for pleasure? What have you read recently?
I read all kinds of things; fantasy, sci-fi, contemporary literature, science books. Right now I'm reading a proof of a wonderful novel called Savage Magic by Lloyd Shepherd, author of The Poisoned Island. He's a terrific author; his books are clever, lyrical, atmospheric, but they tell a damn fine story, too.
Describe a typical working day. Where do you write? What do you use?
I seldom see a typical day: right now I'm travelling so much that I have to work where I can - hotels, trains, airports. When I'm at home I work in my shed at the top of the garden. I start pretty early, go for a run, have breakfast, then work till lunchtime. I use a Vaio laptop, which travels everywhere with me. I work best in spring and summer, when the light is good: in winter I use SAD lamps to keep myself going. Oh, and tea. Lots of tea.
I'm writing a Dr Who e-book for the BBC, plus I'm halfway through a novel called Different Class, set in a boys' grammar school. I'm also working on a few other projects, as well as travelling to publicize Loki, so I'm pretty busy...
The Gospel of Loki is published by Gollancz, £14.99 and is available now from Amazon.co.uk
Popular in the Community