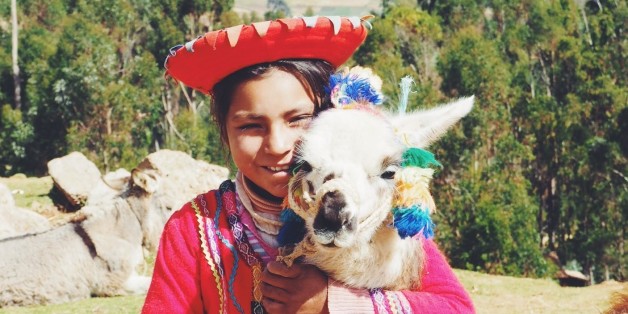 Alice Tate
In my new house, I definitely need to think of a clever solution to having holiday pictures around the house, aside from just shed loads of photo albums gathering dust. I'm the worst for taking hundreds of pictures on a trip then never really looking through again them, 'til I stumble on them months later and get all nostalgic. Anyone else? Course, I do get to relive lots of my trips on here, putting my footsteps into words, but there are still things you forget and photos are so good for evoking vivid memories. I could sit very happily for hours scrolling through photo after photo of trips long and short.
I was scrolling back through pics yesterday and stumbled on this happy little shot from Chinchero. Isn't it gorgeous? Isn't she gorgeous?
We'd spent 24 hours in Cusco and were en route to Machu Picchu. I remember being a bit frustrated that we were going to be in the car all day instead of out in the sunshine, plus was feeling queasy from the winding roads. Things perked up when we stopped at a family-run textiles workshop and watched as the most lovely grandmother and granddaughter showed us how they dye the wool and work it on looms into beautiful traditional textiles. We piled back into the car, and 30 minutes later, stopped at a viewpoint that showed off the beautiful green valley. There was a little roadside stall selling colourful crafts and textiles, with two of the most gorgeous little children dressed head-to-toe in colourful ensembles sat around the stall playing as their mother worked. Out of nowhere, the little girl in the picture, dressed in the most beautiful traditional ensemble brought over her llama, dressed in matching colourful accessories! I asked if she would mind if I took a picture and she insisted I did, and hugged her llama so tightly for the shot.
All of it - the view, the colours, the kids, the llama - was just so amazing and something so normal to them but special for us. Every time I see this picture I beam with a grin like the kid in the picture. It's such a happy little moment! I definitely need this one framed and on the wall.
It's those little things, the five-minute moments and the spontaneous detours you'll never forget that are the best thing about holidays for me. Surround yourself with holiday memories and whenever you get a chance, go and make more!
If you're thinking of booking a break, you should know that British Airways Holidays takes the stress out of planning, booking and going on holiday, from start to finish. British Airways Holidays never forgets that your holiday is something you never forget.