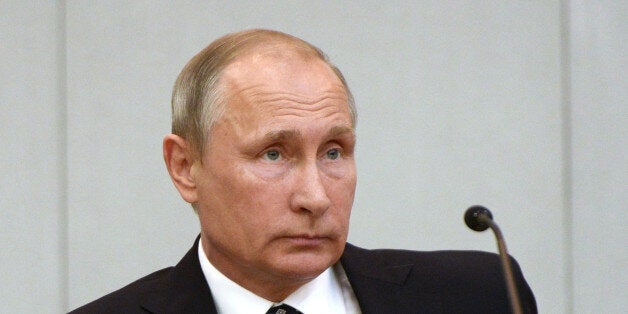 In recent weeks you could be forgiven for thinking we were back in the early eighties at the height of the Reagan/Thatcher era's talking up of the threat from Moscow.
The renewed Russian and Syrian assault on rebel-held east Aleppo and the images of destruction getting out and into western media has stimulated what can only be described as Russophobia to reach new heights, stoked as it is by Washington and London with many journalists and commentators in tow.
The charge list against the Kremlin is long and growing all the time.
President Putin is accused of a litany of wrongdoing from war crimes in Syria and Ukraine to attempting to subvert the US presidential election and funding Europe's anti-EU populist parties.
Historians can point to a long pedigree for Russophobia, and in Britain it long predated the 1917 Revolution, the rise of the Soviet Union and the Cold War.
Even though Moscow and London ended up on the same side in the two world wars and during the 1990s, following the collapse of the USSR, Russia was discounted as a weak, declining country of little consequence, the "Russian bear" has generally been portrayed as a rival and a threat in Britain since the imperial rivalry of the nineteenth century - by both politicians and journalists.
Of course, the current Foreign Secretary, Boris Jonson, is a journalist who went into politics and perhaps that explains his suggestion last week that people should protest about Syria outside the Russian embassy in London- a suggestion that indicates he still has to learn he's no longer a practitioner of what one former diplomat joked to me is the journalist's vice - the exercise of power without responsibility.
In the case of the assault on Aleppo, there is truth in the accusation that the bombing is being carried out without much concern for civilian casualties.
But while it may allow the politicians, like Johnson, and media commentators to indulge in righteous indignation and - one suspects - to revel a bit in a feeling of moral superiority, it doesn't make for good policy or a long-term solution to the war in Syria and the growing impasse in relations between the West and Russia.
The former International Development Secretary, Andrew Mitchell, allowed his sense outrage to get the better of his judgement when he went on the BBC to call for NATO to impose a no-fly zone over Syria - an act which would almost certainly mean going to war with Russia, something no serious western politician has any intention of doing.
Indignation can be constructive.
It can galvanise people to take action to prevent humanitarian abuses or to end armed conflicts where unwitting civilians are caught in the middle.
But selective indignation is counter-productive.
Undermined - as it inevitably is - by hypocrisy and double standards that undermine its moral force.
Be it the British government's condemnation of Russian action in Syria while remaining relatively quiet about Saudi action in Yemen, or that of supporters of the Stop the War coalition who tend to be muted in criticism of Russia while focusing their ire on the British and Americans over Iraq, Afghanistan and - indeed - Syria.
Or Russia's condemnation of American and British recognition of Kosovo's break away from Serbia while subsequently recognising Abkhazia and South Ossetia's declarations of independence from Georgia.
And that's before you consider how both sides are capable of sowing disinformation and outright lies to gain advantage.
Remember Russia's insistence its forces have not been involved in Ukraine or the American refusal to own up for launching a cyber attack on Iran's nuclear programme.
Moral suasion requires consistency to carry authority.
The old saying "people who live in glasshouses shouldn't throw stones" isn't a call to stay silent; but it should be taken as an invocation to avoid hypocrisy if you want your words and actions to carry weight.
Double standards have practical consequences.
As I've written elsewhere, they undermine the trust that's needed between opposing sides if there's to be much hope of settling the disputes driving conflicts from Ukraine to Syria.
Related