It speaks volumes about the strength of Arsenal's midfield that recent injuries to Theo Walcott and Aaron Ramsey have not been enough to generate much in the way of serious transfer speculation regarding replacement midfielders. Widespread rumours have continued, though, surrounding the lack of depth in the Gunners' striker department. Walcott's display as the lone forward in the win over Tottenham, in which he was eventually injured, would have eased fans' worries regarding other options to Olivier Giroud, but he was arguably never the solution; Arsenal had long since been linked with a ream of attackers. Which, if any, would be most worthwhile, is one of the hot topics of the current transfer window.
Dimitar Berbatov may have longstanding ties with Arsenal's north London rivals Tottenham, but the battle for supremacy between the two has become so fierce that fans' grievances over players' former clubs have been increasingly disregarded. As Arsenal approach the season's final strait still atop the Premier League, any supporter would quickly forget Berbatov's past were he to help them end their near nine-year trophy-less spell. But would the Bulgarian be a suitable signing for Arsène Wenger?
He has displayed mixed form this season, netting only once in his first 12 league appearances of the season, but has come back into the goals, scoring in three of his last four games; hardly title-inspiring stuff but decent nonetheless. What does stand out for Berbatov, though, is his passing ability.
A player who likes to move the ball around quickly, he would fit in at Arsenal in this regard. The Gunners have completed over 300 more passes in the final third than any other team in the Premier League this season (3001, a rate of 142.9 per game). Berbatov has completed a pass in the attacking third, on average, every six minutes 41 seconds over the past two seasons, a rate only topped by Wayne Rooney, Luis Suárez and Sergio Agüero of all strikers with at least 40 appearances. While some forwards are all-too focused on finishing off moves, the best have more to their game, just like Berbatov and the other three mentioned here.
Wenger does, though, encourage his players to win the ball back high up the pitch, but it simply isn't in Berbatov's genes to pressure defenders into giving up possession. While Arsenal lead the Premier League for winning the ball back in the attacking third over the past two seasons (223), in 49 appearances over that time frame, Berbatov has won the ball just 14 times in attacking positions. This season alone, he has done so just six times in 16 matches.
Dimitar Berbatov certainly wouldn't be the perfect fit for Arsenal, but his ability is undoubted, and for the £2million price that has been suggested, they could do a lot worse.
The signing of Mesut Özil in the summer pacified a growing number of Arsenal fans that were becoming disillusioned with the lack of player investment in recent years, and it is highly unlikely that Wenger will have further funds for another big name this January. At the same time, though, this season represents by some distance Arsenal's best shot in years at regaining the Premier League title and splashing out on a proven goalscorer at their peak would significantly improve their chances.
Diego Costa has been in sensational form this season, and ranks third behind Suarez (22) and Cristiano Ronaldo (20) in the top five European leagues' goalscoring charts, with 19. All of those strikes have come from inside the area, and with Arsenal having scored 92.7% of their Premier League goals this season from within the box (the second highest proportion), there is reason to believe Costa, a lethal and ruthless finisher, would fit right in.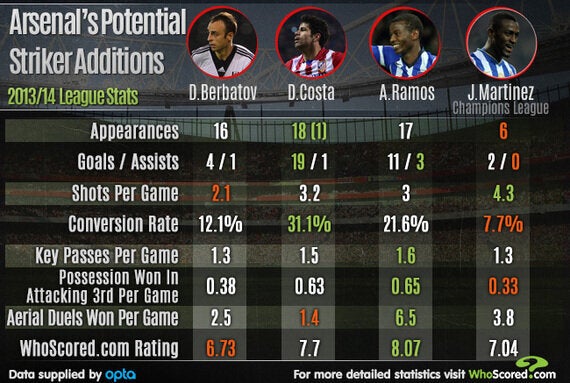 However, contrary to opinion that may be garnered by his burly figure, Costa isn't actually that effective in the air, having won just 27 of the 109 (24.8%) aerial duels he has contested in La Liga this season. Arsenal by no means play long ball football, but often their defence look direct for Olivier Giroud up the pitch and he does the job extremely well. He has been challenged to 8.5 aerial duels per game and has won 52.5% of those, a vast increase on Costa's rate. However, when it comes to goalscoring, there are few better. The Brazilian's 31.1% conversion rate this season is one of the best in Europe and would be a vast improvement on Arsenal's their first-choice striker Giroud (13.4%).
At 27 years of age, Hertha Berlin's Adrián Ramos has been something of a late developer. He was key aged 21 for América de Cali in reaching the final of the 2008 Copa Mustang, and after earning a call-up to the Colombia team he won a move to the Bundesliga with Hertha Berlin. However, 10 goals in 29 appearances in his debut season was far from enough to prevent them from finishing bottom of the league, and he hardly scored spectacularly in the 2. Bundesliga, netting 15 times in 33 appearances as Hertha won promotion.
Six goals and three assists in 31 appearances in 2011/12 earned him a mediocre WhoScored rating of 6.78 and could not stop the side again dropping down to the second tier. That he netted 11 times in 32 appearances in that league last season barely gave the slightest of hints that he would find form in the top flight this term.
That he has done, though, and he currently leads the goalscoring charts with 11 goals in 17 games (21.6% conversion). He is also the third-highest rated player in the Bundesliga (8.07), combining ability in the air with competence on the ground, winning a Bundesliga-high 6.5 aerial duels per game (at a success rate of 40.5%) and completing 3 dribbles per game (15th most in the Bundesliga). What is more, he works hard off the ball, and outside of the big two teams in Germany (Bayern and Dortmund are both known for their pressing games), only Werder Bremen's Aaron Hunt (15) has won possession in the attacking third of the pitch more times than Ramos (11).
Adept on the ball, a hard worker off it and clinical in front of goal, Ramos could well prove to be the forward that Arsenal need, but with his stock - and thus price - vastly inflated given all the media hype around him, but with only half a season of real quality form, he is certainly one of the more risky options linked to the Gunners.
Porto are widely known for selling on fantastically talented players for big money. The likes of Hulk, Falcao and Ricardo Carvalho have proven incredible exports from the Portuguese club, but in Ricardo Quaresma, Hélder Postiga and Raul Meireles, there have also been those that have largely failed upon leaving the club. Jackson Martínez is next to be linked with a move away from the Estádio do Dragão, but there is little knowing whether he can transfer his form to the Premier League.
Having netted 38 goals in 45 league appearances for Porto, he is certainly capable in front of goal, but what else does he add? In his 14 Champions League appearances to date, he has laid on an average of 1.2 chances per game, and is yet to pick up a single assist, despite scoring 5 goals himself. He does, however, take plenty of shots, scoring two goals this season from 26 attempts (7.7% conversion) and needs to improve in that regard if he is to make it to the top. Though only a very small sample, it is noteworthy that Martínez provides fairly little in terms of creation, and having won possession back in the attacking third only twice in six European appearances this term, it might be the case that he doesn't quite offer enough of an overall package to be a success at Arsenal.
Which striker would be the best purchase for Arsenal this January? Let us know your thoughts in the comments below...