The return of José Mourinho, The Special One, the messiah, the manager who can do no wrong in the eyes of Chelsea fans, was supposed to be a 'happy' homecoming. After seven different managers and seven trophies won, a still unsatisfied Roman Abramovich reinstated the Portuguese at the helm, and with him he was supposed to bring the good times back to Stamford Bridge. After a trophyless season and a third-place finish in the Premier League, Mourinho's first campaign back in English football has not been the return fans would have been hoping for.
The thought of a core of Petr Cech, John Terry, Ashley Cole and Frank Lampard rekindling their relationship with the manager that led Chelsea to their only successive Premier League crowns, whilst also teaming up with their latest favourites on the pitch, will have had fans salivating, but it has not quite been the perfect reunion they'd have wanted.
While Terry and Cech have retained an integral status in the team, Lampard has played a bit-part role and two-time player of the season Juan Mata was phased out of the club. Arguably a greater shock, however, has been the pace and extent of the decline of Cole's use in the first eleven. The left-back has in the space of 10 months gone from England's first choice and possibly still one of the best in the position on the planet, to without a club and not even in Roy Hodgson's squad for the World Cup. Few would have foreseen such a fall from grace for the player many consider to have been England's most consistent performer over the past decade, and at 33 years of age there is certainly something to say for him still having plenty to give.
But until Branislav Ivanovic's suspension for the first leg of Chelsea's Champions League semi final against Atlético Madrid, Cole had not played consistently since the turn of the year. Between January and April he didn't feature at all for the Blues but still started for England in a friendly against Denmark. When called upon for the aforementioned clash with Diego Simeone's side, however, Cole proved his continued class.
Just 12 minutes of action for the Blues in the months leading up to the match, and the veteran, supposedly considered on the wane by his manager, put in a typically assured and energetic display as his team picked up a clean sheet in the Spanish capital, making three tackles, three interceptions and playing one of his team's two key passes. Tireless and tenacious, Cole showed he was certainly still good enough to play at that level. Mourinho must have agreed to an extent, as Cole started each of the Blues' remaining matches, including the 2-0 win at Anfield.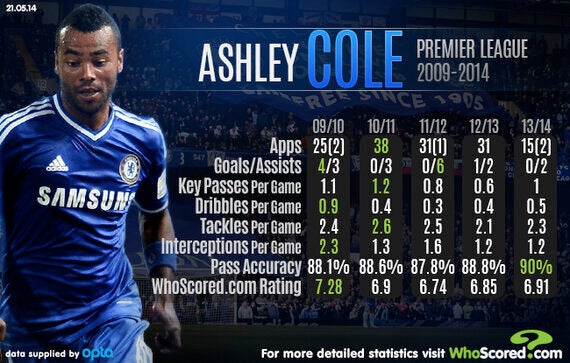 When he was withdrawn with the second leg against Atleti tied at 1-1, the player who has usurped him as Chelsea's first choice left-back, César Azpilicueta, dropped back into that position. The manager's decision was a real roll of the dice as he went in search of an all-important winning goal with two up front. An increased openness in midfield and attack certainly contributed, but Cole's absence meant space down that flank that Juanfran exploited to set up Arda Turan's goal that killed the tie. In fact, in the Premier League this season, Chelsea have conceded just 8 goals in 15 games with Cole starting (0.53 per game), compared to 19 in 23 without him (0.83 per game). That is no coincidence.
In this particular instance, Azpilicueta had been dragged into the middle of the field and Eden Hazard left the Atlético right-back to saunter in behind him and cross the for Turkey international. As good as Azpilicueta has been filling in on the left this season, he remains a right-back playing out of position, and isn't Ivanovic still really a centre-back playing on the right side of defence? Physically, at least, he is certainly more a central defender.
Cole's performances throughout the campaign just past were more than adequate. Despite significant disruptions to his season, he maintained a WhoScored rating of 6.91 in Premier League games, which is better than he managed in three of the four previous seasons for which ratings are available. He registered two assists in just 17 appearances, which is as many as he picked up in 31 games last season and only one fewer than he got in 38 appearances in 2010/11. He made 2.3 tackles per game this term, roughly continuing his average over the past four seasons and his 1.2 interceptions per game is exactly the same as last season. He is making more dribbles per game (0.5) than last season and completing a higher proportion of his passes (90%), but those aren't necessarily less ambitious passes; he is also up on key passes per game (1.0).
Most onlookers would agree that Cole still has something to give both at club and international level, and it would make perfect sense if Mourinho had in fact had an issue with the left-back's attitude more than anything else. Cole was dropped just after he attended Arsenal's Christmas party and reportedly reacted badly to his manager's decision. In the period in which Cole was left out for weeks on end, Mourinho insisted his left-back was injured despite widespread reports that he was fit and available to play. The Chelsea boss should have swallowed his pride and done his utmost to make peace with the defender.
It is easy to say that with hindsight, but a season in which the team came third and failed to win a single trophy simply cannot be considered a success for a club of Chelsea's size and ambition. Hell, even the unwelcome interim manager, Rafa Benitez, whose every move was met with a chorus of boos, did better than that.
It now seems that Cole will be on his way - for free - this summer, and he will make a fantastic signing for whoever he does end up joining. Chelsea fans have already been subjected to seeing Juan Mata pulling the strings in a United shirt and will be praying they won't be made to watch Cole marauding up and down the left flank for the likes of Liverpool next season. If they are, though, they will only have their supposedly 'infallible' manager, José Mourinho, to blame.
Do you think Cole is still good enough to play for Chelsea or England? Let us know in the comments below
Popular in the Community