Every summer, in the one part of the year in which there is no domestic football, Barcelona and Real Madrid take their battle off the pitch, attempting to out-do each other in every aspect of the game. Spending big during the transfer season is part and parcel for these giants of European football. Last year Barça signed Neymar, so Real went out and bought Gareth Bale in the most expensive transfer of all time. This year, both have already spent upwards of £80million after missing out on the domestic title to Atlético Madrid, after Diego Simeone decided to join what has become a two-horse race in Spain. The two biggest clubs are now looking to reassert their dominance.
For Barça, the prospect of a transfer ban for breaching rules on signing international players under the age of 18 has probably been enough to force their hand further than normal in the transfer market, even if activity was a necessity nonetheless. That ban has been suspended for at least the duration of this summer's window, and after finishing the 2013/14 season without a major trophy, the powers that be at Camp Nou have been given a wake up call.
There remains a real chance that the club will not be able to conduct any business either in January or a year's time and so yet more business is likely at their end as their president, Josip Maria Bartomeu, confirmed on Thursday. Similarly, for players on the peripheries of the squad considering a move away, now is the time to jump ship, rather than risk being stuck there for another 18 months, at the very least.
There has, therefore, been plenty of activity both in and out of Barcelona already this summer, with a number of tradeoffs made to make way for incoming stars. Carles Puyol has retired, Víctor Valdés has let his contract run out, Alexis Sánchez has gone to Arsenal and Cesc Fàbregas to Chelsea, while the likes of Marc-André ter Stegen, Claudio Bravo, Ivan Rakitic, Luis Suarez and most recently Jeremy Mathieu have all been brought in. There is time to rectify any problems, but can Barcelona look back at their business thus far and conclude that they have done well so far?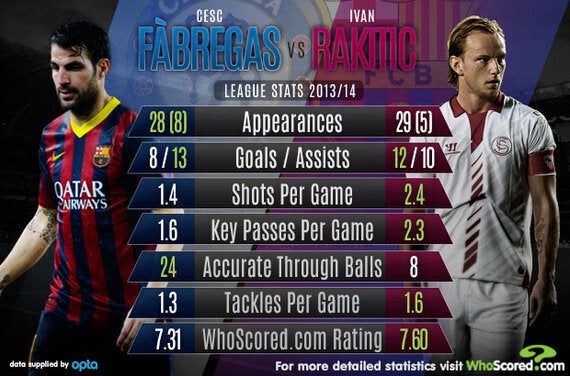 Luis Suarez has in the past year joined Lionel Messi and Cristiano Ronaldo amongst the world's elite footballers, and the thought of two of the best players on the planet pairing up together is a frightening one - not to mention Neymar completing the attacking trident - but his four-month ban for biting Giorgio Chiellini at the World Cup means the Uruguayan will miss a chunk of the season. By the time he returns to action in late October Barça could well have serious ground to make up in the title race.
Last season, no player in Europe's top five leagues scored more goals than Suarez (31), who missed the first 5 games due to yet another suspension. As he showed for Liverpool and then his country at the World Cup (after missing their opening game due to injury), he is capable of hitting the ground running when making a return to action, and he will undoubtedly find his feet at Barcelona, surrounded by that kind of quality, but Alexis, as one of only five players to reach double figures for both goals and assists in La Liga last season, remains a tough act to follow, particularly with a few months' work to make up.
One of the other players to achieve 10+ goals and assists was the incoming Rakitic, whose quality cannot be doubted, but when considering that he comes in almost as a direct replacement for Fàbregas, one has to wonder whether the deal was worth it for the Catalans. Fàbregas was played out of position for much of his time at Barcelona, often deployed as a 'false nine', playing highest up the pitch to accommodate Messi, who likes to be able to roam free as a number 10. The Spaniard was widely criticised in this role and the fans barely came round to giving him a chance despite him finishing the past season second for assists (13) in the Spanish top flight only to Ángel Di María and creating more clear-cut chances (27) than any other player in the top five European leagues.
Now, with Suarez coming in, new manager Luis Enrique will surely play a front three of the Uruguayan, Messi and Neymar. Xavi is still at the club, though rumours remain that he may yet be on his way to MLS while his performances at the World Cup suggest he is on the wane. It could be worth the pass-master quitting whilst ahead rather than attempting to carry on at the top when the end is so near. That - or at the very least a drop in playing time - opens up a space in central midfield. Surely Fàbregas is the perfect man for the job?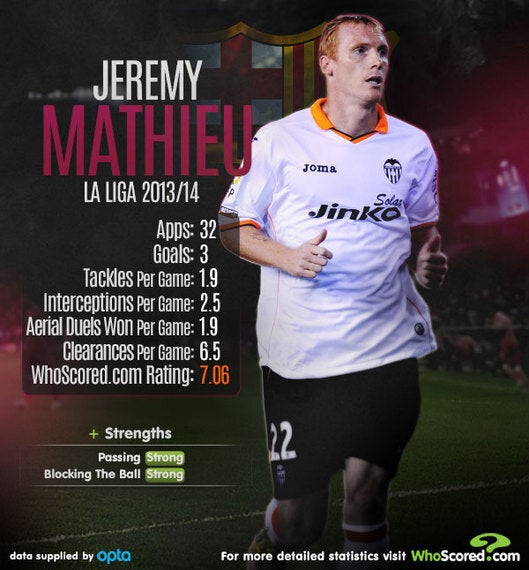 Rakitic is a wonderful footballer, capable of playing in a few different positions and possessing incredible passing ability that is befitting of his move to Barcelona, while his set-piece taking ability is another plus, helping him to 10 assists last term. However, in Rakitic they have a player only 10 months Fàbregas' junior, and with vastly less experience, particularly in the Champions League. He was significantly cheaper than the man he is replacing, but it is hard to believe that Barcelona would be too worried about prioritising finances over trumping Real Madrid, especially with a transfer ban upcoming.
In defence, Mathieu has been signed from Valencia for the substantial fee of €20million and it seems an odd signing for a 30-year-old who does not scream 'Barcelona' in his playing style. 1.92m tall and averaging 6.5 clearances per game last season, Mathieu does provide useful cover at both centre- and left-back, but a pass success rate of just 83.0% is good, but simply not up to Camp Nou standards. With Puyol out the door and Javier Mascherano displaying at the World Cup how much more suited he is to a midfield role, there is reason for Barça to strengthen at the back, but it remains to be seen whether Mathieu is the answer to their problems.
There is plenty of time for Barcelona to fill any vacancies that they need to before the end of this transfer window, but so far at least, they are yet to eradicate their many glaring inadequacies from last season. Bringing in Suarez is a real statement of intent from a side looking to regain the dominance they have enjoyed in recent years, but there is certainly still work to be done. Looking back at a summer of big business so far, Barcelona fans can still justifiably remain wanting more.
How happy do you think Barcelona can be with their summer's business so far? Let us know in the comments below
All statistics courtesy of WhoScored.com where you can find yet more stats and player ratings.