That Rabona goal. That perfectly pre-meditated, calculated swing of Erik Lamela's left leg behind his right, wrapping his foot around the ball to curl from the edge of the box into the Asteras Tripolis net, was simply exquisite. It was celebrated wildly on social media; shared, retweeted and liked into oblivion. Maybe this could be the turning point in £30m record-signing Lamela's Tottenham career?
Maybe the Argentine would finally begin to truly pay back the hefty paid for him. Maybe he could even go down in Tottenham folklore for his performances rather than merely for his price tag. Given the calibre of opposition last Thursday night, however, unfortunately his wondergoal won't be remembered quite as the feat it was, and Lamela swiftly slipped back into forgotten mediocrity on Sunday.
Lamela has unquestionably improved on last season; injuries scuppered the process of him settling in to life in England, and he made only three league starts and six more appearances from the bench. He showed signs of his Roma self in his debut season in England but was clearly struggling significantly. It was thought - or more accurately, hoped - that the arrival at White Hart Lane of compatriot Mauricio Pochettino as manager would be the catalyst for Lamela to find his feet.
Pochettino has shown great faith in the winger. Lamela has started all nine Premier League games so far this season and has completed six of them. When fans have become frustrated with his sometimes ineffective displays, Pochettino has persisted with him and doesn't look like he will be changing things any time soon.
The problem remains, though, that Lamela simply isn't yet fully adapted to the Premier League. He shows plenty of nice touches when on the ball and his assist for Nacer Chadli against QPR was beautifully crafted. There is potential there, but simply put, too many of the significant contributions he has made in Spurs colours have come against notably weaker opposition.
The only of his six goals or assists this term that has come against a top-half Premier League side came at the Emirates, when Christian Eriksen robbed Mathieu Flamini of possession deep in the Arsenal half and Lamela fed Nacer Chadli to score. It was an important part of the game, and very nearly won Tottenham another victory on their fierce rivals' stomping ground and he deserves credit for the composure he showed, but at the other end it was Lamela's skewed clearance that allowed Arsenal to get a foothold back in the game.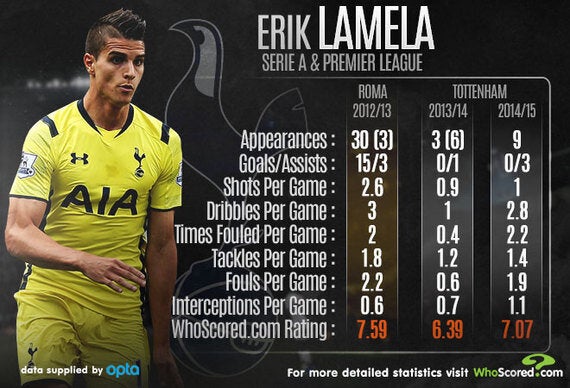 Since that match, in which he recorded a WhoScored rating of 7.46, Lamela underwhelmed in his next two appearances, with 6.88 against Southampton and 5.97 at Manchester City. At the Etihad, it was Lamela who lost possession on the edge of his own box in the build up to Sergio Agüero's opener and who felled Frank Lampard in the penalty area to hand City a second lead. While Pochettino's system is about defending from the front and Lamela has been one of the main exponents of it - which is possibly one of the reasons for his manager's continued belief in him - defensive errors have been far too commonplace. He then improved markedly against Asteras, recording 9.70 in a man of the match performance, but then reverted to 6.70 in last weekend's loss to Newcastle.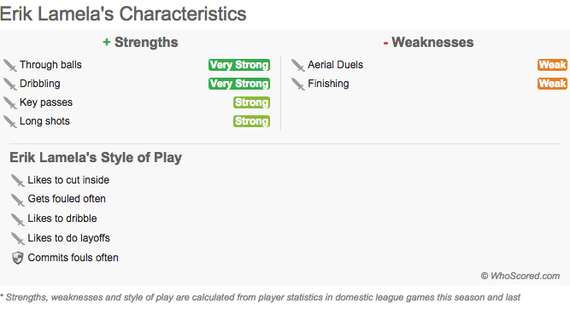 Going forwards, meanwhile, he moves the ball quickly in attacking areas and that in itself creates vital space, something that is perhaps undervalued by the majority of those watching. He is also growing in confidence and the fleet-footed winger is completing more and more dribbles; his rate is currently at 2.8 per game, ranking him fourth in the Premier League behind Hazard (5.3), Moses (3.3) and Sterling (3.2).
The problem is that he is still struggling for consistency with his final ball considering how often he beats his man. His first league goal in English football continues to evade him; in fact, he has hit the target only once in 739 minutes so far this season (an effort from distance against Southampton). He has played 17 key passes in Premier League games this season but only two have laid on clear-cut chances. He is still too often running down cul-de-sacs and coming out with nothing, and his slight frame is seeing him too readily eased off the ball.
There have certainly been huge improvements in Lamela and there are more than just glimmers of the talent that originally won him a big-money move to England but Tottenham more than ever at the moment are in need of a player capable of changing games on his own. Their record signing has done just that against some of the lesser opponents he has faced but is not making a significant impression on bigger games and that is a serious issue.
Against Brighton tonight he may well be key - if he plays - but it remains the case that Tottenham need a player who is already written into their history books off the field to become their main man on it against the Premier League's best. Erik Lamela has what it takes to turn Spurs' season around but they need him to do just that sooner rather than later.
All statistics courtesy of WhoScored.com, where you can find yet more stats, including live in-game data and unique player and team ratings