Of the injuries ruling players out of this year's World Cup, Franck Ribéry's is, on the face of it at least, one of the more damaging to his country's hopes. Ribéry has established himself as one of the best left wingers in world football at present and his loss would naturally hurt any team, let alone one as underachieving in recent years as France's.
The 1998 World Cup and Euro 2000 champions have fallen from grace since their dual triumph around the turn of the century, largely underperforming in each tournament since. Even in their 2006 run to the World Cup final, they progressed so far despite having drawn with both Switzerland and South Korea in the early stages and resultantly coming second in their group.
At both the 2002 and 2010 World Cups they failed to make it beyond the group stage and since winning the European Championship they have not gone past the quarter-finals in three attempts. Even in qualifying for the tournament that begins in Sao Paulo this week, the French survived a real scare in a two-legged playoff with Ukraine. Having lost away from home 2-0 in the first leg, they needed a victory by at least that scoreline in the return match in Paris. Key man Ribéry was, of course, vital.
He terrorised the Ukrainian right-back Vitaliy Mandzyuk, completing seven successful dribbles - that was as many as Ukraine made in total - while also setting up five chances for his teammates and having four shots of his own on his way to a WhoScored rating of 8.49. Predictably, it was Ribéry who set up the third, final and balance-tipping goal that ultimately won the tie 3-2. Ribéry, the big-game player who has produced in the most high-pressure environments for Bayern Munich, had done it again.
And then, buoyed by the manner of their unlikely victory and daring to dream once again, France had the wind taken out of their sails. A back injury has ruled Ribéry out of the World Cup, and Didier Deschamps, now without arguably France's two most creative players, having chosen not to call up the controversial Samir Nasri, needs a new plan.
Previous attempts to play both Karim Benzema and Olivier Giroud up front in a 4-4-2 have proved fruitless and Deschamps rightly doesn't want to split up his fantastic midfield trio of Blaise Matuidi, Yohan Cabaye and Paul Pogba. So, on Sunday night, he chose to play with Giroud leading the line and Benzema pushed out to the left. It worked, with the former netting once and the latter a brace in an 8-0 win, but quite how much can be taken from a drubbing of Jamaica is certainly questionable. Benzema has played through the middle all season for Real Madrid to great effect, scoring 22 goals in 46 appearances in the league and European competition. The thought of him being pushed out wide is an odd one, particularly given the other talent available to Deschamps.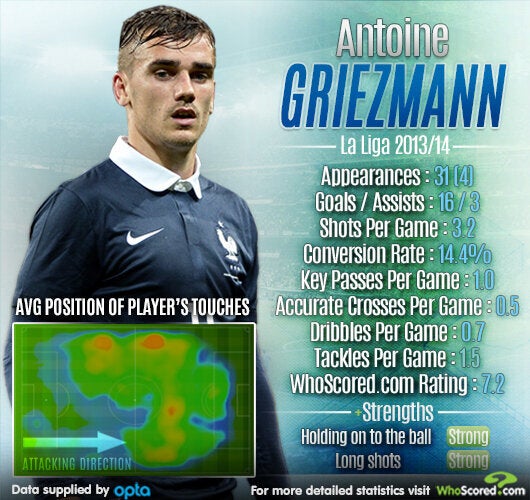 Antoine Griezmann remains another option in the squad, and is certainly a more natural choice for the left-wing berth. Cutting in from that position for Real Sociedad this season, he netted 16 goals, making him La Liga's highest goalscorer outside the top three teams, doing so for a Real Sociedad side that scored only 62 goals in total, while Real Madrid (104) and Barcelona (100) scored significantly more.
Brimming with confidence, Griezmann carries the ball forward at pace and cuts in from the wing to unleash a vast number of attempts from distance. In La Liga last season, only top dogs Cristiano Ronaldo (216) and Lionel Messi (160) had more attempts at goal than Griezmann (111), and though his resultant 14.4% conversion rate leaves something to be desired, he shoots so much that he still reaps vast reward. He even shoots with more goalscoring success than Ronaldo (14.35%).
The issue for Deschamps may well be the vastly differing approach he provides to Ribéry. While the Bayern winger likes to hit the byline and put crosses up for a big striker to attack, Griezmann much prefers to cut onto his right foot and unleash an effort at goal. Besides playing for an inferior club, that he averaged 0.5 accurate crosses per game compared to Ribéry's 1.0 may have had a significant impact on Griezmann's assist tally (three). Put him on the wing with a player like Benzema through the middle, however, and he may be more encouraged to take the outside route down the line more frequently.
He also netted the final two goals in the aforementioned win over Jamaica on Sunday after replacing Giroud in the 71st minute. Prior to that, too, he came off the bench to score France's goal in a 1-1 draw with Paraguay. Clearly, as a young, confident, pacy winger, he is an effective impact substitute for his country, but as he has proven all season for his club, he can be relied upon at the highest level from the off. The fact that that would allow Benzema to continue through the middle gives more value to the argument for Griezmann to start.
One might argue that Giroud's aerial ability, with the delivery of Mathieu Valbuena from the right, would be of use, but Griezmann too possesses a fantastic threat in this regard. Despite standing at just 5 ft 9 in, only three players scored more headed goals in La Liga last season than Griezmann (5), as he joined the striker to add another man in the middle when attacks came down the opposite flank.
Only 23 years of age, he has an incredibly bright future ahead of him, but he is ready to announce himself on the world stage in Brazil this summer, if he is given the chance. He has the quality to provide for France, and could surprise a defence or two. With no Ribéry, things are going to be tough for the French, but Griezmann's ability makes the loss of their talisman that little bit easier to take.
Do you think Griezmann should start for France at the World Cup? Let us know in the comments below
All statistics courtesy of WhoScored.com where you can find yet more statistics and player ratings.
Related