It speaks volumes about Lionel Messi's talents that the World Cup he has just enjoyed could still be considered such a catastrophic failure in so many quarters. Despite providing the strikes to all-but carry an otherwise goal-shy Argentina into the knockout stages of the 2014 World Cup, Messi still faces vast numbers of critics, and the decision to award him with the competition's Golden Ball was met with significant discontent.
Fans cried out that there were plenty of others more deserving of the gong: Colombia's unquestionably impressive James Rodríguez; Netherlands' rip-roaring Arjen Robben; eventual winner Thomas Müller. All three - amongst many more - had fantastic tournaments and were unfortunate to come away without the accolade for the best player in Brazil, but Messi has to contend with the expectations his performances over the years have built up.
Rodríguez, for example, came into the tournament after a good season at Monaco, but few would have hoped he would have such a good summer in Brazil, let alone expect it. This tournament for Messi, meanwhile, represented the platform upon which the Argentine was supposedly able to put all doubts to bed and establish himself as the greatest player of all time. On two occasions last night - when he ran clean through in the 47th minute and then when he stood over a free-kick in injury time at the end of extra time - it looked like the stage was set for the Barcelona forward to hit the World Cup knockout stages goal that has previously eluded him, and in the most spectacular of circumstances. He put the first chance just wide; the second flew some way over the bar.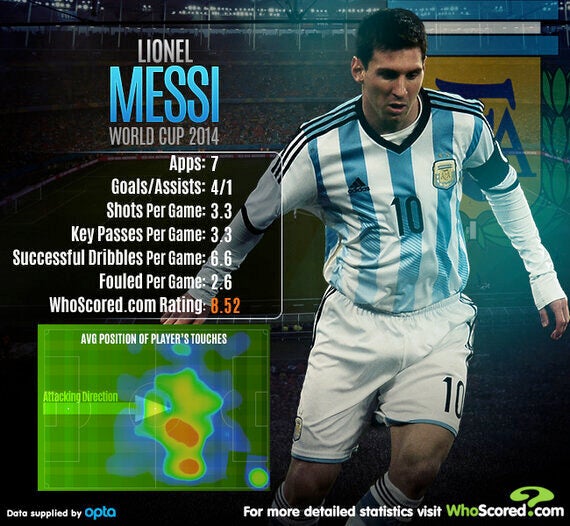 It wasn't meant to be for Messi. There was no fairytale ending, no moment of magic akin to what we have seen from him so many times previously, even in this very World Cup, to save his ailing team. The sombre figure he cut as he collected his Golden Ball award showed just what victory would have had meant to him, and also just how unimportant personal gratification is in his eyes.
But while it wasn't the perfect World Cup with the perfect ending for Lionel Messi, it was still one in which he did enough to silence those who continue to criticise him. Statistically he was the best player at the tournament, with an average rating of 8.52 over his 7 games. Comparatively, Rodríguez maintained an average rating of 8.40, but only over 5 appearances. Messi also picked up the WhoScored man of the match award in each of Argentina's first four matches in Brazil. That his influence diminished in the latter stages - against better opposition after a favourable group draw - was understandable.
After the group games, after which Messi was joint top of the goalscoring charts, teams woke up - as if they needed to - to Messi's threat. His every touch in the latter stages was greeted by multiple opposition defenders and it was for this reason that the number of shots he was taking dropped from 4.7 per game in the group stages to 2.3 in the knockout rounds, while his dribbles per game rose from 5.7 per game to 7.3. Met with more obstacles, Messi beat more men but understandably struggled to get as many shots off.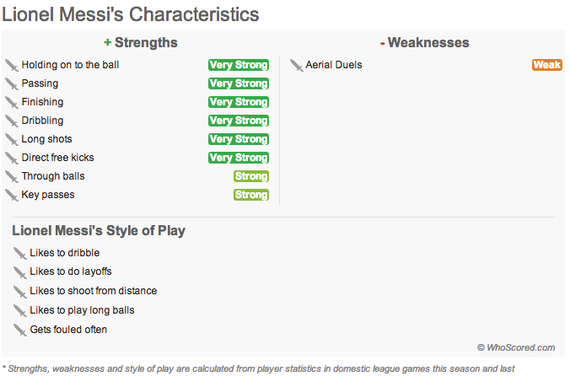 One could think of this as a grave failure on his part, but with Messi occupying the thoughts of so many opposing players, their attack was in turn depleted. Louis van Gaal's Netherlands side had enough to stop Messi (although he completed a tournament-high 10 successful dribbles in that game) but they didn't also have enough to hurt Argentina themselves; they managed just one shot on target in 120 minutes and it took them 99 minutes to conjure that.
Not only did Messi complete more dribbles than any other player at the tournament (46), he also created more chances than anyone else (23). Attacking teammates Gonzalo Higuaín, Sergio Agüero, Ezequiel Lavezzi and Rodrigo Palacio managed one goal from 34 shots between them. Messi hit four goals from 23 shots. To blame on Messi Argentina's failure to net at all in the final 322 minutes of their World Cup 2014 campaign is highly misguided.
Much is also made of a lack of work rate on Messi's part, as if he isn't bothered with football's more menial tasks, and yet he made 1.6 tackles per game at the World Cup - up from 0.5 per game for Barcelona this season. He won possession in the attacking third four times in the tournament, which only five players bettered in the whole World Cup. What is more, is it not best for one of the best players on the planet to conserve his energies for more important attacking tasks and thus forgo at least some defensive duties?
It wasn't quite the ending he, his fans, Argentina and many neutrals alike wanted, but it certainly should not be considered a disappointing campaign for Lionel Messi. Yes, he did not produce the kind of World Cup winning performance that was far from unimaginable before last night's final, but a Golden Ball was indeed justified nonetheless. He might not be the greatest player of all time, but he was the best player in Brazil this summer and even if he never wins the World Cup, nothing should be taken away from his fantastic and almost unrivalled career achievements.
Do you think Messi deserved the Golden Ball? Let us know your thoughts in the comments below
All statistics courtesy of WhoScored.com where you can find yet more stats and player ratings.
Popular in the Community