All four players comprising Real Madrid's superstar strikeforce was on the scoresheet as they kicked off their Champions League defence with a resounding 5-1 win over Basel on Tuesday night. Cristiano Ronaldo and Gareth Bale both added assists to their goals, while James Rodríguez netted only his second goal for the club and Karim Benzema gave his many Madrid-based critics something to mull over with his eleventh goal or assist in his last 12 Champions League appearances.
Los Blancos had lined up with their familiar 'BBC' front three, James in close support and a typically attacking central midfield duo of Toni Kroos and Luka Modric. Each of that front 6 could reasonably be said to boast galactico status bar only, perhaps, Modric.
Just 20 months ago the Croat was voted by the readers of Marca as one of the two worst signings of the season in La Liga alongside Alex Song. Their paths had followed similar paths from the Premier League to Spain, but in the last year and a half those paths have diverged and seen their careers go in opposite directions without relent.
Song found himself a Monday night substitute for West Ham in the not-so glamorous surroundings of Hull's KC Stadium, while Modric was pulling the strings in Real Madrid's midfield one day later in Europe's elite competition. He is now one of the most valued members of Carlo Ancelotti's team. His being considered one of the league's underperformers seems like an unrecognisable and distant memory.
Modric's rise has gone somewhat under the radar, especially in comparison to the headline-grabbing consecutive summers Madrid have had over the last two years. Bale, Rodríguez and Kroos have all signed in big-money deals, while Modric retains his understated position in the squad, even though he is a guaranteed starter every week. It is perhaps only as a result of his shy, withdrawn personality and no demand to be a celebrity as well as a footballer that make him one of the less marketable players at Real Madrid. It is for this reason only, rather than anything to do with what he can do on the pitch, that makes him any less of a superstar than the rest of the attack.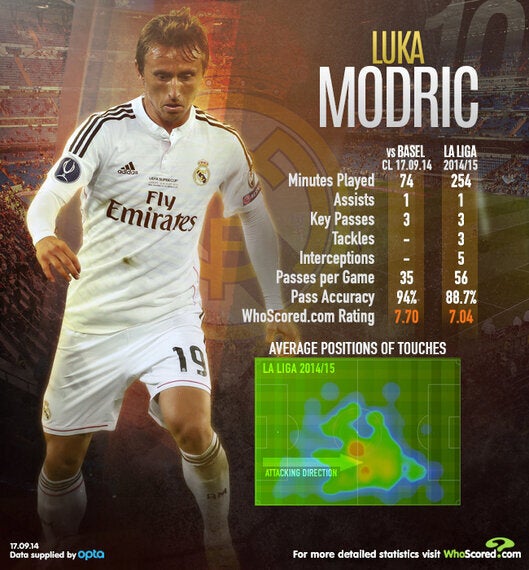 During a time in which club present Florentino Peréz has sought to re-establish Real Madrid as a European powerhouse by doing little more than spending millions on the most in-vogue players, Modric's lack of marketability might well have threatened his first team berth, or even his status in the squad.
Xabi Alonso decided to leave given that his importance to the club was diminishing with every passing season, when really it would have made more sense to keep him - a proper defensive, holding midfielder - and opt against signing Kroos. The German is a fantastic talent, one of the best passers in the game at present, and the dictator of play against just about any opponent when used in the correct position. But at Madrid, with Modric the primary ball-playing midfielder, Kroos has had to drop back and is tasked with the most defensive of the midfield roles.
He has averaged an impressive 4.0 tackles per game but just 0.7 interceptions. Modric, meanwhile, has averaged 1.0 and 1.7, respectively, in each regard. The problems are plain to see. Madrid no longer have an effective ball-winner in central midfield. They simply have far too many attackers trying to be shoehorned into a workable starting eleven in order to please Peréz and the constantly dissatisfied Bernabeu crowd. Real have already this season lost the Supercopa over two legs to Alético, been defeated in two of their three league games so far and have kept only 1 clean sheet in their 6 games since the European Super Cup, that coming at home to newly promoted Cordoba.
When Basel's Luca Zuffi slipped Derlis González clear to finish emphatically across Iker Casillas, the crowd swiftly turned on their captain and legendary goalkeeper, when their anger would have been better directed at the central midfielders who allowed Zuffi to run free in the middle of the park or the management that once again selected such an absurdly attacking side.
Nonetheless, Madrid had enough going forward for their frailties not to matter, on this occasion, at least, with Modric the puppeteer in the victory.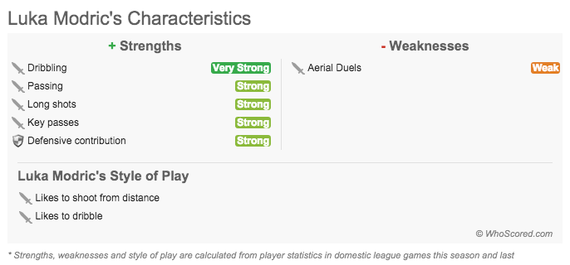 His sumptuous, outside-of-the-boot, chipped through ball to Gareth Bale in on goal took 5 Basel players out of the game and had fans drooling, but that was only the start of it. Modric soon after broke centrally and played a weighted ball out to the right, just out of the reach of the defender and perfectly into the path of Bale, who crossed for Ronaldo to score. Few others can see and then execute a pass quite like the Croatian, and questions were understandably raised after this performance as to where exactly Modric now ranks amongst the world's best central midfielders.
It is fair to say with Xavi's decline Modric is now ahead of him in the pecking order, and he, Kroos, Cesc Fàbregas and Andrea Pirlo are now arguably the best technical central midfielders on the planet at present, and some might even say that Modric is, or could soon be, leading the pack.
Averaging 56 passes per game this season, Modric is never one to stick to looking for the simple pass, perhaps giving an indication as to why his pass success rate (88.7%) is marginally lower than some of the other leading ball-players. That his key passes are at 1.0 per game this season (down from 1.5 in 2013/14 and 1.7 in 2012/13) could suggest slightly more defensive responsibility and less attacking output, but also fits with the fact that he is generally in a deeper position and tending to play the pass before the killer ball. He is the one that sets Madrid's lightning counter attacks off.
Granted the freedom that a below par Basel side allowed him this week, Modric played 3 key passes and had 2 shots. He made no tackles and no interceptions. He played an integral part in two goals that put the result beyond doubt. As a result he registered his best rating of the season (7.70). It gave as clear an indication as any as to where Modric is at his best; in central midfield but with adequate license to roam.
Already under pressure for rather unfathomable reasons, Ancelotti probably won't want to displease anyone involved at the club or in the crowds by dropping any of their unbelievable front four. However, doing so and bringing in a disciplined holding midfielder who is there to win possession and protect the back four may not only do what is so vastly needed and shore things up defensively, but also bring the best out of their brilliant yet unassuming Croatian.
All statistics courtesy of WhoScored.com, where you can find yet more stats, including live in-game data and unique player and team ratings.