A month is an awfully long time in the world of football, and even in the shortest one of the year there was plenty of drama and change across Europe's top 5 leagues. Three of the titles look all but decided while La Liga and the Premier League are as open as they possibly could be, and February's standout performers had a huge impact on the final strait in each division.
There's a familiar name at the top of the list, with Lionel Messi having obtained a higher WhoScored rating (9.19) over the month than any other player. To think that he has been criticised in some quarters for not maintaing the same level of performance that we have become used to expecting of him is somewhat absurd; he scored 6 goals and picked up 3 assists in just 4 league appearances in February (and scored twice more in knockout competition, but of course that does not affect his rating). Injury curtailed his 2013 and might well have been the main contributing factor towards him missing out on another Ballon d'Or, but he is back, and even if he hasn't quite returned to his best, he is still outperforming every other player in the major European leagues.
Beyond Messi, the top 10 is dominated by Bayern Munich stars, as Pep Gurdiola's men extended their winning streak to 14, with 3 of the next 7 highest rated players plying their trade at the Allianz. Mario Mandzukic's average rating of 8.82 was the second highest in Europe's top 5 leagues, with the Croat netting both scoring and assisting in each of his 3 appearances. Despite playing for a team as domineering as Bayern, Mandzukic doesn't actually have that many shots, and he was in clinical form this month, scoring with 3 of his 5 clear-cut chances.
Bayern teammate Thiago Alcántara was the third best player in February (8.62) after 3 fine performances, including in the 5-0 win over Eintracht Frankfurt, in which the diminutive Spaniard controlled the game like a player vastly more experienced than he could possibly be at only 22 years of age. Thiago had an incredible 187 touches, completing 149 passes at a success rate of 94%, setting all kinds of new Bundesliga records in the process. He almost deserves his spot in the WhoScored team of the month for that performance alone, but he backed it up with two more great displays.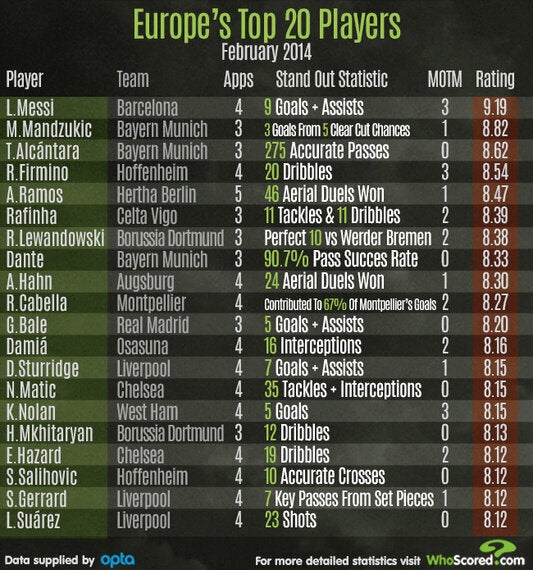 There has been plenty of talk regarding the future of Roberto Firmino, who has been mightily impressive in this, the final season of his contract at Hoffenheim. He was WhoScored's man of the match in 3 of his 4 appearances, picking up 3 goals and 2 assists to help his side move well clear of the relegation zone. Rumours linking him with Borussia Dortmund are abound, and for this month at least, he did better than any of Jürgen Klopp's men, and ranked 3 places above their soon-be-be departed forward Robert Lewandowski, who he would - hypothetically - be replacing.
Another Bundesliga forward comes up next, with Adrian Ramos' rating of 8.39 arguably more impressive than those around him given that he maintained it over 5 appearances. The Colombian has been linked with a move to the Premier League and will continue to be if he can keep up his fine form. The 5 goals he was directly involved in will have helped his rating, but the other work he does for his team certainly shouldn't be underestimated; Hertha don't have the quality to keep the ball on the floor all the time, and often need to go long. Ramos is vitally important to that, and he won an incredible 46 aerial duels over the course of Feburary; that's more than 8 whole teams managed.
It is not Bayern's Rafinha but instead Celta Vigo's who is sixth in the rankings after an impressive month. He is a hard working player who matched his 11 dribbles over the month with 11 tackles as he picked up the man of the match award in 2 of his 3 appearances. Dante is the highest rated defender, having scored twice and helped Bayern to 3 successive clean sheets, whilst also maintaining an exceptional pass success rate of 90.7%.
André Hahn's recent performances not only earned him a place in WhoScored's top 10 but also a call up to Germany's latest squad, with the Augsburg midfielder scoring 4 goals and setting up 2 more. He combines skill on the floor with ability in the air, winning 24 aerial duels over the month, an almost unprecedented tally for someone in his position.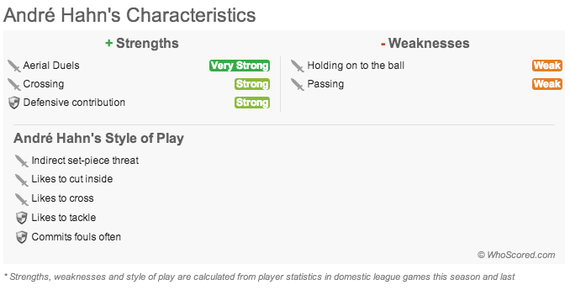 Rémy Cabella was the best player in Ligue 1 in February, attempting 16 shots and creating 13 chances for teammates as he showed his worth, scoring or assisting 66.7% of Montpellier's goals.The side are now unbeaten in 9 matches and are building a late - yet unlikely - charge for European football with Cabella at the heart of it all.
Outside the top 10, honourable mentions include Gareth Bale, who is proving his doubters about his hefty transfer fee wrong in sensational fashion, stepping up with star man Cristiano Ronaldo suspended for much of the month. The Welshman is now one of only 3 players to have hit double figures for both goals and assists this season (along with Luis Suárez and Zlatan Ibrahimovic), having scored or set up at least one goal in each of his February appearances.
Daniel Sturridge is the top rated Premier League player after an unstoppable goalscoring streak that Liverpool needed with Suárez failing to score at all despite taking 23 shots, while Chelsea's Nemanja Matic was only just pipped to top spot in his first full month back in London, making the third-most tackles + interceptions in Europe's top 5 leagues (35). Kevin Nolan, meanwhile, is one of the most unlikely players to be mentioned in the same breath as Messi, but he ranked behind only the Argentinian forward in terms of goals scored over course of February and we resultantly were treated to his 'funky chicken' celebration 5 times.