Portugal vs Sweden (4-2 agg)
"A World Cup without me is nothing to watch", bold words spoken by the legend that is Zlatan Ibrahimoivic after he and his Sweden teammates' hopes of making it to next summer's World Cup were dashed by Cristiano Ronaldo and Portugal. The Sweden captain of course does not make up the World Cup on his own, but he is right in that the competition would be better off if he were there. Nonetheless, it would have been a whole lot worse off had it been Ronaldo that missed out, and the Real Madrid star made sure that was never going to happen.
He sent out one hell of a message to his Ballon d'Or rivals and the critics who still claim that Lionel Messi or Franck Ribéry is more deserving of the gong by scoring a blistering hat-trick last night to add to his goal in the 1-0 win in Lisbon in the first leg, ending the playoffs with more goals (4) than any other player. His strikes encapsulated his wide-ranging skills; a diving header first; a clever and well-timed run onto João Moutinho's through ball and a calm, confident, composed finish; a quick break away and one touch to bring the ball into his stride before dispatching another left-footed finish; and another quick break as Sweden pushed to get back into the tie, rounding the oncoming goalkeeper to kill the game off. That he scored the goals to fire his country to Brazil did not come as a surprise, but the manner and ruthlessness of them, when it looked like Ibrahimovic was threatening to rain on his parade with two goals of his own, was quite astounding.
Ronaldo managed 4 more shots (19) than Sweden could muster in total (15) over the two legs, while Ibrahimovic only had 4, and much of that would have been thanks to superior support for the former. While you look at Sweden's team and wonder where the creativity might come from - only Kim Källström managed an assist and that was from a corner - Portugal have a number of players capable of providing for Ronaldo and it was Moutinho that did so to greatest effect, with two through balls setting up two of Ronaldo's goals. Hugo Almeida's movement also played a part, with runs into deep positions leaving space to be exploited, and who better to do just that, than Cristiano Ronaldo.
France vs Ukraine (3-2 agg)
While Ribéry certainly played his part, Mamadou Sakho was France's unlikely hero, scoring two goals as Didier Deschamps' men became the first team to turn over a two-goal, first-leg deficit in a World Cup playoff. Sakho only came into the team on the back of a poor performance from Eric Abidal and a red card to Laurent Koscielny in the loss in Kiev, but it proved a stroke of genius as the Liverpool defender found himself in the right place at the right time to fire his side to Brazil and pick up an impressive rating of 9.8. In addition to his goals, Sakho also made more clearances (9) than any other player in Paris and boasted the best pass completion rate (95%). An all round performance that was worthy of winning a place at the World Cup.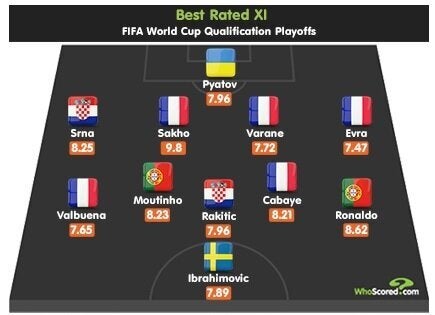 Ribéry misses out on the best XI of the playoffs, ranking just behind Ronaldo on the left flank, but France have other players in the team, with Raphael Varane, Patrice Evra, Yohan Cabaye and Mathieu Valbuena all deserving credit for their parts in their great escape. Evra was the best performer in the back line when Ukraine tore the French to shreds last week, before an impressive attacking display last night, in which he managed 2 shots and 2 key passes from full-back. Varane was imperious alongside Sakho and Evra, while Cabaye came into central midfield to great effect, keeping play ticking over with more touches (103) than any other player in the game, and the second most any player had in any of the playoffs. His rating of 8.42 made his performance one of the best in the 8 matches.
Croatia vs Iceland (2-0 agg)
The only player who managed more touches of the ball in a playoff than Cabaye was Ivan Rakitic, who inspired Croatia to a win that ended Iceland's hopes of becoming the smallest ever nation to play at a World Cup. His performances over the two legs were befitting of the form he has shown for Sevilla this season, creating 5 chances and having 3 attempts on goal himself, whilst completing more passes (133) than any other player managed in the playoffs. Without the ball, he made a total of 12 tackles and interceptions as he provided an effective screen in front of the defence, restricting their Icelandic opponents to a single shot on target in two matches.
They were two impressive performances from the Croatians, who fully deserved their place at the World Cup. They went to Reykjavik and dominated possession comfortably (69%) and even if they only came away with a draw, they set themselves up perfectly well for the return leg. When they had an even share of the ball (50%) in the second leg, they allowed their opponents to keep it in unthreatening areas, with only 24% of the play taking place in Croatia's third of the pitch. They thus ensured there was no last hurrah for Eidur Gudjohnsen as Croatia fulfilled expectations with a win.
Greece vs Romania (4-2 agg)
Perhaps the most surprising element of this tie was the number of goals scored. In qualifying, Greece scored only 6 goals in 5 home matches, without conceding a single goal, and yet in the first leg against Romania, they scored 3 and their opponents netted within 20 minutes. Ever since their shock triumph at Euro 2004 they have become famed for grinding out narrow victories so few expected them to be so clinical here.
Konstantinos Mitroglou was hugely responsible, continuing the excellent form he has shown for Olympiakos for whom he has scored 16 goals in his last 12 matches, he netted 3 goals from just 5 shots across these two clashes. That they scored so much more freely bodes well for them ahead of next summer's tournament, but that their stout defence was breached twice will come as something of a worry to manager Fernando Santos. Nonetheless, the fact that a front three of Mitroglu, Salpingidis and Samaras is carrying a noteworthy attacking threat is a huge positive for the Greeks.
All statistics courtesy of whoscored.com where you can find more stats.