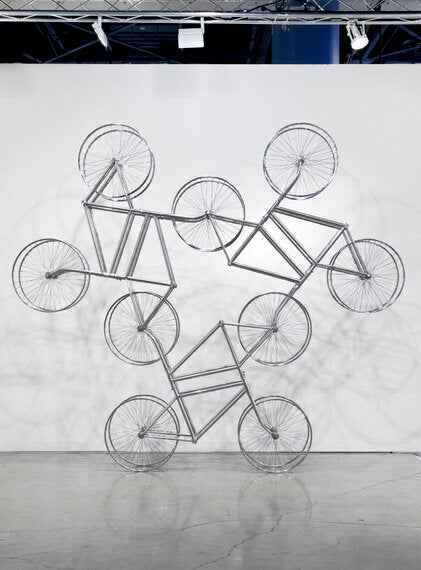 When I travelled to China to interview artist and dissident Ai Weiwei earlier this year one of the first things I asked him was how he was currently being treated by the state. His answer was that he had more freedom than previously and life was, in general, better. He also added that he still felt he was on a list of people who they wanted to maintain control over.
It's easy to think of Ai Weiwei and focus solely on the politics of his life and work which, of course, he intends to be considered and following his detention by the Chinese authorities in 2011 it is impossible not to. But one should not forget that Ai Weiwei is first and foremost a visual artist.
The works in the newly opened show at the Lisson Gallery in London are examples of this combination of decorative aesthetics and activism that sets Ai Weiwei apart as a contemporary artist. As he said to me earlier in the year, "The interesting part about art for me is the conceptual condition, the conceptual element in the art and it's about ideas and arguments. It's about questioning and the right to question."
I headed over to the gallery to have an advance look at the show and meet curatorial director of Lisson Gallery, Greg Hilty, eager to find out more about the working process and concepts behind the show.
Many exhibitions are put together with the artist in absentia but how many contemporary gallery shows are made by artists in Ai Weiwei's situation? Able to move freely around China now, Ai Weiwei is still without a passport making international travel an impossibility.
"It really felt right to be very fresh and very forward looking, we wanted to be looking at the new work... We have a lot of material which really hasn't been seen, publicly, at all before"
The show features sculpture, photography and film, the work explores the political situation and day to day life in China. From the small jade sculptures of cosmetic bottles to the politically charged glass Beijing taxi door handles (Taxi Window Crank, 2012)
this small show manages to cover broad ground. Perhaps the most striking pieces are the stainless steel bicycle sculptures a motif that Greg Hilty describes as having, " gone from a simple object to a multi-layered celebration as a thing of modernist beauty."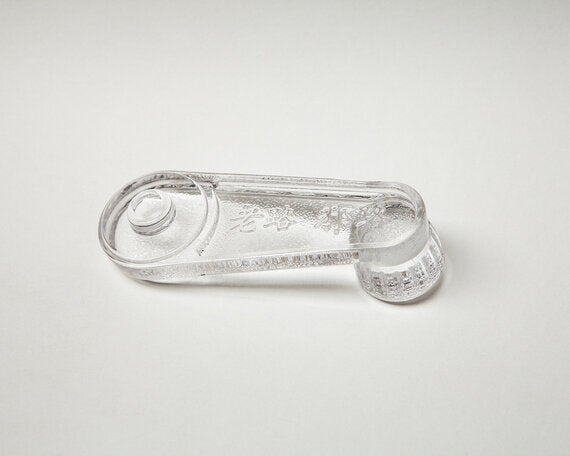 Ai Weiwei was detained a month before his last solo show at the gallery in 2011, I wondered how the experience being a curator on that show compared with this current one. "We remain hopeful that he will get his passport back, which has been promised but never happened and that he be able to travel fully. In some ways a constraint but we go there very often, I go four or five times a year. He's very free to make work, in some ways he's taking it as just a sign to really focus on that."
Currently exhibiting in Berlin, at Martin-Gropius-Bau in a huge solo show, 'Evidence', as well as in New York where his touring show 'Ai Weiwei: According to What' is currently on at the Brooklyn Museum plus this exhibition of new works here in London it seems that focusing on his art is working for Ai Weiwei. Has been drawn into the hearts of people the world over who empathise with the human rights situation in China and in the art world his star continues to rise.
I highly recommend heading down to Lisson Gallery in London to see this great exhibition of a great living artist. It will make you smile (Google 'A Study in Perspective') and it will make you think.
Ai Weiwei runs from 23 May - 19 July 2014 at Lisson Gallery, 29 Bell Street, London, NW1
Each day Ai Weiwei puts a bunch of flowers in the basket of a bicycle outside his studio in a peaceful protest against the Chinese government withholding his passport and the Lisson Gallery are doing the same.
Stainless steel bicycles in Silvery
Courtesy the artist and Lisson Gallery
Courtesy the artist and Lisson Gallery