Each year, leading up to Frieze Art Fair I get this feeling in the pit of my stomach. You know the feeling,iIt's not good and it's not bad. It's the feeling of anticipation.
The spill out, spin offs and off- sites multiply as the years go by and this is something that, as an art lover, quite literally brings joy to my heart. Yet, at the same time the combination of culture, power and commerce is a little overwhelming. However fun the parties might be.
This year I have been lucky enough to attend a few art fairs and while we have Art Basel, Frieze, Frieze Masters and other fairs. What has peaked my interest this year are a couple of smaller fairs that are still in the position to focus as much on conceptual ideas and viewing experience as well the commercial side.
Art Brussels is a contemporary art fair that takes place in April and focuses on up and coming artists and galleries. In concurrence with the rise of the contemporary art scene in the city Art Brussels hosts conceptual collaboration with Gent art college HISK while the fair itself is set up as an experience as well as a commercial enterprise.
Unseen photo fair in Amsterdam, in its third year is - and I know I am stretching the English language to its limits here- as ergonomic as an art fair could be. The booths in the main circular room fan outwards meaning that as you take in the work you can do so with pleasure, making it about looking at the work and checking out galleries either new, or new to you. These, relatively speaking, smaller fairs are better environments in which to view the art plus, as an art lover you feel like you are in a more accessible environment than when trying not to trip over a Jeff Koons on your way out.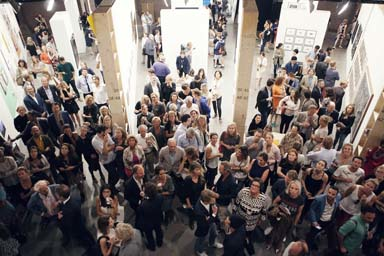 Opening of Unseen Photo Fair 2014 © Dimer van Santen
Returning to this years Frieze I am most looking forward to seeing Alice Neel at Victoria Miro, Steve McQueen at Thomas Dane and basking in the sheer beauty of the new Marian Goodman gallery in Soho's Golden Square, plus of course, the fair itself. Whether you are going to spend this week hobnobbing and chugging champagne in Mayfair or checking out street art at Moniker in Brick Lane this is when the art world descends on London and when London's art scene shows the world exactly what it is made of... So, if you can, get out there and experience it! I'll be following up here.