I am feeling slightly sheepish about my previous post. I was griping about the how full on and (implied) uncreative Frieze Art Fair can be. Little did I know that I clearly wasn't the only person who thought that because this years' fair, currently being touted as the 'best Frieze ever' for visitors, was a very different viewing experience.
My favourite booth from either Frieze London or Frieze Masters was Helly Nahmad's conceptual 'The Collector'. I have a feeling it was most people's favourite. The constructed set of a collector's flat in in 1968 in Paris, Corrado N is an Italian dealer living in the French capital during a time of revolution and his paper strewn flat is filled with contemporary art from Miro to Giacometti. The messy, lived in flat turned on it's head the intangible, unreachable ideal, for most, of the fine art collector.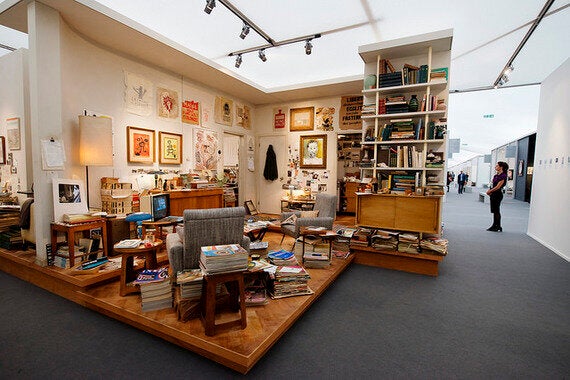 Another highlight was the Lisson http://www.lissongallery.com/stand at Frieze London. Cory Arcangel's near neon rainbow carpet breaking the monotony of white booth after white booth and providing context for the other work on display including that of Ryan Gander, a context that can often get lost in large art fairs.
Hauser and Wirth's 'A Study in Red and Green' curated by Mark Wallinger was another total winner as you felt enveloped in cosy gallery atmosphere and included my favourite work of the fair 'Sleeping Security Guard' by Christoph Buchel (see below). Just listening to the reactions to this work made my day ... 'shall I poke him?'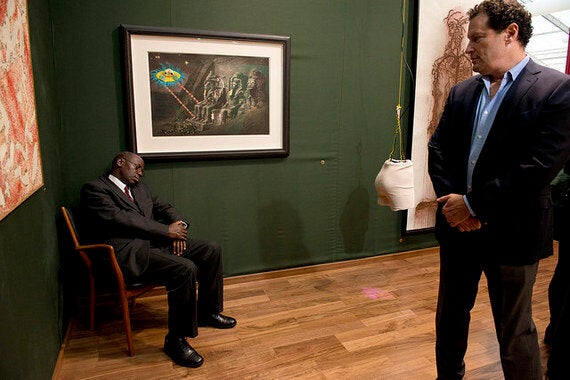 Another surprise was Nick Mauss' '1NVERS1ONS', a collaboration with Northern Ballet, these arresting visual and musical interludes were a welcome break from the frenetic and sometimes overwhelming atmosphere of the fair along with the stunning Chris Ofili on show at Victoria Miro, another favourite of mine.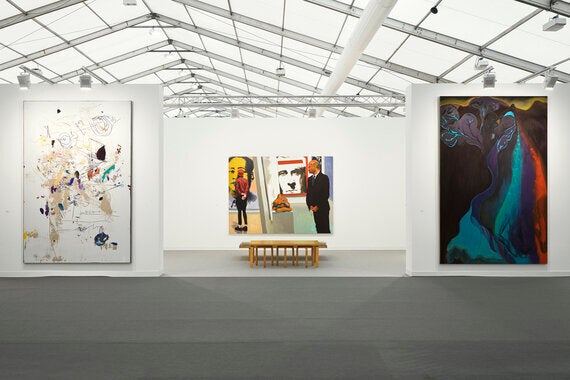 All in all I found this year's fair very enjoyable and as Frieze London ever increases it's cool, commercial edge Frieze Masters is growing into a calmer, richer experience. Valuable to an art lover who may not be in the market to buy but is keen for the chance to see works that usually reside in the homes of people who are.
All images courtesy of Frieze Art Fair apart from the image of the Victoria Miro booth courtesy of Victoria Miro Gallery