Willie Doherty's retrospective show 'Unseen' opened in Derry, Northern Ireland this weekend. Despite being twice nominated for the Turner Prize in 1994 and 2003 and exhibited worldwide this will be the first time that many of the works will be shown in Derry, where they were produced.
Willie Doherty, who witnessed Bloody Sunday as a child, makes work using photography and film that deals with and documents the troubles in Northern Ireland and the fallout and effects on the people who live there.
The show is one of the highlights of a year in which Derry holds the title of the UK City of Culture and is accompanied by a book that contains 200 images of the artists' work, which also includes essays by Jean Fisher and Colm Toibin.
I spoke to Willie Doherty as he was installing the show last week to find out more about the exhibition and his fascinating body of work.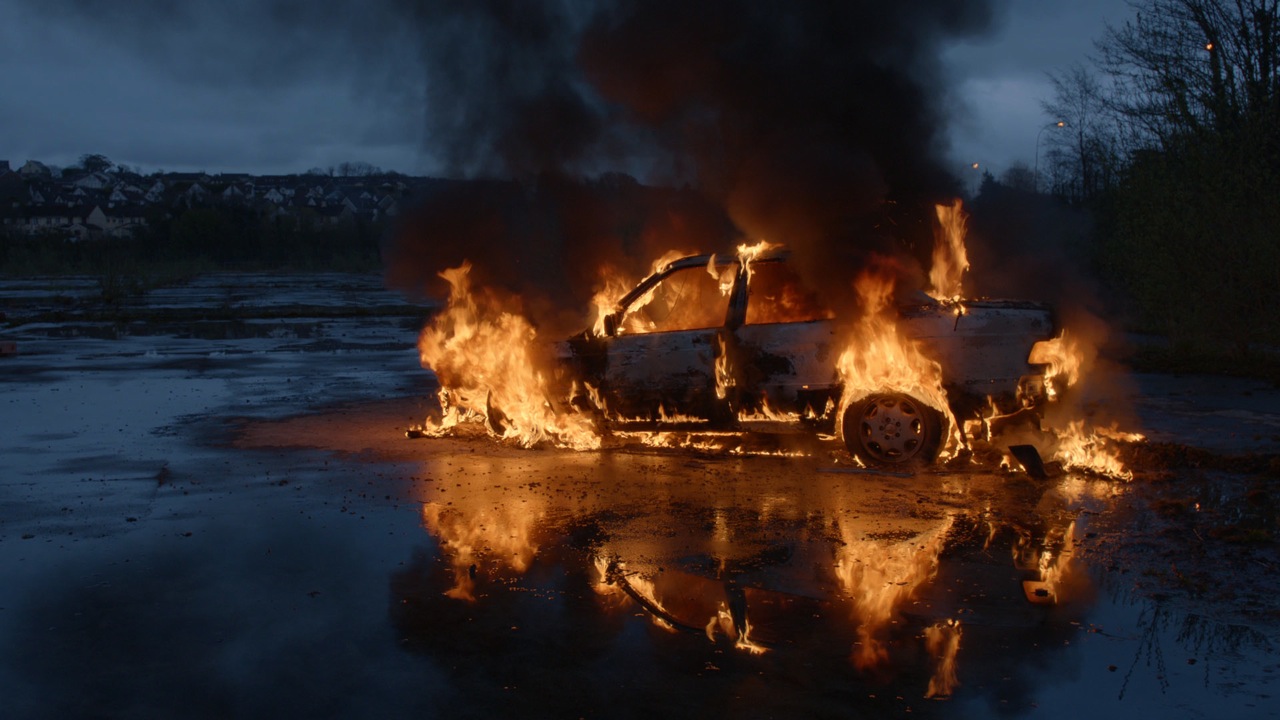 Remains
How is the installation of 'Unseen' going?
Very well, we're actually showing the work in a space which up until now hasn't been a gallery, we've had to do a bit of renovation to the building and we're looking at adapting the space but we've had a good team of people working on it. It's actually looking really good.
What is it like to look back over the body of your work?
It's been actually a really interesting process. The initial idea stemmed from the fact that Derry, this year, is the UK City of Culture so I was asked to consider making an exhibition in Derry. It was at that point that I realised that a lot of this work that I have been making since 1985, has never actually been shown in Derry. It's been shown in lots of other places but not so much here in the place in which I am producing.
In a way that's where the name of the exhibition came from, the idea of a body of work being unseen. It was definitely an opportunity to take stock of that body of work and think about what it means at this point in terms of how Derry has evolved in relation to the troubles, the ceasefire and this kind of peace that we're living in and how the work might be evaluated at this point.
Did anything jump out at you, specifically in terms of how the work might be evaluated and how that might have changed?
Well, a number of things. First of all, we decided that we would make a book accompanying the exhibition that would for the first time bring all of the of the photographic works that I've made in Derry together in one volume. So we've made this book that will be launched complementing the exhibition and will contain 200 photographic works.
It will also contain an essay written in 1990 by Jean Fisher to accompany the work and a text by Colm Toibin, that reflects on the Irish border. In the 1980's when Colm was working more as a journalist, he wrote a book called 'Bad Blood: A Walk Along the Irish Border' which was basically a journey along the Irish border, he visited Derry at that time and spent a long time walking along the border.
Almost like a response to what he wrote in the eighties?
Yeah, I mean, it is but it's also a text about the work and a reflection on what the boarder means now, in some ways the boarder has largely gone, so we are bringing a number of interesting aspects to bear.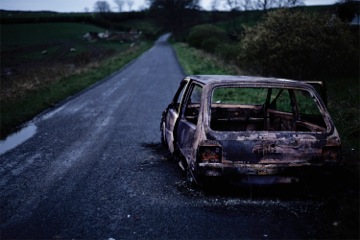 Incident
One thing that I have (maybe mistakenly) taken from your work is that you are concerned with narrative and the telling of stories...
That's an interesting point I mean I think in some ways that's true. That my work's concerned with narrative and how stories get told because I think that one of my initial impulses when I began to photograph Derry was a sense that there were lots of stories in this place that weren't being told. So in a way the work, evolved as a kind of parallel activity to mainstream photojournalism, if you want, or how the story of Northern Ireland got reported.
These are issues, which in recent times, have come to the fore globally...
I think so... The work has a relationship with ideas of documentary, it has a relationship with journalism to some extent, the work also plays with ideas of fiction, stories that may not necessarily be true so, I think the art was a vehicle for me to deal with living in this place. To deal with the anxieties of living in what was effectively a war zone not just for me but I think for many people.
The work has evolved over a period of time, my relationship to it has changed and it will be interesting to see how that will be understood, if you want, by the same audience in Derry. For all those reasons it seemed like an apt time to bring this body of work back to Derry and introduce it properly to a local audience.
What excites you about the Derry being UK city of culture?
One thing to bear in mind about Derry is that Derry is a small city of just under 100,000 people, it's very small and it doesn't have a huge infrastructure in terms of the arts. There isn't the cultural infrastructure that you would find in a much bigger city. But in a way there is a hunger here for good work and that's the thing that's been really exciting about this year, there's a lot of good stuff going on.
Sometimes I think that it can make things a lot more interesting for a viewer if there isn't an established infrastructure in place where an event like this is happening...
No exactly, as I was saying... The example of my exhibition and that we've had to improvise this exhibition space. There's been a lot of excitement as the year has progressed as people have witnessed the kinds of events that people associate with other places in their own town. It's been very positive in that sense.
Another thing to bear in mind that is that this continues against the backdrop of the continuing violence in the north of Ireland, I mean just yesterday Richard Haass arrived in Northern Ireland to lead the negotiations to do with flags and emblems to do with commemorating the past and remembering the past and all these very thorny issues that were never really fully resolved in the peace process and in some ways have just been left on the back burner. But they rise every year especially during the marching season so this summer we've had a couple of months of very bad riots after months of protests around the flag protests in Belfast.
And I have felt that things have been happening but they weren't necessarily being reported, so much, in the same way that they used to be....
Well you do get that sense, in some ways we have an imperfect peace now. The local government here would be very keen to deal with all these other aspects of how life here has been transformed and it has but, we still have a few underlying problems and it's still a divided and very sectarian society.
For me that's one of the interesting backdrops to my exhibition, the work happened and the work was produced out of an artists' efforts or attempts to deal with it, how to you make art to represent this place in a way that is different from the conventional media representations? How can you make art about those kinds of subjects?
There were two main aims of the city of culture... One was joyous celebration and there have been many music events that have very much been a joyous celebration. The other part of the celebration was meant to be meaningful enquiry and there hasn't been a lot of meaningful investigation of who we are as a people now, so in a way this exhibition was always conceived to address some of these issues to remind people that there are questions and there are concerns still that we do need to think about.
It can only raise debate...
There have been a number of other exhibitions of photography this year that have looked at the past here but they've done it with a kind of nostalgia. In many ways what happened here in the 70's and 80's was terrible but many people when they're looking back are looking at their childhood or adolescence so there is this kind of real nostalgia attached to it.
It's concerned with people and places and buildings that are no longer there or have changed in some way, whereas my work hopefully will not indulge in the same kind of nostalgia.
Do you think working with film and actors voices stops that from happening? Do you think it draws people back into the heart of it in a way?
I hope that through the installation of the video works and also the photographic works will encourage the viewer to be conscious of the space they are standing in. The photographic works are quite large so they have a kind of physical presence which kind of gets beyond the purely visual the work also has an almost visceral presence hopefully that works against feeding that nostalgia.
The first time showing the work in Derry is something special....
Absolutely! I think a lot of people here probably don't know any of the work at all and some people know a few works or fragments of the work but especially through the book, I think the book will give the viewer the sense that this has been kind a of a long term project and that wasn't something I was conscious of when I set out on it. I didn't think that I would be doing this for 25 years but I think that it's kind of interesting that this body of work has evolved and I managed to stick at it. There is now a kind of integrity in some ways that has really evolved over time.
I hope people appreciate that the work has been kind a sustained practice of living in this place, of walking in the street, of looking, of photographing which in one way quite banal in a way but, I think when you have been at it for a number of years something else begins to emerge which is bigger than the sum of the parts.
Unseen runs from, 27 September 2013 - 4 January 2014, City Factory Gallery, Patrick Street, Derry BT4 87EL, Northern Ireland