 Alamy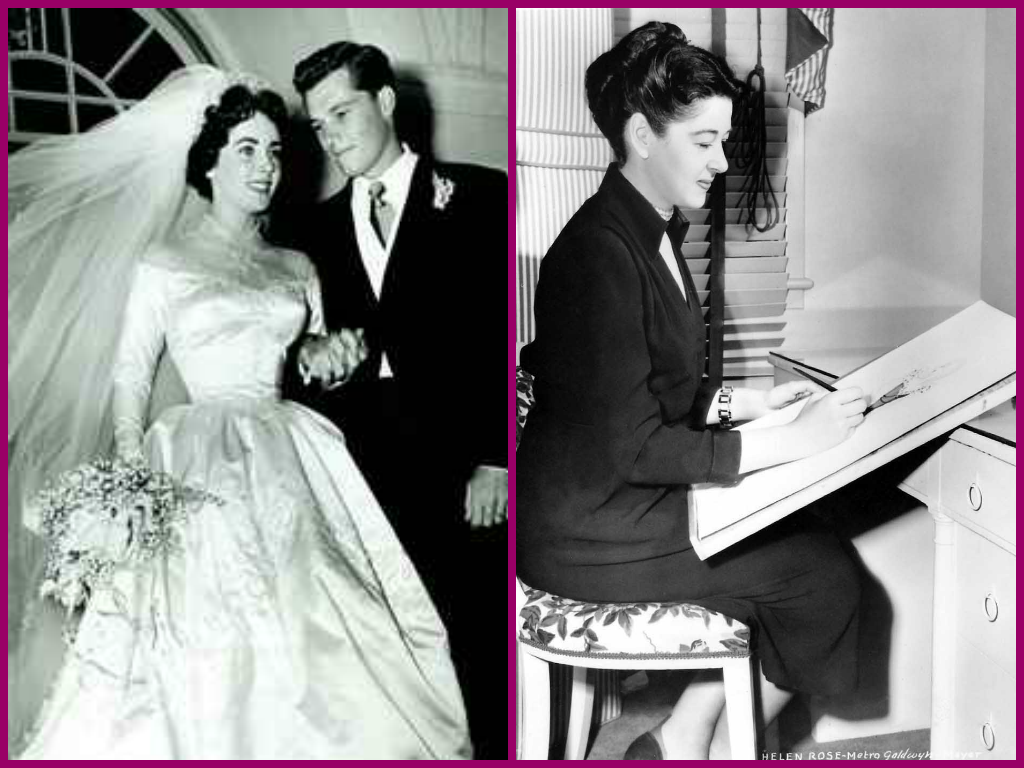 PHOTO CREDIT: Christie's, MGM
As of June 26, Christie's auction house has had Elizabeth Taylor's first wedding dress available for bidding. The dress was designed by Helen Rose, who was the head costume designer at the time for Metro-Goldwyn-Mayer (MGM). Taylor's wedding to first husband Conrad Hilton, Jr. was said to be the biggest social event in Hollywood, including a 700 person guest list with names like Gene Kelly, Ginger Rogers, and Fred Astaire.
Elizabeth Taylor's wedding dress was the not only famous gown designed by Helen Rose. She was the designer behind most of Old Hollywood's most iconic fashion moments on and off the silver screen.
In 1929, Helen Rose moved to Los Angeles after graduating from the Chicago Academy of Fine Arts, and started designing costumes for the Ice Follies. After a two year stint with 20th Century Fox, and time working under MGM's famed costume designer Adrian, Rose was promoted to Chief Designer of the studio in the late 40s.
Her work not only includes Liz Taylor's wedding dress but Grace Kelly's as well, when she married Prince Rainier of Monaco in 1956. Rose won two academy awards for Best Costume Design for her work in The Bad and the Beautiful with Lana Turner, and I'll Cry Tomorrow with Susan Hayward. Her list of clientele included famed Hollywood icons like Marilyn Monroe, Judy Garland, and Betty Grable to name a few. Copies of her designs for Liz Taylor in Cat On a Hot Tin Roof and Father of The Bride were found in dress shops all over.
After 117 movie titles under her belt, Rose decided to leave MGM to start her own design business and continue to provide upscale attire for the rich and famous. She had her own fashion column and wrote two books including her autobiography, titled after Louis B. Mayer's standing order for Rose to "Just Make Them Beautiful". In the 1970's Rose even had her own traveling fashion show, "The Helen Rose Show", where she showcased her designs.
We often don't realize how much the fashion of a past era influences us today, but as we've seen everything from bouffants to bell bottoms make a reappearance, such is the case with Helen Rose's designs. Kate Middleton's wedding dress, designed by Sarah Burton for Alexander McQueen, was modeled after Rose's dress for Grace Kelly's wedding.
With an auction price estimate between $45,000-$76,000, Christie's is not only selling a stunning gown worn by one of the most famous Hollywood starlets, but a piece of artwork crafted by one of the most talented designers of the 20th Century