I've always loved dogs. All shapes, all sizes. They are such great companions and my little dog Rudie is always so happy to see me every time I come home, he can't help but bring a smile to my face. So when Pedigree got in touch to tell me about their Feeding Brighter Futures campaign to feed rescue dogs, I was immediately interested because any opportunity to help dogs is always going to be something I want to get involved with!
It's fair to say that Rudie lives a rather plush and spoilt life, however there are so many dogs around the UK that are not cherished by their owners and that thought always upsets me. How anyone can be so cruel and uncaring to leave his or her dog outside for weeks, sometimes months, with little to no food is unbearable to think about. I found out that nearly half of the dogs rehoming centres across the UK take in are, among a number of other issues, seriously malnourished.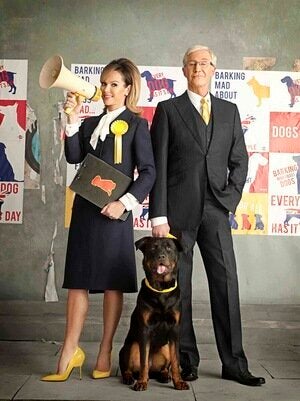 So straight away I wanted to lend my support to the campaign in any way possible and help raise awareness of this issue. It was even better news when I found out Paul O'Grady was also going to be spearheading things. I think the work that Paul has done, and continues to do, for rescue dogs is so fantastic and inspiring. I sobbed my eyes out watching each episode of For the Love of Dogs on ITV so I couldn't wait to catch up with him and share our doggie stories on our photo shoot.
The main focus of our work together is to let people know how easy it is right now to feed a rescue dog. Fellow dog owners can go into any major store and buy a special pack of Pedigree this month which will see a meal donated to a rehoming centre helping to feed abandoned dogs across the UK. It's as simple as Buy One, Feed One!
On the photo shoot with Paul we got to work with some fantastic stunt dogs some of which came from rescue homes. It was shocking to learn that these amazing dogs had once been unloved. It just showed me that with some much needed love and affection and the right food dogs can recover to become to waggy tailed companions we so enjoy.
I am more motivated than ever help raise awareness of Pedigree's Feeding Brighter Futures campaign to feed more rescue dogs than ever before and it's important to me to help get as many dogs back to health and re-homed as quickly as possible so that they can be as loved and as spoilt as my Rudie! So please please get involved. Tell your friends, tell other dog owners in the park - make sure everyone knows what good they can do by when buying food for their pet. And if you love dogs, but don't have dogs you can still contribute to helping rescue dogs by going to pedigree.com/brighterfutures