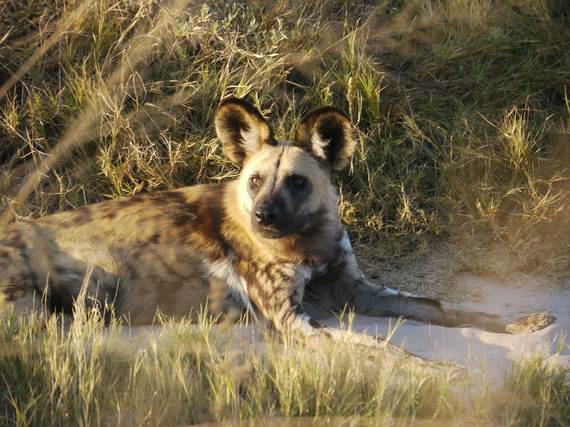 The alpha female wild dog was on the tail of a warthog - almost literally. At the last moment the warthog shot down a porcupine hole to safety. The pack collected around the entrance, visibly miffed at the loss of their dinner. Having bumped our way through the bush at high speed following the chase, we now watched from nearby in our open jeep, exhilarated to have had such an incredible experience on our first day in the Linyanti.
It is for wildlife experiences such as this that Botswana is rightly known as one of the best African safari destinations. However visiting highlights such as the Okavango Delta, Chobe National Park, the Makgadikgadi Pans or the Kalahari Desert comes at a price. Botswana has always been one of the most expensive destinations in Africa for safaris, as you will see if you look at the web pages of any travel company (including my own, Tribes Travel) about Botswana safaris.
Partly the prices are down to a specific government policy of wanting fewer visitors paying high costs. There is also the question of logistics - this is a vast country with few roads and a dependence on light plane flights to get around with any timeliness.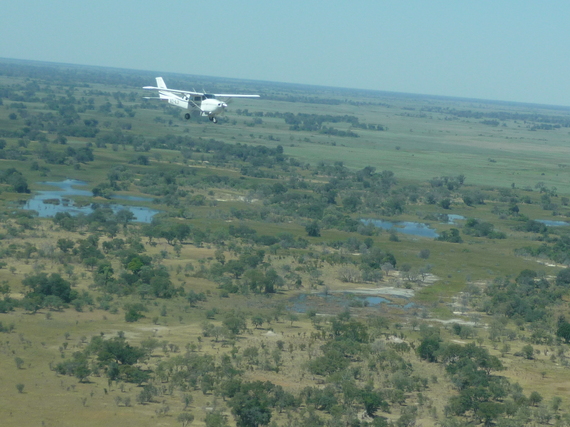 In the high season from around May to October, when it is dry season yet the waters of the Delta are at their highest, an average 8 day fly-in safari lodge safari will cost around £4000 per person. Return flights from the UK will add on about another £1200.
So what if you want to visit this African eden without breaking the bank? There are three different ways you can consider to keep prices down to a dull roar:
1. Travel in the green season
The rainy season in Botswana runs from around December to March. It is the hottest time and you can expect an average of 8cm of rain per month at this time (this drops to almost nil in the high season). On the plus side, it's very green and lush and this is the birthing season so you're likely to see lots of young animals. It is also a fabulous time for birds. Wildlife watching may be a little more difficult than in the dry season due to higher grasses and the wildlife being more dispersed, but you can still get some excellent game viewing.
Prices are very much cheaper than in the high season, with some camps being up to half the price.
2. Keep travel to a minimum
One of the key cost factors is travel within the country. This is mostly by light plane - often small 4-seaters. Each time you set foot in one of these planes you'll be looking at £100-£250 flying out of your pocket depending on the route.
Take more time in fewer places and this will help with your budgeting.
3. Consider a mobile camping safari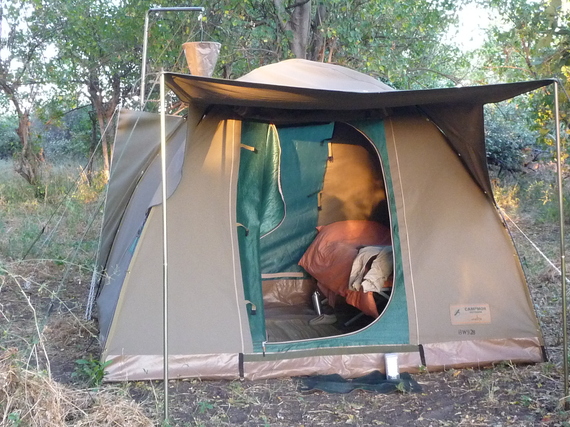 Before you go pale at the thought of this idea, let me say that there is camping and there is camping. Yes, if you want to keep prices right down, you can join a full-participation trip where you sleep in small dome tents with a mattress and sleeping bag, and you help out with all camp chores including cooking and washing up. A 7-day mobile safari such as this can be as little as £700 for 7 days.
However, there are also camping safaris where you have everything done for you, a great cook, wine with dinner, and an en-suite bathroom attached to your comfortable, roomy tent with beds with proper linen. Such mobiles safaris as this cost upwards from around £2020 per person sharing for 7 days.
What these two types of camping have in common is that you're travelling with a small group (usually about 12 max on the cheaper trips and about 9 on the more expensive ones). The guides are experts both at driving and explaining about the flora and fauna you will be seeing. The camaraderie during the drives and at night around the campfire can be a real plus, and because you're travelling on the road from place to place it can be argued that you see more of the country than if you fly around.
On the whole there certainly are cheaper places to go on safari, but Botswana offers a unique landscape and a wildlife and wilderness experience which really is hard to beat. Hopefully these tips will get you a little closer to this special place, and you'll find your own pack of wild dogs ready for the chase.