There's something about treehouses that brings the child inside of us out! Which of us would have said "No thanks" to our parents offering to build us a tree house in the bottom of the garden?
So when we get a chance as adults to stay in a treehouse, it fills in some forgotten nook of delight. And that's before we've even seen what's outside!
Here are some of the special treehouses that Tribes Travel can recommend to you.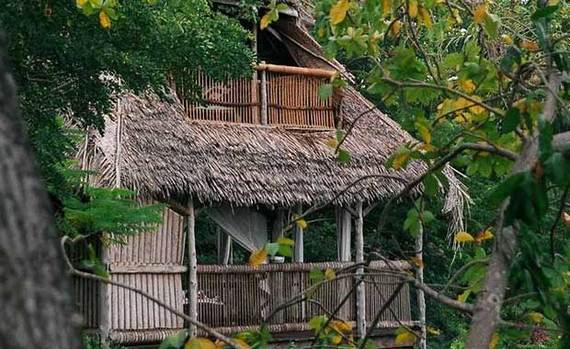 Chole Mjini, Indian Ocean, Tanzania
Not only is this your very own treehouse, it's on a tiny 'Robinson Crusoe' island in the Indian Ocean off the coast of Tanzania. Ocean views, fresh seafood, swimming and snorkelling off sandbanks, and sea breezes billowing the netting draped around your bed because there are no walls to speak of.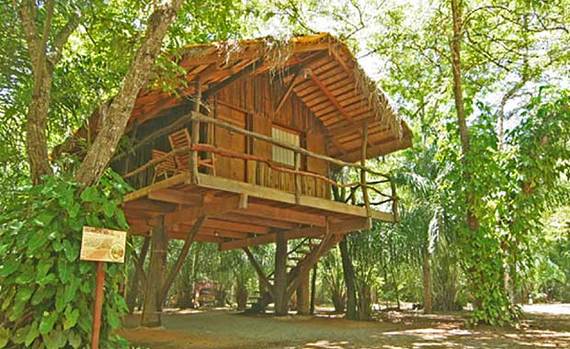 On the banks of the Formoso River in Bonito, in Brazil's southern Amazon, Hotel Cabanas has 3 treehouses as well as some standard cabins. The rooms have aircon and a TV, so they're not for anyone wanting a particularly 'back to nature' experience, but they make a great base from which to explore the region including snorkelling in the crystal clear waters of the river.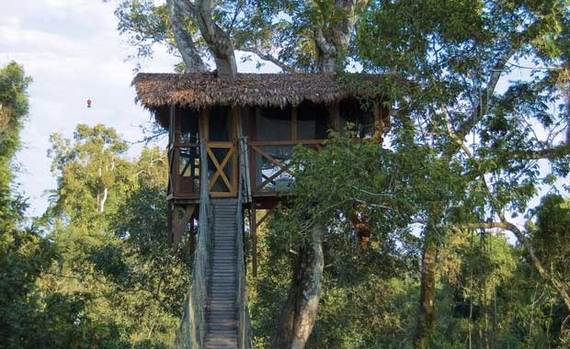 Reserva Amazonica, rainforest, Peru
The Canopy Tree House at Reserva Amazonica (adjacent to Tambopata Reserve) is built on a platform 27 metres high. You can stay the night up here in the seclusion of the forest canopy. You have a proper bedroom with mozzy screens, and your evening meal is brought up to you. Staff are on hand if you need them, but otherwise you have the forest to yourself.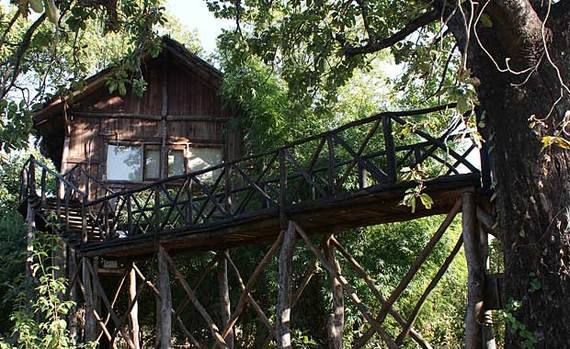 Tree House Hideaway, Bandhavgarh, India
Tree House Hideaway is on the edge of Bandhavgarh National Park - a wonderful jungle wilderness. There are 5 tree houses made using local craftsmanship and materials to blend into the environment, but they all have modern facilities such as air-conditioning and 24 hour hot water. They all also have an open air shower and a private verandah which overlooks the famous tiger reserve.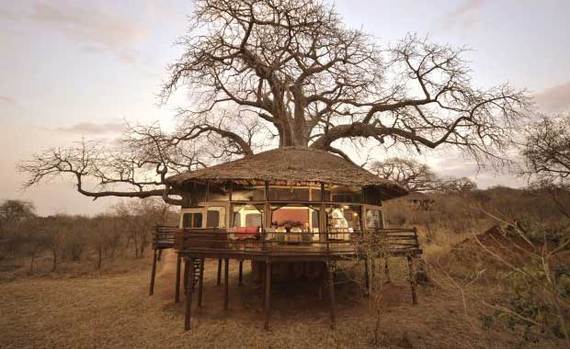 Tarangire National Park in northern Tanzania is a superb wildlife reserve - especially between about july and October when animals from miles around are drawn to the permanent waters of the Tarangire River here. Treetops offers 20 huge thatched treehouses set on platform amongst Mopani, baobab and wild fig trees. This is treehouse luxury including luxury en-suite bathroom, private verandah and lounge area.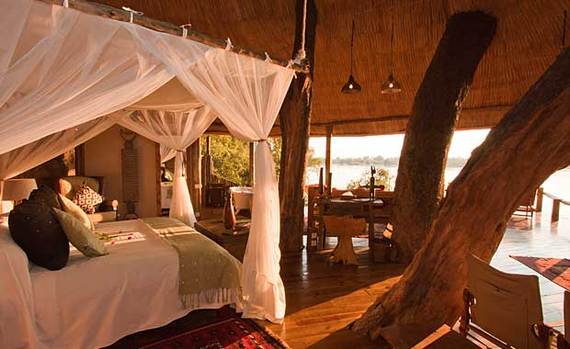 Treehouse in Tongabezi, Livingstone, Zambia
Ok this one is not perched high up at all, but it certainly is built around a tree, and for sheer style and stunning position (on the banks of the Zambezi River) it takes some beating. Use this as a romantic base from which to explore Victoria Falls, and you won't be disappointed.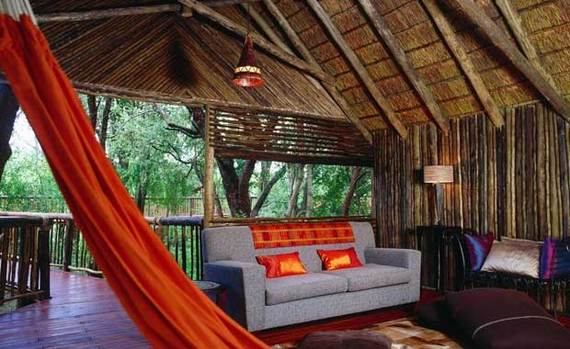 Jaci's Tree Lodge, Madikwe, South Africa
The 8 treehouses here in Madiwke are all built around a leadwood or tamotie tree and sit on stilts about 6 metres off the ground. They are huge luxury rooms with an outdoor 'jungle' shower and massive stone bathtub. Definitely safari luxury! (And Madikwe is malaria-free).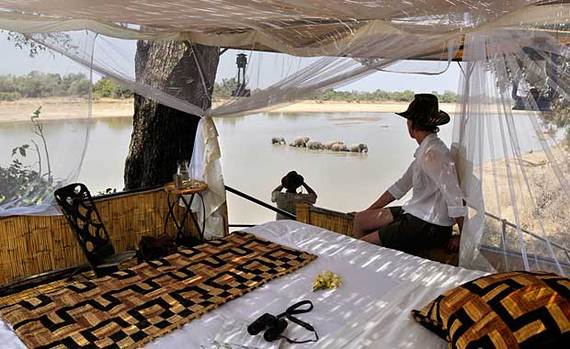 Elephant hide, Kaingo, South Luangwa, Zambia
Shenton Safaris in South Luangwa National Park in Zambia are famed for their superb wildlife hides. One of them, the elephant hide, can be made into a very special treehouse sleeping platform for the night. It's up in the boughs of a tree on the riverbank at a spot where elephants commonly come. Now this is a truly amazing and totally unique treehouse experience!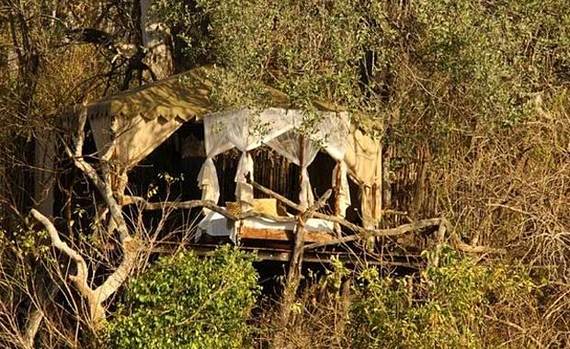 The treehouse at Beho Beho, Selous, Tanzania
Beho Beho in Selous Game Reserve is a top class safari lodge. If you book here for a minimum of 4 nights, you can opt for the extra experience of staying at the Treehouse. You walk here for 2 hours in the afternoon, and the treehouse is built within and around an ancient leadwood tree. This is remote, but you still get luxury, with a proper double bed and en-suite bathroom with flush loo. You get cocktails on arrival and dinner under the stars before you go to bed. This is definitely not a cheap option (being an extra cost on top of the Beho Beho prices), but it's special.