A recent survey revealed an average family of four spends around £3500 on an annual holiday abroad (£860pp), that's an awful lot of days out back home...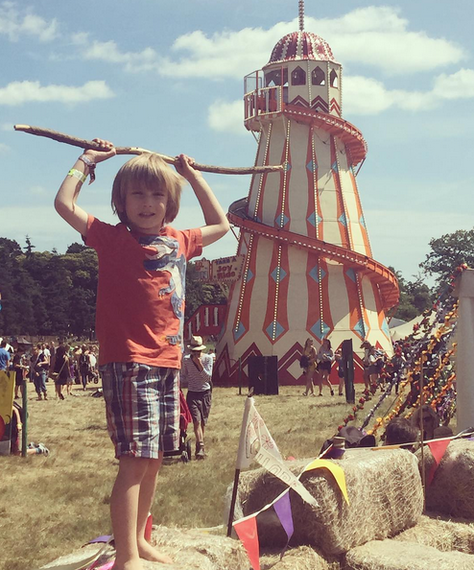 1 Latitude Festival, Suffolk
Taking place this weekend (13-16 July at Henham Park), it's the best family-friendly festival. Not only does Latitude have a dedicated kids' area with sandpits, helter-skelter, carousel, mini beach huts, craft and story-telling, there's also the wider festival where children can count multi-coloured sheep, take a (free) dip in a lake, explore the Faraway Forest (which includes art installations and theatre), join street dance sessions and hang out in the Enchanted Garden. Found in the family camping area, it offers music and plenty of activities (archaeology is on the list this year). It's unlikely your kids will sway patiently with you in a packed tent for an hour to big-name acts like The 1975 (unless they're so small you can pop them in a harness, in which case, enjoy), however we've had many happy times dancing on the edge of the crowds while little ones run around, before lifting them onto shoulders for the long, slow walk back to camp, meeting people dressed as wizards and fairies along the way.
Parent tip: If you want to travel light, pre-order a Waitrose Festival Bag, which includes things like wipes, hand gel, plastic glasses, food, water and pick it up on-site.
What's the damage? Day ticket, £77.50 for adults, £5 for kids.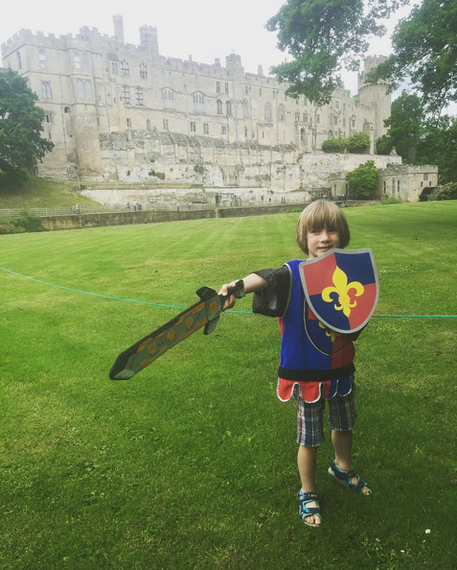 2 Warwick Castle, Warwickshire
'This is brilliant' was the verdict of my six-year-old referring to a recent overnight Wars of the Roses Live Experience at Warwick Castle. The fact he'd dressed as a knight and had met and joined forces with a dozen other mini knights five minutes after arrival definitely added to the allure of this magnificent place, where everything is as parent-friendly as possible, from easy-access parking (about two minutes from the accommodation) to the pushchair-friendly walkways. The moment you arrive you're transported to a different time, one where knights greet you in doorways and you choose allegiance to House Lancaster (boo) or House York (hooray). At night there's a medieval feast (think plenty of meat and gravy, stodgy desserts and a bottomless supply of drinks for kids) in a banqueting hall, interrupted half way through by a knights' duel. Accommodation consists of tranquil lodges with surprisingly good facilities (who knew knights used Elemis toiletries and hairdryers?) or fancy tents. If you're coming for the day, there's still plenty to widen their eyes: falconry displays (it's slightly nerve-wracking when an eagle comes into land just above your head, but the children loved it), a working trebuchet, the chance to try archery and learn sword skills and, best of all, jousting. My son was so taken with the horses, armour and battles he played 'jousting' for days afterwards using a bamboo cane and metal tray.
Parent tip: Queue for the jousting 20 minutes before the show is due to start to ensure you have a decent view of the arena.
What's the damage? Basic saver day ticket £18.40. Medieval Glamping from £299pn for two adults and two children, including free entrance to the castle both days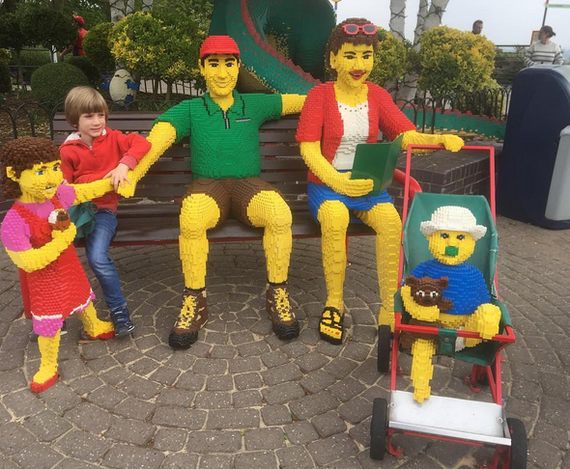 3 LEGOLAND, Windsor
Definitely an experience I thought would be better for kids than adults, but in reality LEGOLAND turned out to be fun for all. Right from the start it's impressive: a family made of LEGO (so quiet and well-behaved), clever landscaping and Windsor Castle view ("Is that the Queen's house?' Yes. 'Can we visit her?' No). Firm favourites included a cool submarine which descends into water filled with real sharks and rays (a shock as I'd assumed they'd be made of LEGO), Star Wars models (so good), LEGO boats you navigate past giraffe and crocs (thankfully not real) and, probably the highlight, a LEGO car experience, which included a driving school, roads with traffic lights and a laminated licence at the end. We had to return three times. The small roller coasters are great but don't go expecting Orlando and the new Ninjago World wasn't open when we visited but looked like it was going to be 'awesome'. We managed to cover most, but not all, of the park in a day so if you've got (quite a lot of) money to spare, a night at the refurbed LEGOLAND Castle Hotel, complete with themed rooms, would be ideal.
Parent tip: Take a picnic. There are some pleasant eating spots (LEGO squirrels in trees caused excitement) and the food outlets onsite are quite expensive and really busy. If you hate queuing and you know it's going to ruin your day, consider investing in Q-bot which you can buy on arrival and download to your smart phone; it allows you to book the big rides and turn up (at a separate entrance) when it alerts you there's a space. We tried it and, once we'd got the hang of it, were very thankful (though prepare to feel guilty when you stroll past a massive queue).
What's the damage? Day ticket from £30pp in advance, kids under three go free. One-night in the LEGOLAND Castle hotel from £572 for a family of four, including two days at the park, fast-track entrance and breakfast.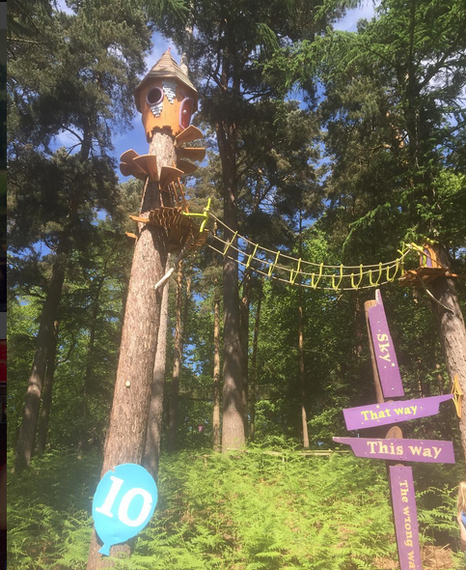 4 BeWILDerwood, Norfolk
So. Much. Fun. Board a boat on arrival and take a five-minute journey gliding past crocklebogs and Boggle houses (see parent tip below) before stepping ashore in a magical forest kingdom where treehouses, zip-wires, jungle bridges and signposts saying 'That way, this way and the wrong way' are the norm. Our BeWILDerwood highlight was the higgledy-piggledy wooden Sky Maze, where the aim is to eventually reach the 'nest' at the top. Half-an-hour in we admitted defeat and lifted our two-year-old out, but for 30 minutes he'd had the time of his life zooming along rickety bridges and climbing spiral staircases. Story-telling at the small amphitheatre looked good, but with enormous slides, den making, witches treehouses and tricky tunnels within running distance, it was hard to keep my kids seated long enough to know. Food here is decent and not too pricey - baked potatoes, sausages and ice-cream at the Snack Shack went down well.
Parent tip: Buy the BeWILDerwood books (written by children's author Tom Blofeld) before you go, so you'll all be up to speed on Boggles and Twiggles.
What's the damage? Advance day ticket £13.50. Little ones (under 92cms) go free.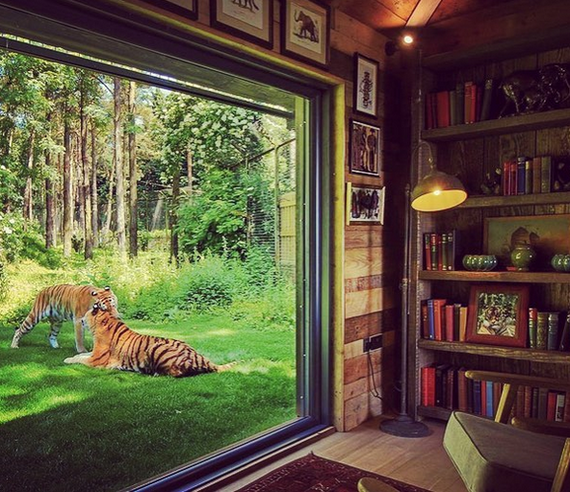 5 Port Lympne, Kent
If your kids love animals, Port Lympne will blow their minds. Far, far better than a zoo, it's one of Europe's largest wildlife parks with more than 700 animals spread over 600 acres, in fact it feels more like an African safari experience what with the open-sided trucks and herds of giraffe and grazing kudu. Run by the Aspinall Foundation, which aims to halt the extinction of rare species, the park is naturally big on conservation and home to many endangered animals including Western lowland gorillas and Eastern black rhino. It also boasts the largest herd of African elephants in the UK. New this season is a Dinosaur Forest, where children come face-to-face (or face-to-foot more realistically) with Stegosaurous and T-Rex and, if you really want to drive the family wild, book a night in the new Tiger Lodge; a luxurious suite with floor-to-ceiling windows overlooking the tiger reserve.
Parent tip: Adopt an animal (from £2.50 a month) and you'll get a certificate, fact sheet and picture before you go, which will make visiting even more exciting for little ones.
What's the damage? Adult day ticket £22.50, child (3-15) £18.90 and family ticket £82 (advance online price). One-night at the Tiger Lodge from £450, sleeps four and includes free use of buggy during stay, parking and unlimited entry to the park.
This post has been published on HuffPost's blogging platform. The views and opinions expressed in this blog are those of the author and should not be taken as those of HuffPost. HuffPost does not allow bloggers to acquire products, access or accommodation for review in the site's name.