I was going to write a 'great places to go this summer' feature, but I'm a parent, I know the reality. There's actually a whole year spreading out before us, full of half term breaks, the occasional non-pupil day, a vast summer vacation and plenty of sneaky bank holidays. That's an awful lot of spare time and what could be a better way of filling it than going away? I'm not suggesting any family goes on all of these lovely trips (unless you've won the lottery, in which case go for it), but if you're feeling in the mood for planning a team getaway hopefully some of these tried-and-tested escapes will help and inspire.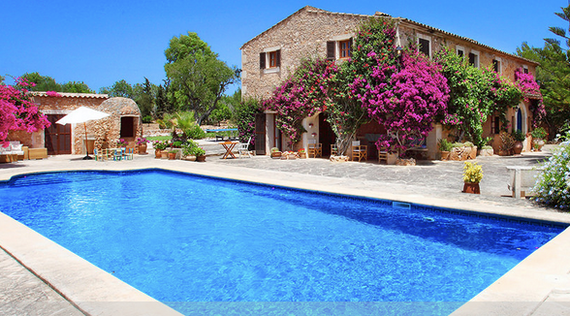 It's spring! Time to celebrate and book a break. Most schools shut down for at least two weeks so this is a great period to get a decent trip under your belts. I don't think you can beat Mallorca at this time of year. An easy two-hour flight (enough time to be exciting, not enough for iPads to run out of juice) and weather-wise it's a winner too with warm days which are pleasant but aren't going to cause prickly heat rashes plus fields of blossoming fruit trees make it particularly picturesque. I've been with extended family in Spring and found accommodation way cheaper than peak summer time. We hired Cas Mal Ric (seven nights from around £1000, or £250 each based on four adults plus kids) a farmhouse (finca) on the south east coast (about 30 minutes' drive from Palma) and it was gorgeous; bright pink bougainvillaea climbing the walls, palm-lined pool, barbecue area, ping-pong table, orange trees and five bedrooms (four doubles, one twin).
Some nights we cooked (there's a supermarket in Cas Cancos, the nearest town) but we also discovered some great restaurants; Flamingo's set high on a cliff over looking Porto Cristo serving giant €15 paellas was a favourite, as was a fresh seafood lunch at Bar Cala in fishing village Cala Figuera. My eldest son was content playing in the (admittedly very cold) pool, hunting lizards in the garden (this took up a lot of time) and chasing on-site hens, but also enjoyed days out, the best being Cuevas del Drach, fairytale-esque underground caves filled with stalagmites and stalagmites and an underground lake.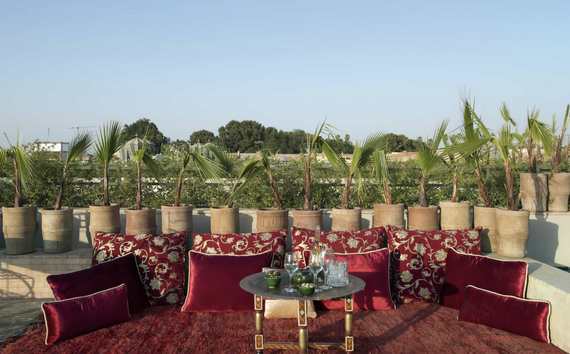 You've only got a week so you don't want to waste days on long flights and debilitating jet lag. My tip is Morocco, the most exotic place you can get to short-haul from the UK, no question. Less than a four-hour easyJet flight away yet you feel like you've landed in a different world, one with snake charmers, storytellers, fresh mint tea and camel rides. We visited Marrakech last year and my oldest child (five) was enchanted, while the youngest (one) had a near-constant, wide-eyed expression of amazement. I think it all blew his mind and that's no bad thing.
We stayed for two nights at the Almaha which is hidden down an alleyway you think you'll never find again, but is actually only five minutes from a car park, so relatively hassle-free luggage-wise when travelling with a family. A secret door to enter the riad from reception is disguised as a bookcase, which is thrilling when you're little - to be honest it's still thrilling when you're 40 - and, once kids have discovered how to get in, there are even more treats in store, like a swimming pool hidden away on a terrace. Our suite (one of 12) had a large double bed (they added a small bed alongside for Sonny and a cot for Sol), separate lounge and secret stairs up to a private terrace where we had breakfast (local honey, apricot jam, handmade bread, fruit and fresh orange) each morning.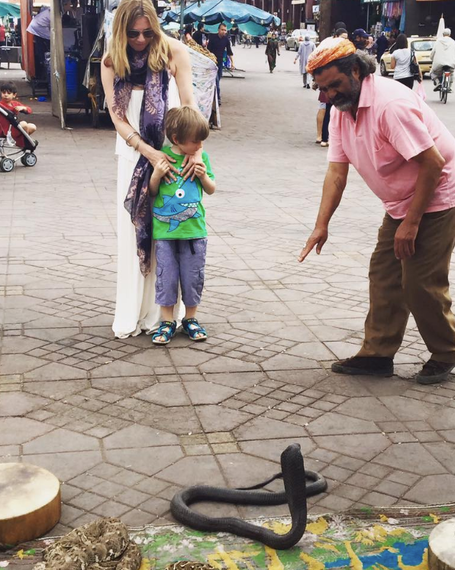 Things to bear in mind; it's car free in the Medina so actually very safe for kids (though they have to dodge the odd donkey or motorbike). You still get harassed to buy things in the souks when you're with children, but it's a lot less full-on than if you're a lone female, believe me, plus it's good for kids' maths to haggle. We didn't have any dodgy stomach upsets the whole time we were there as we stuck to tajines - they're cooked for so long any bug will have died before it reaches your child's mouth (and, bonus, they're really cheap). Moroccan's love children, far more than Brits do it seems, so get used to people patting their heads and smiling at them. And make colourful Cafe Clock your base - it sells pitta bread and hummus (all young children love this), camel burgers (older children will want to try this), milkshakes, sweet pastries and often has live music.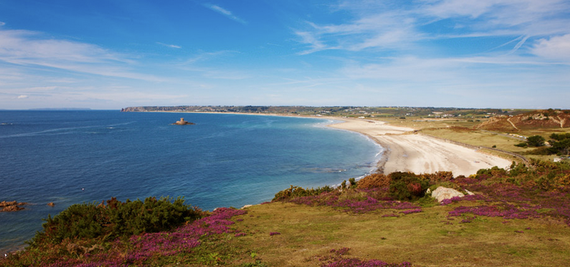 Just three days to getaway, four if you take the kids out of school on a Friday (but I would never condone that...), where to go? I recommend Jersey for a brilliant close-to-home break that still feels exotic to kids as you arrive by plane (45 minutes) or ferry (four hours). We visited the Channel Island for the first time in 2016 and found it really child-friendly with excellent, clean beaches, great restaurants and lots of fun things to do for various ages. The Club hotel in capital St Helier had family rooms - a double bed for parents and pull out sofa bed in the adjoining lounge - plus an outdoor and indoor swimming pool, highchairs (even in the Michelin-starred restaurant!) and a spa (I was lucky enough to get an hour to myself which felt like a mini holiday). It's best to hire a car, as you'll want to explore the island to get reach places like The Old Portelet Inn on the south coast.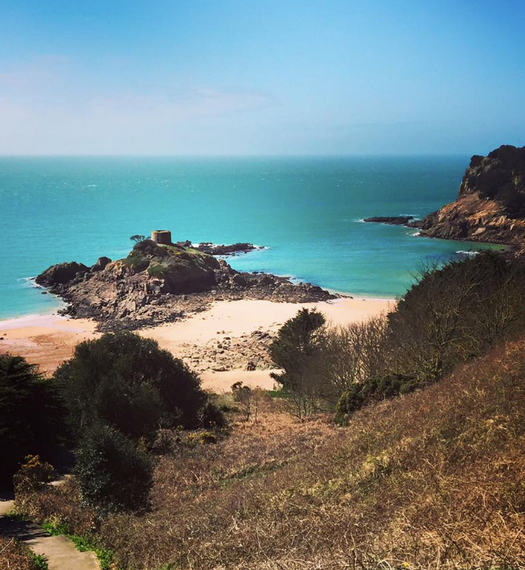 Perched on a cliff above Portelet Bay, this place was a real find. Firstly the beach wouldn't look out of place in the Caribbean (on a good day), secondly the inn is way above your average pub, from the healthy kids' menu and highchairs to the ice cream machine and, best of all, soft play area. You could easily spend the whole day here but, if older kids want more action, they can hire paddle boards (£8) from Absolute Adventures which is a short drive away or have a surf lesson at El Tico on the Five Mile Road. There's also a restaurant, El Tico Beach Cantina an Art Deco-style surf hangout and exactly the sort of unstuffy, inexpensive eatery you don't mind taking kids to: wood floors that can handle a bashing, a lovely big terrace and really good food to share, like crispy calamari with chorizo and Spanish beans.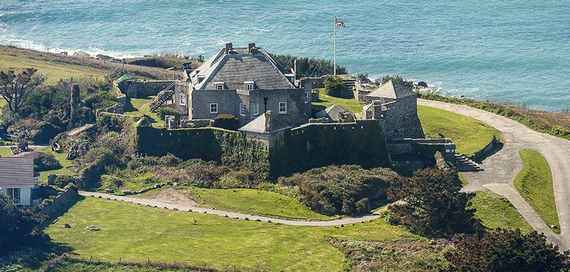 The big one. For me July and August are the best months to be in the UK, so it seems a shame to jet off elsewhere. Many families pack everyone into the car and head to Cornwall for weeks, however last year I went 30 miles further and ended up in the Isles of Scilly and it was one of the best summer holiday's ever. Reached via a 30-minute flight on a tiny 12-seater plane from Newquay (it also flies from Land's End and there's the Scillonian III passenger ferry if you don't want to arrive by air), the archipelago is officially the warmest place in Britain and exceptionally beautiful, with five inhabited islands and more than a 100 uninhabited.
We stayed a couple of nights at the Star Castle hotel (from £150pn) on main island St Mary's, which is set on a peninsula and actually shaped like a star (show kids aerial pictures, they'll be impressed). There are rooms in the main castle (it dates back to 1500), but we stayed in a family bedroom (double bed or twins, extra single bed added and a cot if required) set around a pretty garden. Despite its grandness, Star was really welcoming (waiters spontaneously brought more bacon for hungry boys at breakfast and told them hotel ghost stories), with great facilities, including a large pirate ship playground. While we were on the island we had a stroll along the coast path for a seafood lunch-with-a-view at Juliet's Garden Restaurant and on the way back, stopped off at Spero's Cafe on Porthmellon Beach for ice-cream.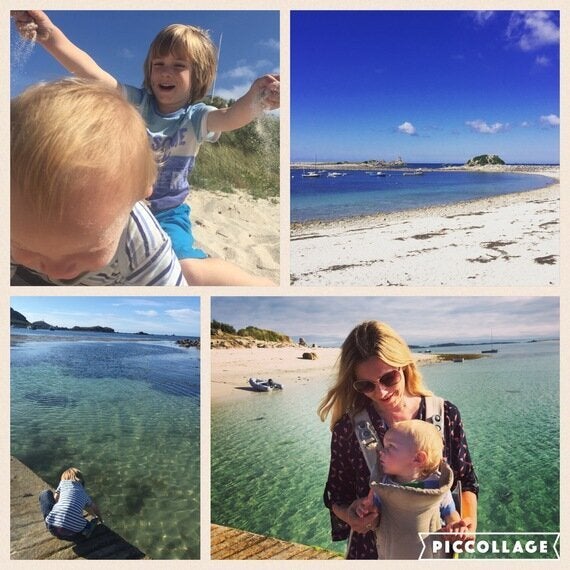 From St Mary's we caught a ferry to Karma Hotel (from £155pn) on tiny St Martin's, which has one of the best settings of any UK hotel I've visited, overlooking a white sand beach and turquoise water which looks more like the Seychelles than an island off Cornwall. Karma's keen on kids; extra beds added to rooms, a playroom with toys, games, TV and DVD's, great children's menu, highchair's on request and no staff had a meltdown when sand was brought in on dusty barefeet.
Our final stop was Hell Bay (from £125pn) on Bryher island which was all my beach hotel fantasies rolled into one. This place is stunning and family-friendly. Let me list the ways: a separate games room with TV, pool table and boardgames, swimming pool with floats, playground and sandpit, giant outdoor chess set, buckets and spades, goggles, snorkels and books on sale in reception. Rooms have a sink and drink-making facilities (the hot chocolates were popular) and a separate lounge with a sofa bed, so parents (and kids) can get a bit of privacy. There are two wild beaches and a headland to explore and we did so many memorable things, from blackberry picking as we walked to the tiny local shop to rock climbing and eating incredible meals, like trout with Cornish ham, in the nautical-style restaurant.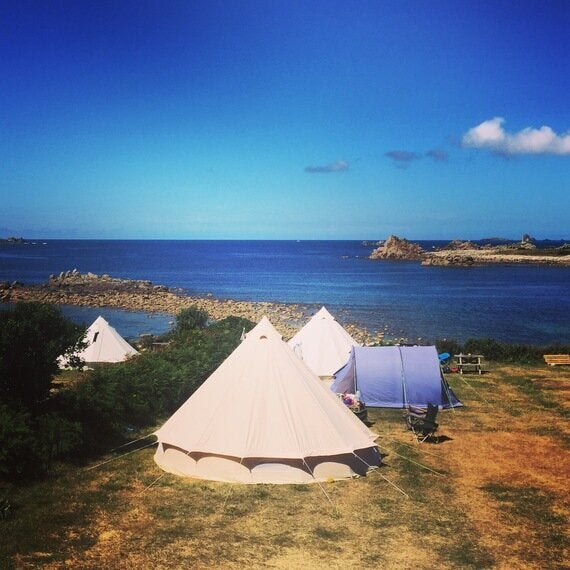 And if you're thinking this all sounds great but a bit pricey, I have a tip. Troy Town Farm on the mile-long island of St Agnes (officially the most south west campsite in the UK), where you can rent a pre-pitched bell tent for £49pn or rent a pitch for £2pn (adult camping, £9.75). The campsite's farm shop sells home-made ice-cream with a fudge finger and there's a bit of beach too. Book now as this place gets filled up early in the year.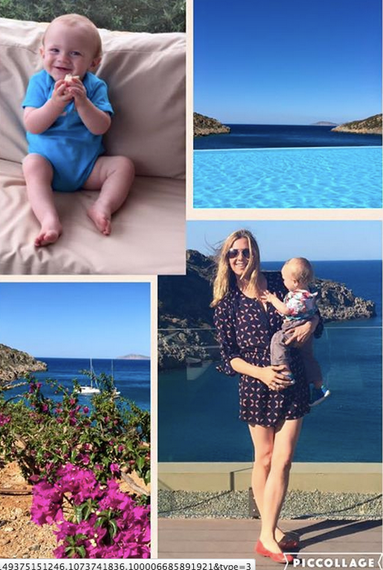 Nights are drawing in and it's starting to feel colder, it's definitely time to seek the sun. My tip is Daios Cove an exceptionally child-friendly (and architecturally beautiful) resort in Crete. Of all the places I visited in 2016, Daios was the one which catered best for kids of all ages. On arrival I found a complimentary steriliser, light-weight pram, bucket and spade, children's sun lotion and highchair in our room, which was huge, clean and bright with a terrace overlooking the infinity pool and ocean.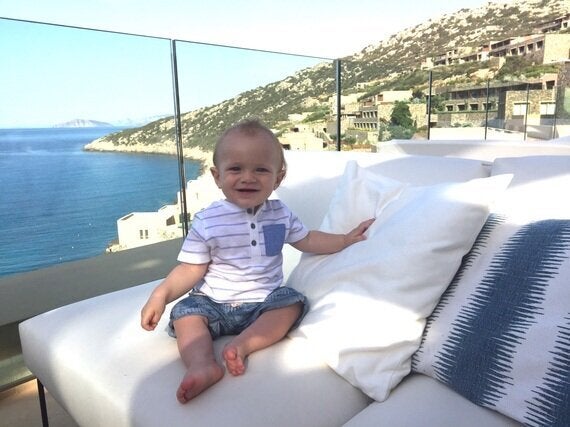 There's an excellent crèche (four months-four years), kids' club (four-12 years) and a teenage area too, while the taverna restaurant had a baby menu as well as one for kid's, which offers freshly-made purées. Babysitters (€12ph) mean you can enjoy things like cocktail hour at stunning Crystal Box bar or a romantic candle-lit seafood supper at the Ocean Restaurant. The beach was really clean and safe and the water so shallow, clear and warm even my toddler could splash around in it. This all sounds amazing, right? But there is a catch, it's pricey. Five nights in October 2017 is currently £2131 for two adults, a child and an infant, including half-board upgrade and airport transfers.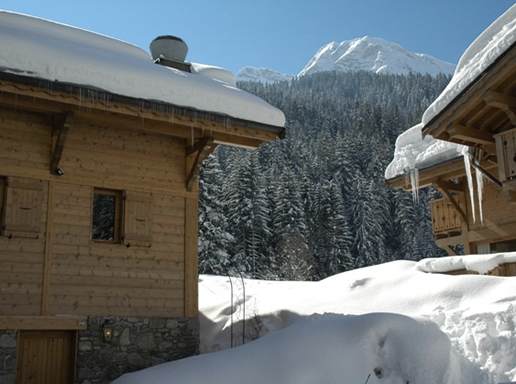 You've made it to the end of another year, hopefully with only minor parenting problems, congratulations! This is the season when it's actually cool (sorry) to have a bit of snow on holiday, so let's talk skiing, snowboarding, stuff that you slide down a mountain on. A couple of years ago I headed to Portes du Sloleil in the French Alps to review Chilly Powder's Au Coin Du Feu(three nights half-board from €325pp, discount for children) and it was a winter wonderland for kids and adults. Ski equipment was delivered in advance to the chalet (so no hunting around for the nearest rental place) which is a snowball's throw from a small blue run (good for practice time) and just down the road from a cable car which delivers you to Avoriaz, a picturesque mountain resort, with an excellent ski school - kids are whizzing around cones in a snow plough quicker than you can say 'bend zee knees'.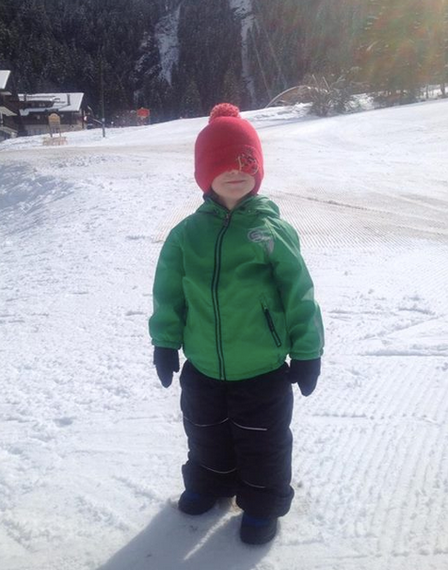 Back at the chalet a children's pasta-tastic tea is served at 5.30pm; adults reconvene around the communal table at 8pm, where a delicious five-course meal is served and red wine flows. Complimentary baby monitors mean you can relax by the roaring fire post-meal and not have to keep getting up to check on little ones. Best of all, if your children are too small for ski school, Chilly Powder has a crèche, so you can snowboard safe in the knowledge qualified pros are taking care of their every need. We put our (then) four-year-old in for a session and were mighty impressed when we picked him up and asked what he'd been up to. 'Racing sledges, riding in a horse-drawn sleigh and painting,' he replied, beaming. Right. You don't get that in your average day nursery.