This week saw the opening of two exhibitions at Flowers Gallery: the work of photographer, Edmund Clark and the painter, Peter Schmersal.
Although two very different shows, with very different atmospheres - the themes raised by each artist successfully manage to complement and elaborate on the work of the other.
Peter Schmersal (a German artist from Berlin) produces 'expressive reworkings of traditional genres' - still life, landscape, portraits and self-portraits. On first glance, his paintings are bright and exuberant depictions of everyday forms. Bright yellows, pinks, reds and blues jump out at the viewer, further intensifying the dramatic and gestural brushstrokes. These works all, in some way, refer back to their historical precedents - but are updated in their manner, medium and presentation.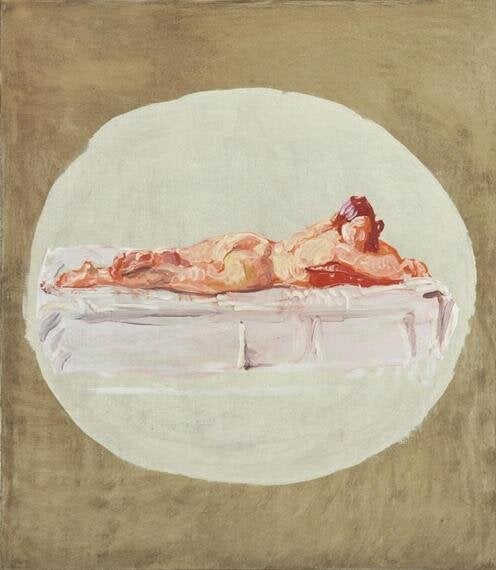 Frau, 2013, Oil on canvas - Peter Schmersal
Schmersal work engages in 'a compelling contemporary dialogue with the masterworks of western narrative painting... appropriating and reinventing familiar themes and motifs from the Baroque to the present.'
But how can you conduct a conversation with something that can't answer back?
Appropriation, reinvention, reworking, retelling, reorganizing - Yes. But 'conversation'....?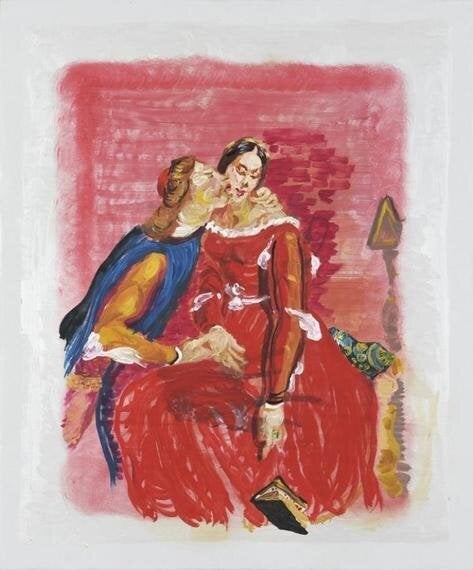 Nach Ingres, Paolo et Francesca, 2013, Oil on canvas - Peter Schmersal
This was the question I was left pondering as I walked upstairs to take in Edmund Clark's photographs. He presents a collection entitled 'The Mountains of Majeed'; a reflection on the end of 'Operation Enduring Freedom' at the U.S. military base of Bagram in Afghanistan. Bagram Airfield was the largest American base in Afghanistan, formely home to 40,000 people. Photographs of the military base itself, and the murals depicted on its walls, form the main part of the exhibition. There was also an example of Taliban poetry on the walls.
Clark's photographs depict the experiences of the personnel and contractors who served in the operations - most without ever actively engaging the enemy.
The base is dominated by the blue hills of the Hindu Kush Mountains, a view magnificently depicted in my favourite image of the exhibition (below). Looking at this photograph, I felt like I was looking at an old master painting, in the richness and delicacy of the blue tones of the concrete - almost velveteen in appearance. The faint mountains behind only add to the strange abstraction of the image, so serene and so beautiful, yet hiding deeper narratives, secrets and fears. These are the 'blue hills of memory' which crop up again and again in art history, and Clark's photographs.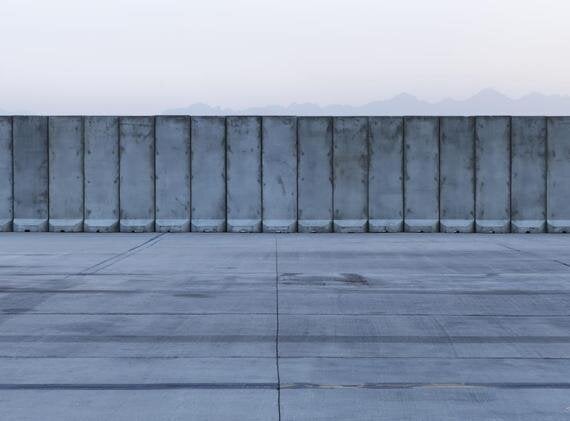 The Mountains of Majeed 4, 2014 - Edmund Clark
There is distance between these mountains. Vistas of tranquillity fabricated by hand from canvas, wood and paint. Images from an enclave captured in high resolution by the latest digital technology. Two cultures divided by landscape and time. Ever present mountains forever beyond boots confined for a duration, within walls of occupation, on a ground of gravel and tarmac. And there is convergence. Both are mountains of the imagination. Both are representations of enduring freedom; and in both the mountains belong to Majeed. - Edmund Clark
Here, there are immediate similarities between the two artists. Both are, in a way, embarking on a 'hidden conversation.' Schmersal overtly 'talks with' the old masters, the paintings and people long lost in historical time, whereas Clark embarks on a re-telling of the traditional views of Afghanistan, the American army, insurgents - and the war fought between unknown enemies. Here, 'the other' is key to self-understanding for both artists work.
Clark speaks of the 'intangible, yet intensely felt presence of the mountains beyond, and the unseen insurgents they hide.' In the appropriation of these mountains, in colourful, romanticised murals inside the military base (by an artist named Majeed) - they remain firmly out of 'Western' reach. The incongruity these paintings speaks further to the dystopian juncture between the man-made, military environment of the interior of Bagram, and the quiet, contemplative views beyond its walls.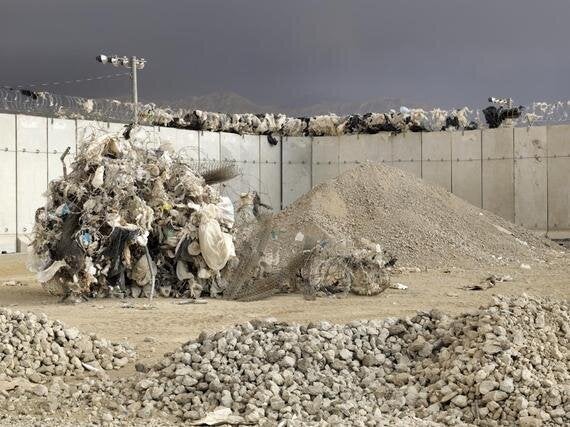 The Mountains of Majeed 8, 2014 - Edmund Clark
It was this dichotomy I found particularly interesting: of the man-made and the natural; appropriation and distance; time-passed and time-present.
Asking how we can bridge these gaps, how we can re-enter into a conversation the lost subject - 'the other', also ties nicely back into Peter Schmersal's paintings - transcending our pre-conceived fixed narratives and familiar viewpoints. His work realigns the historical references; traditional colour combinations, artistic techniques and methods of depiction, forcing the viewer to reorganise their own expectations of, and experiences of the 'high art' in front of them. It is remarkably similar to Ruth Claxton's beautifully manipulated 'Old Master Postcards', I wrote about previously.
Who, for example, expects to see bright washes of blue and lines of purple, adorning the background of a Goya, bright pinks on an Ingres, or a floating bed in a sea of swirling brushwork - perhaps after John Singer Sargent's unmade beds?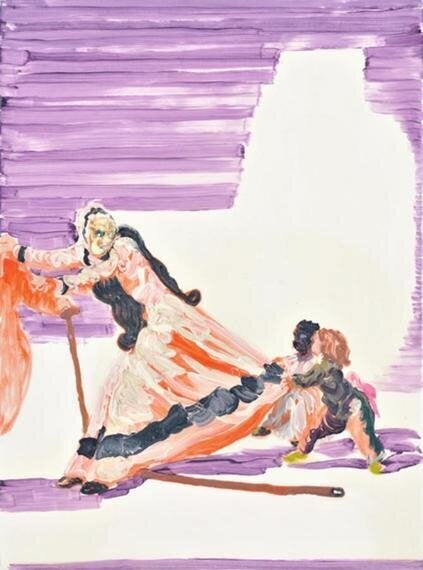 'La Beata' / Nach Goya, 2009, Oil on Canvas - Peter Schmersal
Walking around Schmersal's art, I was reminded of Jean Baudrillard's concept of simulacra (copies that depict things that either had no original to begin with, or that no longer have an original) - and his question of 'What becomes of the object, when it reveals itself in icons?'
The iconoclasts famously destroyed all religious art - all representations of divine objects, in the fear that the new image, as such, replaced and substituted the pure idea of the original.
Do Schmersal's paintings do the same? I would argue yes, but they do this in conjunction with the originals, rather than outright replacement. By appropriating and reinventing familiar themes and motifs, the artist's compositions take on a language of their own making - allowing the viewer to see his paintings as their own, original creation, yet also - to relish in the history they have come from. Whilst Schmersal does not always make it directly obvious which painter, genre, or motif he is responding to, it makes for active and involved viewing trying to discover the 'hidden narratives' for yourself. After all, it is only from a point at which one assumes gaps in knowledge - when we realise that the mysterious other is something that can be interacted with, questioned, spoken to and conversed with, that we can enter into new forms of understanding.
This was the lesson I took from both artists work: the necessity of attempting 'conversation', even if the partner-involved can't always answer you back, or the responses are not immediately clear. With persistence, determination and an open approach to knowledge - beautiful art and understanding can happen.
This thought-provoking exhibition is well worth a visit, and remains on until 4th April 2015 at Flowers Gallery, Kingsland Road (London).
For more information on the artists, see:
Related