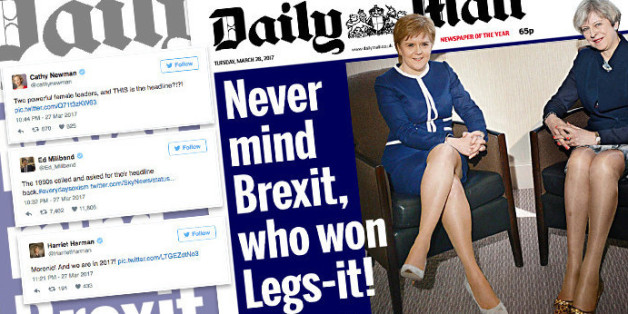 Nicola Sturgeon and Theresa May are arguably two of the most powerful women in the country. When they can each be reduced to nothing more than a pair of limbs, pitted against each other and ranked by their attractiveness on the front of a national newspaper, we have a problem.
The Daily Mail's front page coverage of a critical meeting about the relationship between Scotland, the UK and the EU has somehow been reduced to a headline about the legs of these two politicians as they negotiated the future of their countries. The use of the crude term 'Legs-it' to rhyme with Brexit is a new low, even for the Mail.
Undermining female politicians in this way is utterly unacceptable, so I've submitted a formal complaint to the Independent Press Standards Organisation (Ipso) over the 'Legs-it' headline. It's already attracted a storm of criticism today from across political divides, with many stating that the "1950s want their headline back".
As a young woman politician I find it absolutely extraordinary that a national newspaper has sunk to this level. Female leaders deserve to be treated with respect, not contempt, and we must listen to their voices rather than comment on their appearances.
We have come a long way towards securing diversity in Parliament. Today's Daily Mail coverage is a step back that undermines all of our accomplishments over the last century - from securing the right to vote for all women of voting age, to the first women being elected into Parliament.
The Mail appears to be deliberately ignoring these years of progress by women in politics. It's utterly pathetic. We have now reached a point where we have a female prime minister, first minister and party leaders, yet this is how they are treated by the press.
My complaint to Ipso accuses the paper of breaching Cause 12 of the Editors' Code of Practice, discrimination. The code states outlets must "avoid prejudicial or pejorative reference to an individual's race, colour, religion, gender, sexual orientation or to any physical or mental illness or disability".
The article itself was about a meeting between Sturgeon and May about a possible second Scottish independence referendum - a decision that will impact the UK for generations to come. To bring the politicians' appearance into this story is not only entirely irrelevant but incredibly disrespectful, both to the women, and to the people that they represent.
The Legs-it headline and the further derogatory comments inside the paper would not have even been considered, let alone published, if the two politicians in question had been men.
Social media users have been proving this exact point all day, by posting photos of the likes of David Cameron and Michael Gove in shorts and swimwear (which wasn't exactly what I wanted to see while I was eating my breakfast this morning). I don't want to see anyone's body judged by a national newspaper before I've even had a cup of tea. But the sheer absurdity of the photoshopped front pages shows our wildly different standards for men and women.
What does this indicate to every other women in the UK? Even if you run the country, you will still be treated with contempt. It reinforces a fallacy that politics isn't a place for women, potentially putting off the next generation of leaders and decision makers.
We're facing a widening gender gap of voters, with more men voting than women. More than nine million women did not vote in the last general election. When the press makes politics seem irrelevant to women's lives, the engagement of these women in our political system becomes even more difficult.
Sadly, this isn't the first time the Daily Mail has commented on Theresa May's attire instead of her actions. Not to mention all the other women politicians who have been targeted by the paper. It's time we acknowledged the Daily Mail and its tabloid peers have a problem with women.
Unfortunately, the paper's response to today's outcry has been equally shameful. Critics of the Mail's headline are not lacking a sense of humour, we're lacking patience.
An alleged two thirds of female politicians have faced sexism at work. We endure derogatory comments, social media abuse and being judged solely on our appearances. I refuse to be put off, but I worry about the impact on others who might be reconsidering stepping into the public sphere.
I'm calling on the editor of the Daily Mail to apologise to the Prime Minister and First Minister, and to all of the young women aspiring to be politicians who want to be recognised for their knowledge and achievements, not the shimmer of their legs.