''Brownies, made with sweet potatoes?'' I hear you cry. Bear with me because this recipe is so tasty and much better for you than the calorific and sugar-laden ones we're all used to.
Okay, okay so my husband thought these brownies were horrible, how rude! However, the kids and I really enjoyed them (honestly) you can absolutely detect the sweet potato, which is unusual but I like it a lot.
The texture is as close to a 'real' brownie you could get but without all the naughty sugar and they're vegan and gluten free.
They looked really pretty decorated with pink edible flowers, which made them all the more inviting, I think.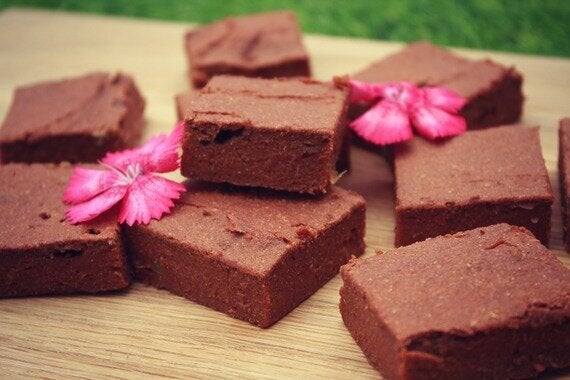 2 large sweet potatoes (600g)
2/3 of a cup of ground almonds (80g)
1/2 a cup of buckwheat flour(100g)
8 medjool dates
3 heaped tablespoons of raw cacao
3 tablespoons of maple syrup
a pinch of salt
Preheat oven to 180 degrees
Peel potatoes and boil or steam until really soft
Once soft, add potatoes to food processor with the pitted dates until creamy
Place all remaining ingredients to a bowl, add sweet potato and date mix and stir well
Put the mix into a lined baking dish and bake for 20 mins until you can pierce the brownies with a fork and it comes out dry.
Remove from the oven and allow to cool for 10 minutes (if you can!) The cooling process allows the brownies to get nice and sticky in texture so is important.
Remove brownies from tray and cut into squares.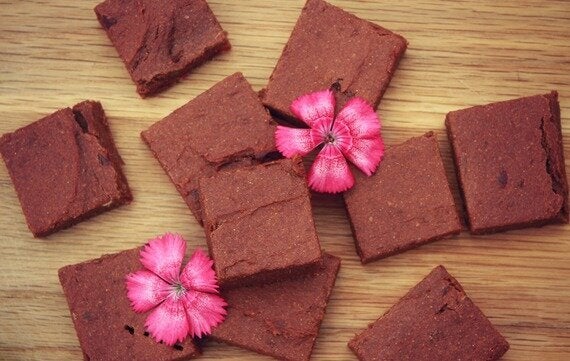 These are fab snacks to have for mid morning tea or an afternoon pick me up. Perfect size for little toddler hands to hold too. Enjoy!
Related