It's tough being a student journalist. People make assumptions about you, it involves hours of unpaid work, and to top it all off, you have a degree to do as well.
I remember walking home at 4am in the morning after my first Production Weekend, dazed and bleary-eyed, while other students were coming back from the clubs in town. A few hours later, I trekked back to campus for an early morning seminar. It was torture. But I also remember the pride I felt when I picked up the first print edition I'd been a part of - and the pride I've felt every edition since. Student media is hard work, but it's worth it when you realise the impact you're having.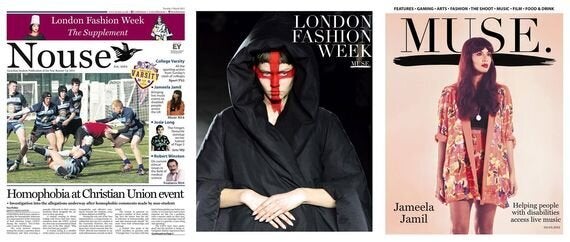 On a personal level, being a part of Nouse really helped me find my feet at university. It encouraged me to have more confidence in my decisions and taught me to be more discerning. Since joining as a shy fresher, I've definitely become a stronger and more self-assured person. You need to be when you're pursuing a story that people don't want published. I also met a lot of my closest friends through the society. Apparently, spending late nights in a stuffy office cursing InDesign's refusal to cooperate is the perfect way to connect with people.
Having said that, it's not been an easy ride. We face a lot of criticism which, if I'm honest, isn't always entirely undeserved. We're still learning, after all. However, even though we don't really receive any training beyond a media law session, we're still doing all the things 'real' journalists do. As well as producing three print editions a term, we also have a website which covers a range of sections, from Sport to Science. Our writers have interviewed a range of high-profile people such as Jake Bugg, Sam Smith and Jameela Jamil, and our most recent front page story was later picked up by newspapers all over the world.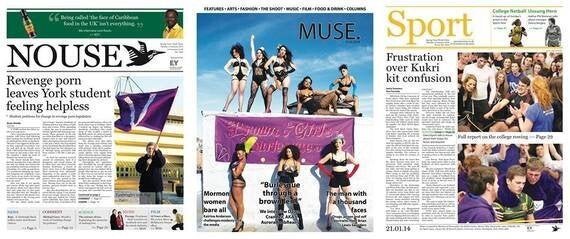 We're a group of students who have big ambitions and what we've achieved so far has been incredible. Last year, we even won the runner-up prize for Student Publication of the Year at the Guardian Student Media Awards. Sadly, we're constantly held back by our lack of resources. It's frustrating when you've spent hours perfecting a double page spread only for your computer to crash unexpectedly, meaning you lose all your work regardless of whether you saved it or not. It's even worse when people are really eager to contribute but don't have access to the right equipment.
That's why we're fundraising through YuStart, the University of York's crowdfunding platform. (YuStart allows people to sponsor projects in exchange for rewards.) We want to use this money to make sure our talented team has the technology they need to realise its potential and allow more students to develop valuable skills that will help them even if they decide journalism's not for them.
It's been amazing to see the huge amount of support our project has received so far - earlier this week, we hit our minimum fundraising target of £1,000. However, it's not over yet. Ultimately, the aim is to raise £2,000 so we can completely replace our outdated computers, but we only have eight days left to do it. It's scary to think how little time we have left to raise that money but I'm determined to do it.
I wouldn't be the person who I am today without Nouse and I suspect a lot of people who were a part of it in the past wouldn't be where they are now without it either. It's inspiring to see just how many of them are currently working for publications such as The Independent and The Sunday Times. I'm indebted to Nouse and extremely grateful for the opportunities it's given me. That's why I'm so keen for our fundraising to be a success. I want to make sure the society's in a secure enough position to continue giving students those same opportunities for the foreseeable future.
We've already been established for fifty years - here's to the next fifty.
You can find out more about Nouse's fundraising here.
Related