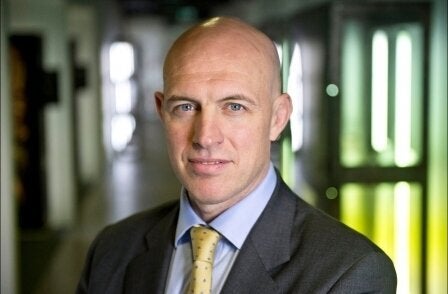 The Sun's new editor David Dinsmore gave a refreshingly candid Q&A, in an age where editors are often mocked for not being willing to stick their head above the parapets, at the London Press Club on Tuesday. Over 50 people were in attendance including some journalism students.
John Pienaar, BBC Radio 5 Live's Chief Political Correspondent, a fellow University of Bradford alumni, skilfully asked the questions and a number of topics were broached. From Page 3, to phone hacking, mass surveillance, Hillsborough, Buzzfeed and whether there's hope in the industry for those of us studying to be journalists.
He passionately denied that The Sun "has lost its mojo" as Pienaar questioned. Dinsmore noted that the media landscape had changed and that didn't necessarily translate to lost mojo but rather a different way users consumed content. Gone were the days of a few national newspapers and TV stations but rather a recent multimedia expansion. "We have to re-calibrate to where we are today. Yes, we might not sell 4 million print newspapers again but I don't see why we can't have 4 million subscribers. That's what we should be aiming at." He pointed out that in his 5 months of editorship, the newspaper continued to set the agenda as it once did. Most recently by changing the name of The Sun to the The Son to celebrate the birth of Prince George, changing Page 4 content and announcing the option to cross the paywall (a word he didn't like).
On potential digital competitor Buzzfeed, "Brilliant. Buzzfeed is the best thing on the internet. The way they tell stories is the way we tell stories. The way they mix light and shade...and yes I do see them as competition."
Inevitably, talk moved on to Page 3 and whether it should remain and he said, "I make The Sun for its readers, not for the No More Page 3 people, or the Twitterati or Guardian readers. We held focus groups in which it was clear that we shouldn't touch it. People don't want to be told what should be in their newspaper." He went on to say that surprisingly the women were the more vociferous than the men in their request, "The word that came back loud and clear was 'do not touch it!". He believes it would lead to "brand erosion" and that Page 3 is "an intrinsic part of the brand." Later, taking another related question from the floor he said, "It is not set in stone that there must be a pair of breasts on Page 3 every day in The Sun. We will deal with it on a day by day basis."
Regarding Hillsborough, he conceded that mistakes had been made and that he didn't expect to start circulation there any time soon. "I don't expect to start selling newspapers again in Liverpool," he said. "I would go up there tomorrow and offer my first born if I thought it would make a difference but there's not an open door there."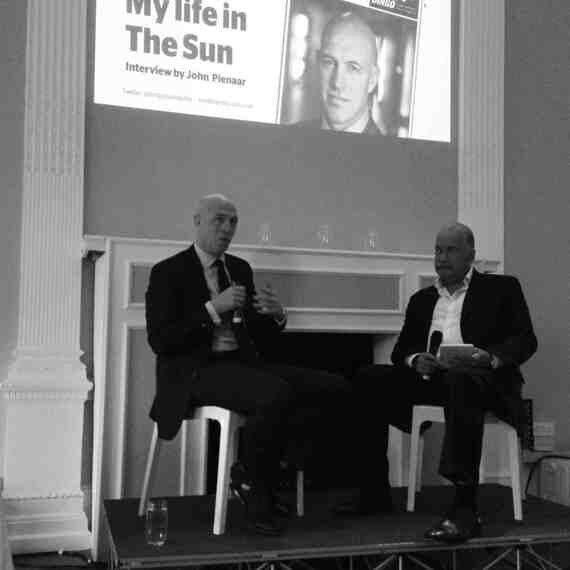 On phone hacking and whether it should be allowed for certain circumstances as posed by Angela Shine, "No. I don't think it should. It's illegal apart from anything else. I just can't see any circumstances in the UK where anyone would ever, in their right mind, hack a phone again." He said that even considering a public interest argument, "You'd have to be in leave of your senses to go and do that."
On Snowden and the Guardian, "National security is a different issue and that we have to protect our borders, protect ourselves and that there are some things you have to leave to the spies. I would sleep more soundly in my bed knowing that people were monitoring things like this." He seemed to draw the line at Google reading our emails to tailor ads though.
In reference to the 25 Sun journalists being recently arrested unexpectedly in 5am raids, "It pains me every day that colleagues of mine have been treated in the way they have been." He felt Fleet Street's silence, bar for some notable exceptions, is "a terrible place for British newspapers to be." Addressing Plebgate, he stood by the initial reports made by The Sun and said, "Plebgate has a long way to run and there are many strands to it. Trust in the police is probably at an all-time low. They have a massive job to do to regain that."
"Is it game, set and match on the industry?" posed Pienaar. Dinsmore, who refers to newspapers as a "living breathing organism" dependent on development believes not. He agrees that future journalists shouldn't be deterred from the newspaper industry, "People don't want news, they need it and I think that is the core thing. There is a future for what we do because people need it."
He expressed the importance of national newspapers getting "out of this circular firing squad with all of us trying to kill each other. The only winner in all that are the politicians and in the long run that's not a good thing." Despite speaking positively about the independent press regulator suggested by the Royal Charter, he hoped that it wouldn't go too far. "If you ask chaps at the BBC whether they are free to do what they want, the answer is no. There is a lot of government control on the BBC. I don't want the press to go that way."
The interview was engaging, the tone relaxed and the largest newspaper's newest editor seemed a little more human today, instead of an unsympathetic, removed editor separated from its audience that I've come to expect.
Popular in the Community