I have always hated the word "orphan." For me, that one word encompasses all the negative feelings I have associated with the death of my mother, my father's abandonment, and how I was robbed of what should have been my childhood. You see, orphans are painted as society's undesirables, passive victims of circumstance with little or no power to change their futures.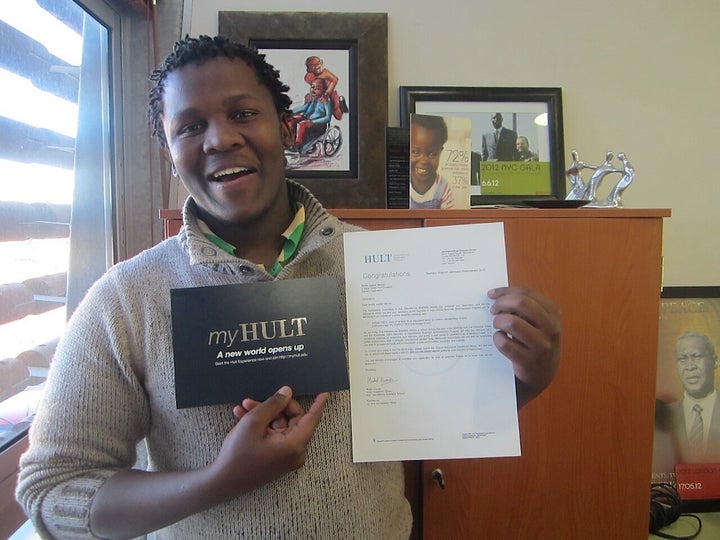 My name is Andile Justice Mkonto. Growing up as the eldest of three orphans, I was raised by the strong hand of my grandmother, Nomisile Mkonto. I hail from Soweto-on-Sea, what could be called a "ghetto" but what we South Africans lovingly call a township.
Now whenever I tell my story, I usually start from when I was thirteen--I had just lost my mother to a devasting sickness and I had dropped out of school. Instead of studying, I started a small "fruit and vegetable" business to take care of my younger sibilings. I inevitably got caught up in a life of drugs, running away from home, and living on the streets to try and "get away from it all," as I liked to tell myself.
But the truth of the matter is I was condemned to my "doom" long before that. You see, like millions of others who were born in the slums of, say India, South America, or even here in Britain, I just wasn't born in the right place. I always say to my friends that it looked as if my birth appeared hand-in-hand with my death sentence.
I have known what it's like to grow up as a societal castaway, judged by the colour of my skin, where I am from, or what school I went to. When I first got to London, some people were even shocked I could speak the "civilized" tongue. I remember one day, in particular, when I had to convince one of the sale's people that roam the streets of Central London trying to get everyone to support one cause or another that I am actually not African American just African. Till this day I will never forget her response, she looked me straight in the eye, and said, "But you speak so well!"
As I am sure you have noticed by now, she was right. I actually am quite proficient in English; I am quite proficient at a number of things to be honest. And that's because I am one of the lucky ones. My life is not entirely a sob story; it has been filled with the joy and hopes that comes with having somebody believe in you. In my case, this came in the guise of Ubuntu Education Fund. They took in a b¬oy without hope and, in the vein of this whole honesty thing I started, without much sense. Ubuntu, along with my family, raised a young man spurred on by dreams so big they even scare me.
Today I am a graduate of the prestigious African Leadership Academy; I just finished my first year at Hult International Business School here in London. Back home, I am the co-founder of a socially conscious construction company called Get Active Construction and Projects. We build government funded RDP houses throughout the country, hiring and empowering people from a similar background as me. And recently, I had the great honour of being named one of Rare Recruitments' top ten black students in the U.K.
Against all odds, I am enroute to realizing my potential mostly because Ubuntu took a chance on me, believed in me, and supported me. My destiny cannot be leashed; it cannot be constrained by something as trivial as my birthplace! I have always said, it is not where one comes from that makes the man, it is where he wants to go. A man's path to greatness should never be obstructed by an accident of birth.
I was lucky ten years ago when I first met Ubuntu, and I am lucky now that I am able to live in one of the leading cities of the world, and go to one of the leading institutions in the field of business. But it doesn't have to stop with me. Thousands of others out there can have their own versions of a "happily ever after." It all starts with you, yes you, reading this from your home, office, or school. You can make a difference! Now there are myriad ways to help, and a number of organizations that are doing what I'm sure is commendable work. But I offer you now a chance to be a part of something great--raising a child.
I want to take this chance to urge you to watch Ubuntu's new campaign video. For every view of this film, $1 will be donated by Zodiak Media to help Ubuntu transform the lives of 2,000 children in Port Elizabeth, South Africa. Please watch and share to help us raise $100,000. Together, U.ME.WE can make a difference.