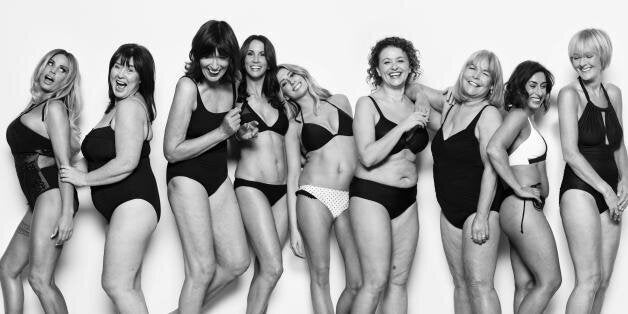 When I was 15 I worked in a shoe shop. Every penny I earned went on clothes or music; so, no different to my own teenagers, only I didn't download my first record, I bought it. There was something special about standing in Woolworths with my hard-earned cash, deliberating over what single to buy. It took a while, but I still remember the first record I ever bought - it was Bryan Adams 'Run To You'.
Oh my God, I loved Bryan Adams. I bought every album he made, memorising all the words. It was a one-sided love affair that began in the 80's and carried on for 30 years; and back in my 20s, if I'd been given the chance to peel off my clothes and stand before Bryan, they'd have been whipped away faster than the opening bars of 'Kids Wanna Rock'.
So, how DID it finally feel, 30 years later to be standing, blushing and trembling, in front of the man of my teenage dreams? Well, for one, it was a lot more crowded than I'd imagined. Some candle light wouldn't have gone amiss, and some wine! In my young mind, this moment would have been life-changing. And it kind of was, but not for any of the reasons I'd have thought back then.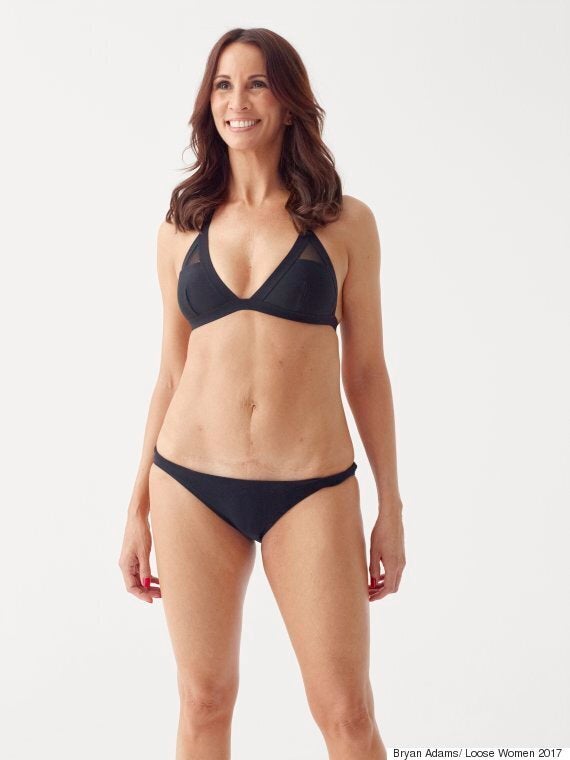 I was standing in my pants in front of my teenage heartthrob because Loose Women had asked him to shoot a campaign we were launching called My Body My Story. And that's why, one chilly February afternoon, we walked barefoot into a brightly lit room and let our bathrobes fall to the floor. We stood in all our glory; women aged from 27 - 70, our bodies swathed in the life badges of honour - stretch marks, cellulite, broken veins, scars, age spots, wobbly bits and firm bits. We laughed nervously, and stood in a line, holding our tummies in and giving our best showbiz smiles, gazing out at the assembled crew, who were all silently looking back at us. It was quiet, except for our nervous chatter. Bryan stood behind his camera, quietly composed. Then he looked up and said, "Don't pose ladies. Be natural. Be yourself."
Our rictus grins fell. How do you "be yourself" on a bright, cold day, in your pants, in front of one of the most famous musicians in the world?
I hadn't a clue what to do, so I pretended I was Cindy Crawford in that fabulous picture where she stood in her beautiful 50-something year old body - the one that went viral round the world, thinking: "If Cindy can do it and she's a model who must be terrified of people seeing her real body, then so can I". We were all nervous and shaking, facing our own internal battles of confidence, but, the camera clicked and in that one split second, an iconic image that would later be beamed around the world, was captured.
We were then taken to have our solo photos done. I stood quietly on my mark and waited until Bryan was ready. This time it was just me. As I looked round the room at everyone busily going about their business, I suddenly felt scared and exposed. I tried channelling Cindy again, but she'd long gone. Bryan looked up at me, then I heard the distinctive click of the shutter. I pulled myself up onto tiptoe, held in my stomach, put my hands on my hips and gave my biggest mega-watt smile. The clicking stopped and Bryan looked up at me. "Stop posing" he said. "You're posing. Be natural. Loosen up." I nodded and turned down the wattage on my grin. I thought of my children, and of the emergency caesarean that had seen my son Finlay struggle into this world. I thought about Amy my youngest, and how fascinated she was at the idea of me having my tummy cut open so that she could be safely born. I thought about the multiple hernia and abdominal repair I'd had; an operation that had cut me open from pubic bone to breast bone and hip to hip, and how I'd gone into anaphylactic shock just hours later, my airways closing until a quick-thinking nurse had pumped life-saving drugs into my veins. I thought of how far I'd come in the few months since my hysterectomy; which had rid my body of diseased cells and ended years of pelvic pain, when standing upright had been an achievement in itself. I thought of how ill I'd been and how strong I'd become. My body and I had been through some tough times, and it had been touch and go at times whether we'd make it. But I had, and I felt strong. And brave.
What I didn't think about, was Bryan Adams. In those swift seconds, he had gone from the rock god of my dreams to a quiet man behind a camera, whose job was to capture me on digital film. When he spoke and broke the silence, it took me by surprise. "We've got it" he said, and for the first time he really grinned, "Come and see." "What do you think?". I looked at the screen, my eyes immediately drawn to my scars. I glanced over the photo, flicking to and from the bits I don't like. The scars, frown line, big nose, the loose skin on my tummy. Then I looked at my eyes. I looked scared but proud. I looked like a woman who was saying "This is me. This is who I am".
Bryan grinned at me and gave me a friendly hug. "You are a beautiful woman. You are strong. You should be very proud of yourself". And I was. I was relieved it was done, and exhausted from all the worry, nerves and adrenaline. But mainly I was proud of us all. We had done something special; I could feel it.
They say you should never meet your idols, and sometimes that can be true. But not that day. That day a dream came true and also ended. I got to work with someone whom I've admired for three decades, and who turned out to be every bit as gracious and talented as I'd hoped. Dreams never come true in the way you imagine they will; they come true in the way you need them to. That day, I reasoned to myself, was meant to be. I met my hero, who helped me show the world who I really am, with all the scars to prove it. I really am in Heaven.
Loose Women airs weekdays at 12.30pm on ITV.
Related