Last night I was invited into London play Rocksmith, the new game from Ubisoft. And even cooler was that we were invited to play it at the Gibson Guitar Studios in London!
This is how Ubisoft describe the game:
Rocksmith is the first and only game that you can plug into any real guitar or bass.

Nothing plastic, nothing fake, just the most authentic and complete guitar experience in music gaming. By plugging into your console, you'll develop real skills and real styles while playing absolutely real music.

Featuring gameplay that automatically adjusts to your personal ability, Rocksmith's innovative game design makes playing music visually intuitive and will engage experienced musicians as well as those who have never picked up a guitar in their lives.

Unlock mini-games to hone specific skills. You'll also be able to choose from a large catalog of songs in different styles. You'll experience it all with an honest-to-goodness guitar or bass. Nothing compares to playing a real instrument. Except playing Rocksmith.
In order to use a real guitar, you get a lead that you connect up to both the guitar and the console. This lead is a unique 1/4"-to-USB cable -the first of its kind - and allows users to plug any real guitar or bass with a 1/4" output jack directly into their Xbox 360, PS3 or PC. Developed exclusively for Rocksmith, this guitar converts the guitar's signal from analogue to digital and allows it to be recognised by your console.
Our teacher for the evening was Claire, who has been playing the guitar since she was a little girl, and she even teaches people how to play the guitar. Claire told me that she thought this was an excellent way of getting people interesting in learning to play, and she is right.
And here is Claire showing us how to play the game.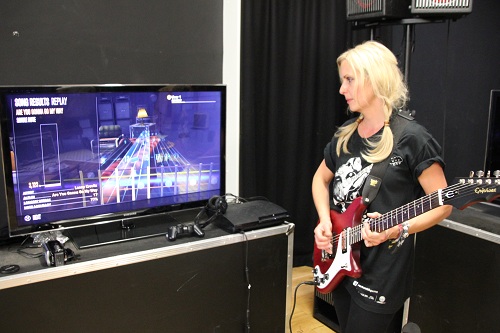 And here is a video that shows it all a lot better:
I haven't actually played a guitar in a very, very long time, and even then I didn't play for very long and I wasn't very good at it! A lot of people really loved, and still love Guitar Hero, and for those people who would like to take their guitar playing to the next level, or rather learn how to play the guitar for real, then Rocksmith is certainly something that could help with that.
I had a lot of fun playing Rocksmith, even if I wasn't very good. But as Claire said, playing the game actually gets you better at playing the guitar, so I hope after lots of game playing I will be better - we shall just have to wait and see.
If you are a fan of Guitar Hero and you want to do it for real, then Rocksmith is the game for you. If you love games and would like to learn how to play the guitar, whilst having a lot of fun, then Rocksmith is the game for you.
You can play on your own or you can connect two guitars up and play together. You can even connect a microphone and sign along with the words (although you won't be scored on that - and in my case that is also probably a good thing).
Rocksmith is released on the 27th September for the Xbox 360 and PlayStation 3, and on 18th October for the PC (yes, there is a PC version).
So is this something you might be interesting in playing? Let us know by leaving a comment below.