The ASUS PB287Q True 4K ultra-high definition (4K UHD) monitor, featuring a 16:9 aspect ratio WLED display that delivers next-generation 4K UHD visuals, with resolution up to 3840 by 2160. With a pixel density of 157 pixels-per-inch (PPI), the PB287Q provides over 8 million pixels, four times the pixel density of standard Full HD displays for astonishingly detailed visuals.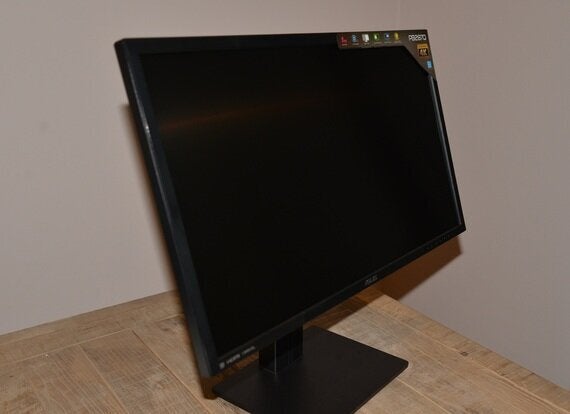 The PB287Q also delivers an impressive 1ms GTG fast response time and a 60Hz refresh rate for ultra-smooth gameplay.
One of the things that drew me to this monitor was the 3 possible connections - 2 HDMI (one of which being MHL) and a DisplayPort connector. For those people with multiple devices they would like to connect to the monitor having more than a single port makes it very useful to just have everything connected and use an input selector to switch between whatever is connected. And the inclusion of PIP is also very useful.
All of the on-screen menu options and functions are accessible via a series of buttons located on the rear of the monitor. They are easy to use although it takes a little getting used to. The menu selections appear quickly so it's easy to select what you want.
You can adjust the height of the monitor on stand with very little effort - I found that monitor was at the perfect height for my desk by just extending it all the way up. The viewing angles are great as well, you can choose between -5 degrees and 20 degrees. If you need anything different to the viewing angle or the height you could always mount the monitor. You can also pivot the monitor so that it's vertical if that's your preference.
The monitor has a number of different modes that include all the things you would expect to find such as brightness, contrast, saturation, sharpness, etc., but there is also a mode called Splendid, which enables you to choose a setting for the monitor depending on what you are viewing. For example, there is a Game Mode for the gamers out there, and even a Standard Mode if you are just doing things like emails and word processing. The best thing to suggest is to try each of these modes and see which suits both your environment and whatever it is you are displaying. All of the modes work very well and I found myself swapping between them more than I thought I would.
Playing 4K games on the monitor, or displaying 4K video content was superb - the quality and clarity is striking, and going back to non-4K you can really see the difference. The very low input lag is a very important feature if you are wanting this for gaming.
The monitor also has in-built speakers, which get the job done, but don't expect anything superb from them though. There is also a headphone socket to for connecting up your headphones if you don't want to use the speakers. Personally I stayed with my existing speaker setup but it was a useful addition though.
Overall I was really impressed with the PB287Q and can highly recommend it as a great monitor to jump into 4K with, especially if you want to do 4K gaming!