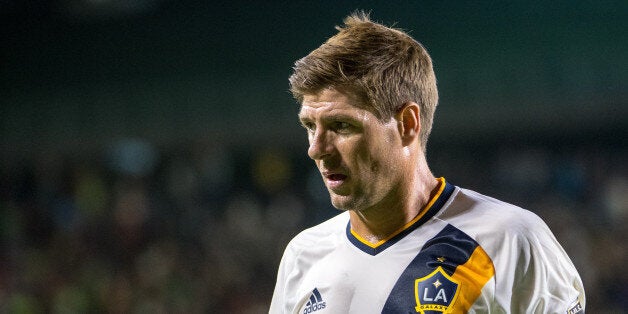 ​Steven Gerrard's 18 month LA Galaxy sojourn is at an end.
The 2005 Champions League winner scored five times across two seasons in MLS competition, reaching the Playoffs twice but never taking home the Cup, in what was at best a mixed spell and, at worst, one that served to underline a fairly tragic wind down to a glittering career.
Since David Beckham led the way for ageing superstars back in 2007, MLS has had different effects on different players. Becks and Robbie Keane serve as useful case studies for the Americans' working for us section of their website, but others like Andrea Pirlo and Freddie Ljungberg​ have done little more than phone it in as highly-paid cameo performers, unprepared or no longer able to give fans what they came to see.
However, the seemingly inevitable conclusion of Liverpool's own Mr Hollywood walking off into the Californian sunset may not actually be the end of the story.
As it is wont to do, the internet has been speculating on a post-credit sequence for the Steven Gerrard story.
Former managers Rafa Benitez at Newcastle and Brendan Rodgers at Celtic have already both been drawn into not being drawn, refusing as they have to comment on the possibility of reunions with their former captain.
Still, it almost goes without saying that the most obvious and internet-breaking of the options (not yet) on the table would be a return to Liverpool.
Steven Gerrard is remembered (quite rightly) as a club legend and if not the best, at least in with a shout in the proverbial conversation of the Reds best ever. Fellow Anfield alumnus Mark Lawrenson ​said recently that bringing Gerrard back to the club would bring only positive effects, and that the 36-year-old could definitely play in this team.
Gerrard is currently pursuing his UEFA coaching A license and while his benefits in a coaching capacity remain to be seen, one should be very wary of re-introducing the 500-appearance-maker to this side as some sort of ornamental piece of nostalgia.
Jurgen Klopp's current side appear to need little in the way of motivation, or supplementation. They are the Premier League's table toppers, top scorers, entertainers and in current captain Jordan Henderson they have ​a man who has run, passed and tackled more than just about any other player in the league.
Would a 36-year-old Gerrard merit game time ahead of the former Sunderland midfielder? What about Georginio Wijnaldum? Or Emre Can?
From an advisory perspective, Liverpool's attacking force seem to need little in the way of encouragement either - with the only whisper in the ear Philippe Coutinho needing is from someone telling him that actually Barcelona isn't a very nice city to live.
Unless Captain Fantastic can quickly reinvent himself as a left back, there appears little space for him in a playing capacity.
Should Gerrard return as a non-playing member of the Anfield staff, which seems at least a medium-term certainty, the Liverpool hierarchy will need to be mindful that his role, whatever it may be, doesn't prove a hinderance to Klopp's existing plans and ideas.
The former Dortmund manager appears to be building something pretty special on Merseyside. If Gerrard wants to be a part of that in more than just an ambassadorial role, he must be introduced slowly and with limited fanfare, and not thrust into a key position at the expense of one of Klopp's lieutenants.
Gerrard's origin story leading him into Anfield folklore may have been destiny, but it wasn't always smooth. The Whiston-born star earned his way into Liverpool hearts and minds with relentless hard work, as well as the explosive moments of magic.
It was his third season on Anfield as a first team professional, when the all-action midfielder really came to the fore, recovering from a persistent groin injury and disciplinary concerns to become central to Liverpool's trophy-laden campaign, and take home the PFA's Young Player of the Season.
Gerrard now needs to prove his worth to the Anfield faithful once again, if this legend is to get a sequel.
For more fan views or to join the conversation visit www.90min.com