Don't worry this is not a whinge about my life or is it a comparison to full time working parents who do not work shifts; or part time working parents on shifts; or full time working parents on Monday to Friday office hours; or single parents out of work; or single full time working parents. Nope. This is a simple post detailing and describing a typical day for a full time dad who works full time unsociable shifts (including weekends). I will describe what a typical day entails when daddy is due to work a late shift of 2-10pm.
1. Daddy is abruptly awoken at 6:13 from the depths of sleep by a shuffling daughter whose first word of the day is, "Peppa", named after her favourite cartoon, Peppa Pig. Daddy replies to her from his bedroom across the landing with, "daddy". Daughter replies with, "mummy". Daddy hits back with, "What about daddy"? She fights back with, "mummy". Mummy has a few minutes with toddler before getting herself dressed and driving to work.
2. Daddy's day begins by allowing daughter to watch a couple of YouTube videos of Peppa Pig whilst he tries to gain a few extra minutes of sleep. It doesn't work.
3. Change daughter's nappy.
4. Make daddy and daughter's breakfast whilst she hovers around his legs.
5. Get her dressed in an outfit chosen by mummy.
6. Get daddy dressed in an outfit chosen by mummy.
7. Put first set of washing on.
8. Put dry washing away in to wardrobes and drawers.
9. Muck about and play with daughter for a while.
10. Put her in the car seat ready for an incredibly exciting errand to the Post Office.
11. Place her back in to the car seat ready for a trip to the local leisure centre for a 'Bounce and Roll' play session.
12. Give daughter the freedom by allowing her to explore and take risks within her play surroundings at Bounce and Roll. Bounce on the bouncy castle with her; jump up and down with her; let her decide -- basically follow her around like a lost sheep. She is in charge of these proceedings.
13. Back in to the car seat for the drive home.
15. Snack time - daddy's favourite time. Both sit down on the sofa for a snack: A single chocolate button for daughter and a large jam doughnut for daddy whilst watching one episode of Peppa Pig. This is followed by a catch up on Sky Sports News before being abruptly told, "mote" (Remote) "Peppa" - telling daddy to get a grip and put her cartoon on again.
16. She has a category 4 poo.
18. Put washing out on the line.
19. Put second set of washing in to the machine that spins.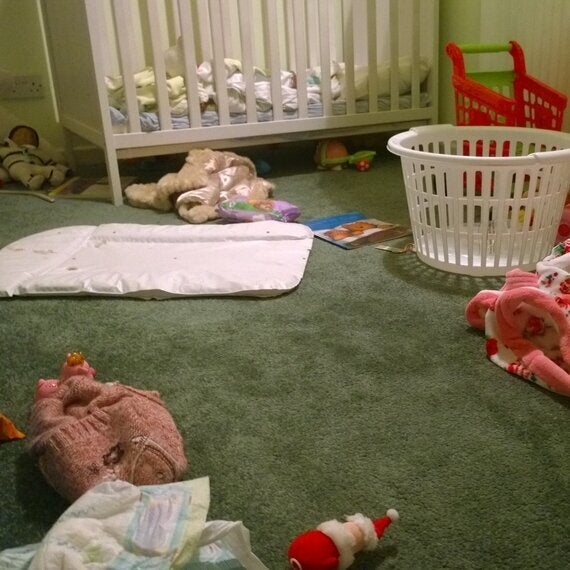 20. Tidy up and pick up general sh*t from the floor.
25. Play in the garden with daughter for an hour.
26. Put second set of washing out on the line.
27. Pop her in to the car seat in preparation for the drive to her grandparents.
28. Arrive at grandparents to drop off daughter.
29. Give her a kiss and a cuddle and say goodbye.
31. Work an 8 hour shift.
33. Sit down at 10:27pm for an hour
Quite the list, ay? Yep. Knackering? Yep. Frightening? Nope. The time spent with my daughter was priceless. The bonding, closeness, the love -- everything good about being a parent happens during these days. But don't worry - my wife and I still see each other; we still make time for our own interests away from parenthood. This is just a list which reminds me of the joys of parenthood and what it brings to your life. It is also a friendly hint to remember to give yourself a pat-on-the-back every so often as it is f*****g hard work.