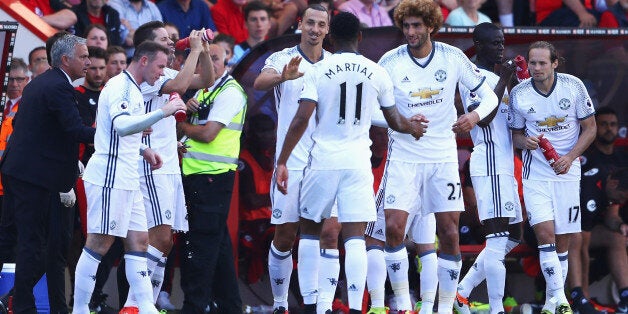 "Fancy going to the first game of the season against West Brom"? A very normal question to throw at my Manchester United companion during our seven or eight years of following our boyhood team up and down the country and throughout Europe.
More often than not, we would joyfully attend the first game of every season as well as 15-20 additional games throughout said campaign.
We would embark on a cross-country adventure to Manchester to sip beers alongside other reds; to sing songs at the top of our voice; to eat a greasy pre-match burger -- all in the hope to watch 90 minutes of (usually) entertaining football.
We would share irreplaceable and priceless memories of winning 1-0 away at a bitterly cold Ewood Park in November; we would watch the magician Cristiano Ronaldo glide down the wing to score an 87th minute winner against Fulham; we would witness Paul Scholes clinch United's place in the Champions League final with a 30-yard wonder strike against the army of Messi's Barcelona. The list can go on.
And then I became a Father.
Cue lifestyle change. Or I prefer to call it more of an evolution of a lifestyle.
Parenting comes with sacrifice and common sense. I knew if I wanted to be the best dad I could be, I needed to take a step back and compromise with not only my wife, but myself. Amongst other things, I sacrificed my care-free football adventures. I am not talking about completely erasing the passion I possess for Manchester United from my mind. That would be silly. To be a happy dad, you still need balance in your life and having interests and hobbies away from parenting is vital for any parent's mental wellbeing, in my opinion.
Things just required evolving, that is all.
At first it was a struggle to mentally adjust to the fact that my "freedom" to do as I please with myself and my wife-to-be had hit a wall. Some automatic thoughts during my wife's pregnancy and the subsequent early months of fatherhood were ones of, "Is my own life over now"? "Will I ever be able to follow personal interests again"? They were scary thoughts, and ones which would send me in to a bit of an internal panic.
But two Premier League seasons down the line, I feel my expectations have slowly and successfully been managed.
This weekend marked Manchester United's first fixture of the Premier League season and the start of a new era with boss, José Mourinho, in charge. I am excited for the new season, but in a different way to before. I accept that I will not physically be there to experience the highs and lows of the season; I will not be bouncing up and down in the pubs to the latest Zlatan anthem, or celebrating wildly when Anthony Martial bags a last minute equaliser against Liverpool at Anfield. But that does not mean I can't experience them an alternative way. Yes, there is still a little voice telling me that being there is the best way to enjoy this particular passion - but for me it is not the only way. I am a dad and a husband. Mental compromise needed to be sought.
And this Saturday, the first day of the new season saw my love affair with Manchester United continue to evolve. So how did I experience United's victory over Bournemouth? Well, firstly, I no longer pay the extortionate Sky Sports subscription. So watching it live around family or a friend's house, or over a few quiet beers down the local pub are my other options. I didn't opt for these on this occasion.
Nope. Not today. My wife and I took my daughter swimming. United were due to kick off at 1.30pm - which actually turned out to be the exact moment I was encouraging my daughter to jump in to the pool and into the safety of my arms. Yes, United were beginning a new campaign - but so was my daughter - she was being taught a life skill by her mummy and daddy.
Yes, I would subconsciously wonder whether the game had commenced - a quick thought about whether Zlatan had scored on his debut, or with worry that Fellaini had somehow made the starting lineup. But that quickly disappeared when I showed my daughter how to dunk her head under the water.
On the way home she fell asleep in the car. We parked up outside our house, my wife went inside the house, and I listened to the remainder of the game (with my daughter asleep at the back), via the radio. Yes, the radio. Something my dad probably did when radios were the equivalent of a 4DX cinema experience.
Zlatan scored a 25-yard screamer. I celebrated inside the car in a new, evolved way - by way of a casual fist pump and a never-going-to-disappear internal passion for my beloved Manchester United.
Subsequently, my daughter was happy with her time spent with her parents; my wife and I were happy with our time spent as a family...
...And I was also happy that United's new era had started with victory.
This summer The Huffington Post UK is spearheading an initiative helping families thrive, with a focus on parent wellbeing, the challenges facing stay-at-home and working parents, friendships and navigating the landscape of modern parenting beyond the 2.4. To kickstart the campaign, Jamie Oliver guest edited the site, bringing a focus on feeding healthy families.
We'll be sharing stories and blogs with the hashtag #ThrivingFamilies and we'd like you to do the same. If you'd like to use our blogging platform to share your story, email ukblogteam@huffingtonpost.com to get involved.
Related